Discover more from The Recombobulation Area
The Recombobulation Area is an award-winning weekly opinion column and online publication by longtime Milwaukee journalist Dan Shafer, covering news and politics in Milwaukee and Wisconsin. We live in discombobulating times. Let's recombobulate.
Over 5,000 subscribers
Wisconsin Senator Ron Johnson bears responsibility for the cruelty at migrant detention camps
Ron Johnson is the Chairman of the Senate Committee on Homeland Security at this of all moments in American history. Let's take an in-depth look at what he's been up to these last few months. 
The Recombobulation Area is a brand new weekly column by veteran Milwaukee journalist Dan Shafer. Learn more about it here.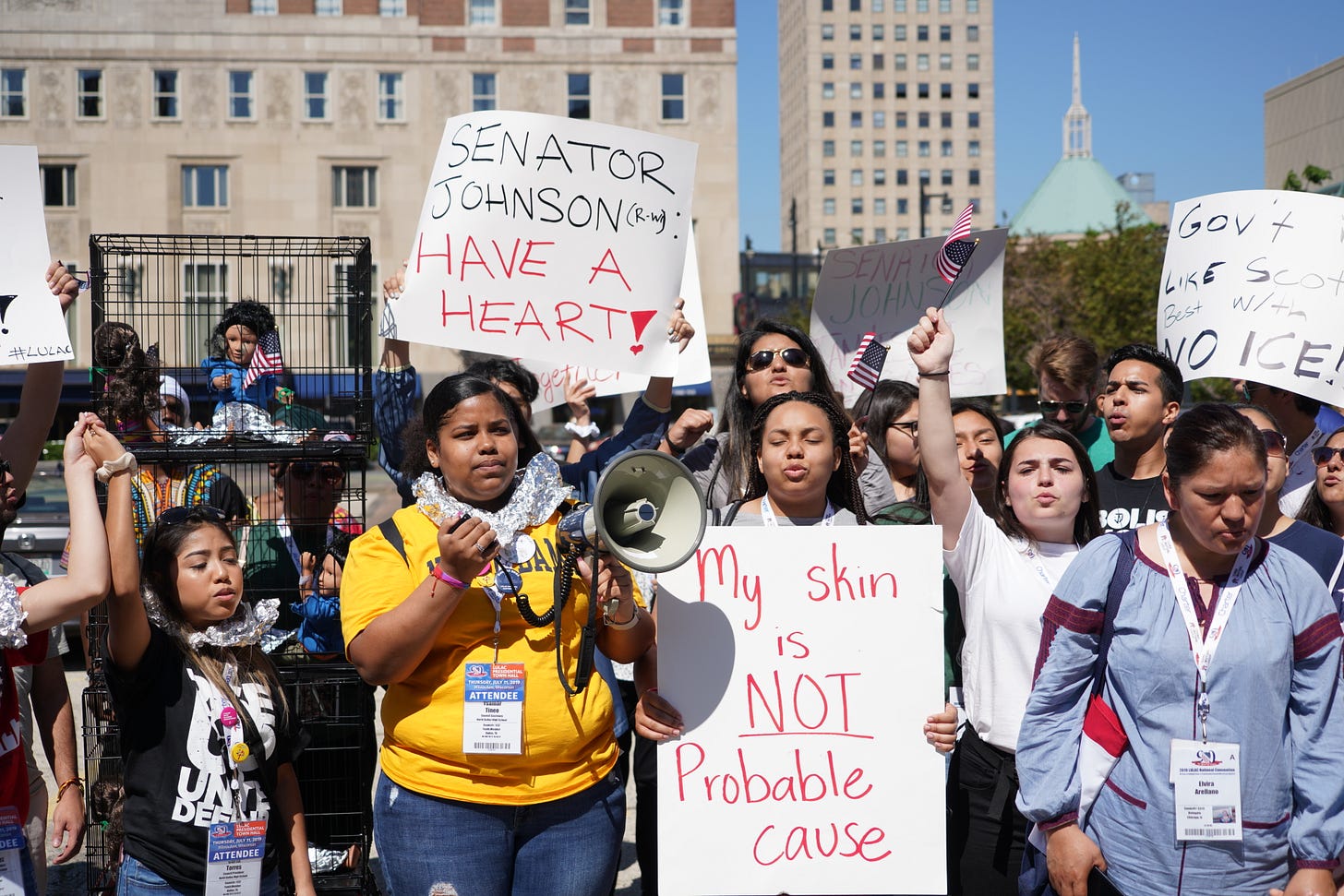 Protesters gather in downtown Milwaukee on Friday, June 12, on the final day of the LULAC national conference to voice their opposition to Sen. Ron Johnson and his role in the conditions at migrant detention camps at the southern border. Photo by Juan Proano, courtesy of LULAC.
Amidst the constant churn of chaos, corruption and cruelty of the Trump presidency, it can be difficult to find perspective. 
So since the early days of this administration, back before so much of this had become normalized, I've kept a running list in the back of my head of the worst things this administration has done. 
"Sure, this is bad, but is it as bad as the Muslim ban? Is it as bad as praising actual Nazis? Is it as bad as ignoring and demeaning American citizens in Puerto Rico in the wake of a natural disaster that ultimately claimed the lives of nearly 3,000 people? Is it as bad as actions of past administrations, like the one to go to war in Iraq?" 
But more than anything else that's happened during these last 30 interminable months, the cruelty that our government is inflicting upon people -- children -- at our southern border, is the worst of this administration, and the worst of America.
And let's not forget: This is not just … happening. This is a choice. The United States of America is choosing to treat people this way. We don't have do this. 
So it begs the question: Here in Wisconsin, how are our members of Congress reacting to these atrocities, to this moment in history where our government is running what are credibly being referred to as concentration camps? 
Of all of Wisconsin's legislators, Senator Ron Johnson holds the most prominent position as it relates to the oversight of these camps. The second-term senator from Oshkosh and former CEO of a plastic fabrication company serves as the Chairman of the Senate Committee on Homeland Security and Government Services. Immigration and Customs Enforcement (ICE) and Customs and Border Protection (CBP) are under the umbrella of the Department of Homeland Security (DHS), and this is the specific committee as part of the highest legislative body in the country that would provide oversight of how these agencies are operating. 
And what's been happening? Families separated as official U.S. policy for months, if not years (and reportedly still happening). At least seven immigrant children dying in U.S. custody, including a 2 ½-year-old boy. Conditions for unaccompanied children being called "torture facilities" by a medical expert. More than 250 children, including several infants, being held for weeks without access to clean clothes, adequate food, soap or toothpaste. Women forced to drink out of toilets. Mental health conditions so dire that 15 of 20 people in one detention facility made nooses from bedsheets. Allegations of a CBP officer sexually assaulting a 15-year-old girl. Circumstances that have drawn the attention of the United Nations High Commissioner for Human Rights, who said she was "deeply shocked" by the conditions, which do not satisfy international human rights standards. This list of atrocities, sadly, could go on and on and on. 
Ron Johnson is clearly and unequivocally not doing enough to stop the egregious, appalling violations of human rights happening on his watch. His unwillingness to address the conditions under which immigrants are being treated in this country should echo through history. 
"He absolutely bears responsibility for the conditions (at these camps)," said Christine Neumann-Ortiz, executive director of Voces de la Frontera, Wisconsin's leading immigrants rights organization. "It's failed leadership. In all of his votes, he has enabled the circumstances that have led to this. And in the current period, he has been consistent in his votes to support the Trump administration in the creation of these concentration camps. Again, people are being denied their ability to seek asylum through their constitutional rights. They're being denied entry, being denied an orderly, humane process, leading to death. That blood is on his hands, too."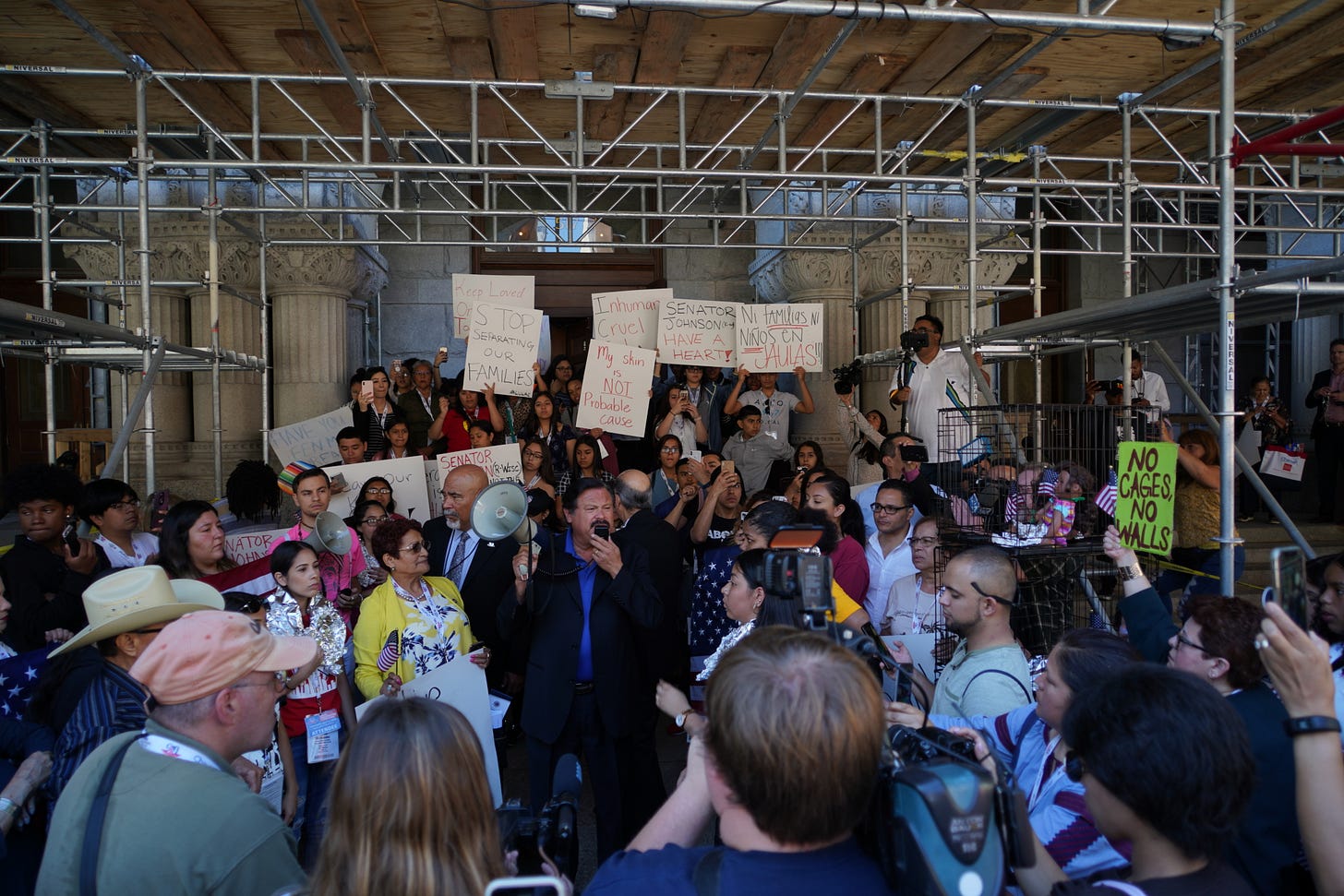 LULAC President Domingo Garcia speaks in front of the Milwaukee Federal Building, where Sen. Johnson has an office. Instead of meeting with the group, Johnson joined President Donald Trump on Air Force One for his visit to southeastern Wisconsin. Photo by Juan Proano, courtesy of LULAC.
Johnson's Milwaukee office was the target of protests on Friday, July 12, the final day of the League of United Latin American Citizens (LULAC) national convention, hosted in downtown Milwaukee. In the weeks preceding the convention and the protest, LULAC requested a meeting with Johnson. Johnson refused. 
An estimated 100 protesters, including LULAC members and leadership, marched to Johnson's office at the Milwaukee Federal Building on East Wisconsin Avenue, with students carrying animal cages with baby dolls inside, displaying the cage-like conditions migrant children are experiencing at the border. 
"(Sen. Johnson) is the chair of the committee that has the power to change these activities and to stop the mistreatment," said David Cruz, communications director at LULAC. "The number one priority for us right now is getting those detention facilities closed."
Instead of having a conversation with people from LULAC, Johnson spent the day with President Trump. He joined him on Air Force One, traveling along with fellow Wisconsin Republican members of Congress Rep. Sean Duffy and Rep. Glenn Grothman as the President visited southeastern Wisconsin, going to Fox Point for a high-priced fundraiser and to Milwaukee manufacturer Derco Airspace, a subsidiary of Lockheed Martin, to promote his plan to replace the North American Free Trade Agreement. 
"When we could not even meet with his staff and then we see a few minutes later, he's coming out of Air Force One," said Cruz. "See, that's the problem with these elected officials. He gets emotional in the hearing in the chamber, but then you have people who want to talk with him, and he won't give you the decency of the meeting. What kind of hypocrisy is that?"
Two days later, Johnson was on Meet The Press, representing the Republican perspective on this crisis, in the immediate wake of Vice President Mike Pence's now-infamous visit to detention centers in Texas, offering nary a critical word about the conditions at migrant detention facilities.
Often because of his work chairing this important committee, Johnson is a frequent guest on television on several networks. After reviewing his comments from the last few months there, as well as public statements in tweets and in press releases, the senior senator from Wisconsin has a few talking points he returns to, all mostly focused on a) alarm over the number of people crossing the border -- huge numbers, to be sure, and b) reiteration that the primary goal at this time should be to reduce the number of immigrants crossing the southern border. The chart below or the numbers from it are what he'll discuss just about every time, often saying it's "out of control" -- referring to the number of migrants coming to the country, not the conditions they're being held in once they arrive.
Johnson deviated from his more hard-numbers approach on one particularly notable occasion. On June 26, during a hearing for the committee he chairs, Johnson became emotional talking about the photo, published that day by the Associated Press, showing Óscar Alberto Martínez Ramírez and his 23-month-old daughter Valeria dead in the Rio Grande, after the family was "unable to present themselves to U.S. authorities and request asylum."
Johnson said (see 8:10):
"I didn't have time to have the picture blown up but we've all seen it. Óscar Alberto Martínez Ramírez and his 23-month-old daughter Valeria. I realize tragedies occur all over this country and all over the world. I don't want to see another picture like that on the U.S. border. I hope that picture alone will catalyze this congress, this Senate, this committee to do something."
Later that day, he went on CNN to discuss the moment:
In her interview, CNN's Erin Burnett raises a number of important points as it relates to asylum claims -- that the father and daughter from the family in the photo would not be granted asylum under the current (or proposed) system, that the wait times for asylum claims can last up to a year (and that's just for an initial court date), that economic betterment claims are often rejected (and actually aren't even part of asylum claims). Johnson is evasive in many of his answers, often returning to the numbers that pepper his talking points and emphasizing the need to "reduce the flow" of migrants to the country. By the end of the segment, his cognitive dissonance is made quite clear. There's a disconnect between what he's saying about his emotional reaction to the photo of the father and daughter and what he's saying should be U.S. policy. 
In almost all of his interviews, especially recently, Johnson talks about "Operation Safe Return." This is a pilot program he is proposing that would essentially expedite the deportation process for those who "do not have a valid legal claim," and return those individuals to their home countries (presumably safely). It seems that its main goal is to quickly determine the validity of complex, often hard-to-prove asylum claims, making the already-difficult task of entering the country legally even more difficult, and making deportation much easier.
"Operation Safe Return" was officially proposed last week Wednesday, July 17, in a letter sent by Johnson and eight other senators, including three moderate Democrats, to President Trump. This coincided with a roundtable discussion of the full Senate Committee Johnson chairs. 
In his opening remarks to the most recent committee hearing on this topic, Johnson said, "Although we will not solve the crisis overnight, we must work together to reduce the flow of illegal migrants and improve the situation." Again, he makes the No. 1 priority "the flow" -- not the human rights abuses happening under ICE and CBP.
Heidi Altman, director of policy at the National Immigrant Justice Center, expressed concern over the proposal in an interview with Roll Call, saying that "Operation Safe Return" could "undermine the asylum process" and would also give a significant level of discretion to CBP officers (yes, them). Also a factor in this larger conversation: the metering policy that's already making it difficult for migrants to enter the United States to have their day in court to have those claims heard by a judge.
But because it doesn't need legislation to be implemented, "Operation Safe Return" seems to have a good chance of moving forward. It'll certainly be something to watch. On CNN's State of the Union this past Sunday, Johnson called this week's letter a "first step, a baby step."
Even as he champions these "bipartisan solutions" now, his record as a senator suggests that he'll continue to align with the far-right wing of the Republican Party that is not interested in entertaining serious long-term solutions that would help fix a broken system in a way that treats people with dignity.
Neumann-Ortiz said that when Johnson first came into office, she and Voces de la Frontera reached out to him. Over the years, however, they've found that what they have to say is falling on deaf ears. Now, she said, "We don't engage him because we really don't see a point."
"He's made it very clear through his votes that he is not about providing any kind of (support for) comprehensive immigration reform," she said, adding that during the last meaningful push to pass an immigration bill in 2013 and 2014, he voted against the legislation that passed in the Senate, but died in the House. "He has (been) part of the Tea Party wing of the Republican Party and has been lock-step with Trump ever since."
That may be what this really comes down to. Johnson is a Republican who supports the Republican president. No matter how cruel and disturbing these policies -- these choices -- coming from the White House are, the Wisconsin senator has remained in support of President Trump and is carrying out his agenda in one of the more prominent places in the Senate on the issue of migrant detention and border policy. He may be trying to do something to address what's happening, but he's certainly not providing the necessary oversight to stop the violations of human rights and horrible atrocities that are happening on his watch.
Wisconsin sits about as far from the southern border as any state in the lower 48, so these problems can sometimes feel distant. There's a helplessness to it all. But it's through Johnson that there is a direct policy connection from Wisconsin to these camps. 
Andrea Pitzer, author of One Long Night: A Global History of Concentration Camps, recently said that "camps, sweeps and roundups, deportations and demonization of minority cultures -- these things have happened over and over. They never end well. It's only a question of how far a nation will descend before it stops or is stopped."
The abhorrent way our nation is treating immigrants at the border -- refusal of basic human rights, dehumanization, sexual abuse, death -- is a choice. Ron Johnson is on the list of people to have made that choice, whether he recognizes it or not. 
This has already gone way too far. We need to make a new choice, a choice to treat these future Americans with the humanity they should expect from a welcoming nation of immigrants. Sen. Johnson needs to make a new choice. Before it's too late.
To contact Sen. Johnson, email him here, or see below for phone contacts at various offices.
Milwaukee Office
517 East Wisconsin Avenue
Suite 408
Milwaukee, WI 53202
Phone: (414) 276-7282
Fax: (414) 276-7284
Oshkosh Office
219 Washington Avenue
Suite 100
Oshkosh, WI 54901
Phone: (920) 230-7250
Fax: (920) 230-7262
Madison Office
5315 Wall Street
Suite 110
Madison, WI 53718
Phone: (608) 240-9629
Fax: (608) 240-9646
Washington D.C. Office
328 Hart Senate Office Building
Washington, DC 20510
Phone: (202) 224-5323
Fax: (202) 228-6965
---
Thank you for reading The Recombobulation Area.
Subscribe to The Recombobulation Area newsletter here and follow us on Facebook and Instagram at @therecombobulationarea.
Follow Dan on Twitter at @DanRShafer.