Discover more from The Recombobulation Area
The Recombobulation Area is an award-winning weekly opinion column and online publication by longtime Milwaukee journalist Dan Shafer, covering news and politics in Milwaukee and Wisconsin. We live in discombobulating times. Let's recombobulate.
Over 5,000 subscribers
Wisconsin Is Poised To Be THE Swing State in 2020. Are We Ready For This?
After a decade that's left America's Heartland politically exhausted, the path to victory in 2020 drives right through Wisconsin and Milwaukee. A look down the road ahead.
The Recombobulation Area is a new weekly column by veteran Milwaukee journalist Dan Shafer. Learn more about it here.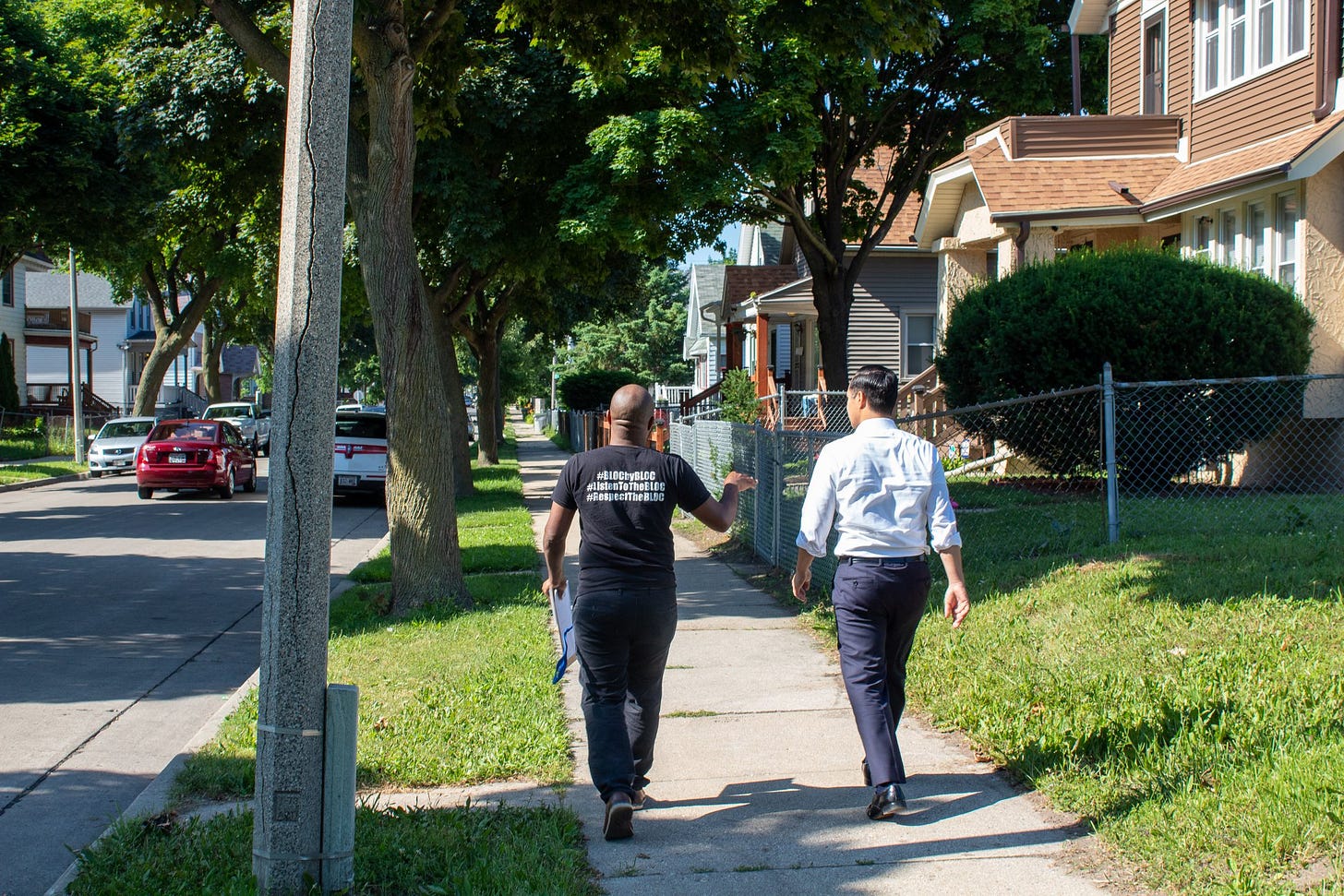 Democratic presidential candidate Julian Castro joins organizers for a "silent canvas" in the city of Milwaukee in early July. Photo courtesy Black Leaders Organizing for Communities (BLOC).
---
Over the past decade, the political campaign cycle in Wisconsin has been relentless. Attack ads and yard signs and devastatingly divisive politics have become the norm in America's Heartland. 
Beginning with the Obama backlash election of 2010 that swept Republicans Sen. Ron Johnson, Gov. Scott Walker, Rep. Reid Ribble and Rep. Sean Duffy into national and statewide offices, Wisconsin has been home to what sometimes feels like one long, unceasing campaign, with one election spilling right into the next.
A quick look back:
Almost immediately after he became governor, Walker set the state on a path toward political turmoil. Recalls, recounts, and 100,000-person protests culminated in a failed attempt to oust the governor in 2012. Then came the 2012 general election, in which President Barack Obama again carried the state and Tammy Baldwin defeated Tommy Thompson in a close Senate race. Walker was re-elected 2014 before turning his ambitions to the national stage and running for president in 2015. 
And before we knew it, Donald Trump upended the political world, perhaps no place more than in Wisconsin. Walker's ambitions came crashing down, new Speaker of the House Paul Ryan began a clumsy dance of spinelessly begrudging support for the reality television star's candidacy, and Wisconsin flipped from blue to red, helping give Trump a shocking upset victory over Hillary Clinton. 
While things slowed a bit in the latter part of the decade, nothing really feels calm in the Trump Era, and in 2018, Democrat Tony Evers squeaked out a victory over Walker in the state's fourth gubernatorial election in just eight years.
It's just been...a lot. 
The swing state nature of Wisconsin makes this inevitable; being in the 20 percent of U.S. states where presidential candidates focus campaign energy (well, most of the time) certainly ratchets up the intensity every four years. But with recalls and recounts and everything else the state has endured this past decade, our political stamina has truly been tested.
The state's biggest political challenge, however, may still be yet to come. In fact, it's looking increasingly likely that Wisconsin could wind up being the state to decide the 2020 presidential election. Not just "one of" the states -- the state.
Less than a single percentage point has made the difference between the candidate winning and losing the state in the 2000, 2004 and 2016 presidential elections. 2020 is undoubtedly headed in that very same direction, and the stakes already could not seem higher. 
The next 15 months between now and November 3, 2020, are going to challenge us in ways we might not be ready for. Perhaps the constant campaigning of the last decade has prepared us for what's to come; perhaps this ever-polarized state of ours is being pushed to its limits. Whatever the case, we need to be prepared. 
Because these are already the types of headlines we're seeing: 'Wisconsin, Ground Zero for 2020 Politics, Looks Like a Tossup Again' (New York Times); 'Wisconsin Emerges as the Top 2020 Battleground' (U.S. News & World Report); 'Wisconsin could swing the 2020 presidential election' (Milwaukee Journal Sentinel); 'Wisconsin could decide 2020. Inside the new Democratic plan to win it back.' (Yahoo News). 
New York Times elections analyst Nate Cohn recently wrote an in-depth breakdown on Trump's path to re-election, highlighting how Wisconsin, even more than other swing states, is positioned as the tipping point state in 2020.
"Wisconsin is the pivotal state in this analysis, and a one-point difference there could potentially be decisive," he wrote. "One reason that such a small swing in Wisconsin could be so important is that the Democrats do not have an obviously promising alternative if Wisconsin drifts to the right."
He also discussed the piece on The Daily podcast, where he said: 
"If the president wins every state where his approval rating is better than Wisconsin, his re-election would then come down to winning that state and that state alone. In our analysis, the president's approval rating in Wisconsin is probably above 47 percent — the good news for Democrats, which is that that's under 50. The bad news is that that is appreciably better than the president's approval rating nationwide, and it's not that far away from what the president would need to win."
An often overlooked element of Trump's tipping point win in Wisconsin is that the President received fewer total votes in his 2016 victory (1,405,284) than Republican candidate Mitt Romney did in his 2012 loss (1,407,966). 
If Democrats would have come close to the 1,620,985 votes Obama received in 2012 or the 1,677,211 votes he received in 2008, the state would have remained blue. Instead, Clinton received 1,382,536 votes, and Trump won the state by a 22,748-vote margin.
As Cohn and others have noted, key to where Wisconsin will swing in 2020 is the Milwaukee metro area. The suburbs appear to be holding more strongly in favor of Trump than similar suburban areas in Michigan and Pennsylvania (giving Republicans a more clear path to victory in Wisconsin), and turnout in the city of Milwaukee is always a major factor for Democrats in any statewide election. 
For all the talk about needing to win back white working class Obama-Trump voters (largely located in the western part of the state), for Wisconsin Democrats to overcome that razor-thin 2016 margin of victory, the path may be more direct through the more reliable base of voters in the city of Milwaukee, a place where significant numbers of people feeling the negative affects of a Trump presidency reside. There may be more opportunity in getting previously non-voting Milwaukeeans to the polls than to try to win back those who made the decision to support Trump knowing full well who he was.
No discussion of 2016 and Milwaukee is complete, however, without considering the new voter identification and registration laws implemented by Walker and state Republicans. As many as 45,000 people statewide were deterred from voting by the law, according to a must-read in-depth report by voting rights reporter Ari Berman, a significant proportion of whom are African American.
Milwaukee County is home to more than 240,000 African Americans, making up nearly 70 percent of the state's black population. Perhaps not coincidentally, turnout in Milwaukee County tumbled more precipitously than any of Wisconsin's 72 counties, down by more than 7.5 percent, an estimated 52,000 voters.
Disenfranchising minority and likely Democratic voters was always part of the Republicans' strategy to win the state. Congressman Glenn Grothman even said as such on live television the night Sen. Ted Cruz won the Wisconsin primary. Clearly, the strategy worked.
But for all that went wrong for Democrats in Milwaukee in 2016 — and voter ID is only part of the larger calculus — there's another story forming about the city and what's happened since. 
In the wake of 2016, Angela Lang, a community organizer and lifelong Milwaukee resident, founded BLOC - Black Leaders Organizing for Communities, motivated to combat a narrative that because of lower turnout, black voters were to blame for Trump's victory in the state. 
"There were groups of people who weren't being engaged in any sort of meaningful way (in 2016) and yet that blame is placed on our community," she said.
Instead of waiting for a candidate to come connect with the black community in Milwaukee -- which largely didn't happen in 2016, she said -- BLOC set out to to talk to black voters in places like the 53206 ZIP code to listen to the concerns of the community, work to raise political awareness, and find ways to get people more engaged with the process on an ongoing basis.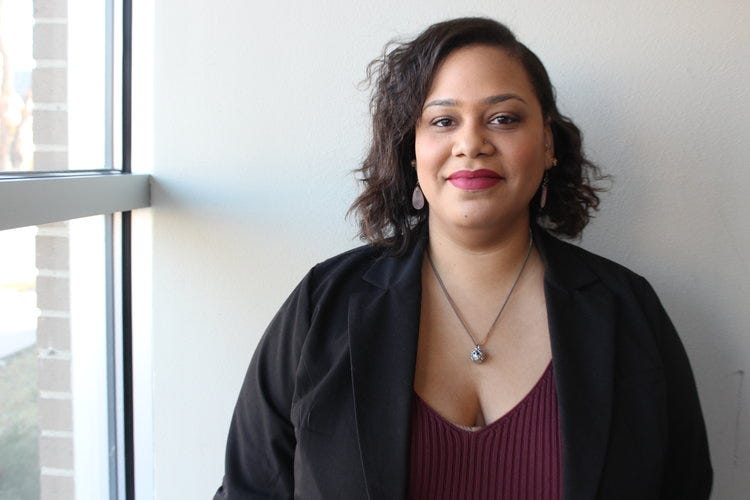 Angela Lang is the executive director of BLOC, founded in December 2017, and a lifelong Milwaukeean.
BLOC was very active in the 2018 gubernatorial campaign and during the midterms, and has gained national attention for its "silent canvas," where elected officials or leaders from other organizations tag along with BLOC organizers, but aren't allowed to talk or campaign while knocking on doors.
After the first "silent canvas," said Lang, "I remember texting a state senator, 'What do you think? This is the first time doing this; what are your thoughts?' And he said, 'I saw the best and the worst of Milwaukee in the span of two hours.' And then I think we realized this could be something really beneficial."
The silent canvas grew, and now has welcomed about 50 participants, including three Democratic candidates for president -- former congressman Beto O'Rourke, former Housing and Urban Development secretary Julian Castro, and Sen. Cory Booker. Candidates are already seeing Milwaukee differently this time around.
Democratic presidential candidate Cory Booker joins a silent canvas with BLOC in Milwaukee. Photo courtesy BLOC.
Of course, doing the work she does, Lang sees these reports about Wisconsin being such a crucial state in the 2020 election.
"My first thought is that it's all accurate, and it's very true," she said. "And my next thought is: Wow. OK. No pressure."
There is a different level of engagement now than from 2016, Lang said, noting that people in Milwaukee's black community are "starting to understand the urgency" of 2020.
"People are saying: 'We can not stay home,'" she said. "People feel like no matter who the (Democratic) nominee is, there is a duty and an obligation to show up and try to stop this rise of white supremacy and white nationalism that is ripping the fabric of this country."
As we've seen on full display in recent weeks, Trump's election and presidency has given presidential validation to hateful ideologies that were hiding in the shadows, fanned the flames of white nationalism, and, as we saw in El Paso, inspired real terror.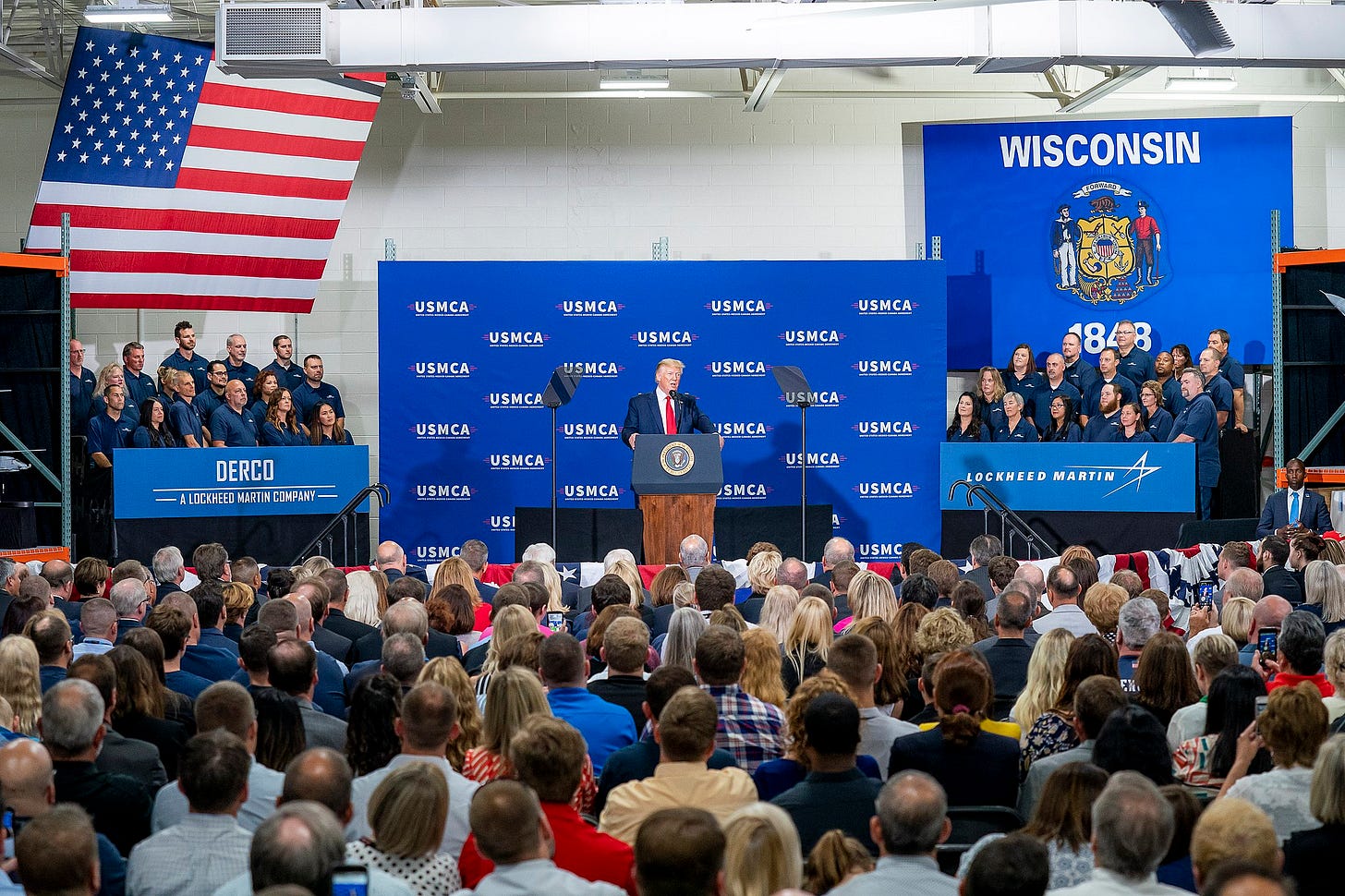 President Donald J. Trump addresses his remarks on the United States-Mexico-Canada Agreement during a visit Friday, July 12, 2019, at Derco Aerospace Inc in Milwaukee, Wisc. (Official White House Photo by Tia Dufour).
Counties that hosted a 2016 Trump rally saw a 226 percent increase in hate crimes. While Wisconsin is preparing to host many a presidential campaign stop (and welcome 50,000-plus people for the convention in Milwaukee), we need to also prepare for the potential danger Trump brings, particularly to people of color, immigrants, Muslims and other people being put at real risk by the words and actions of the President, his administration and his supporters.
Let's not forget, however, that there's opportunity waiting at the end of the road ahead. Few others across the country will be casting more important votes than those doing so in Wisconsin. Your vote in Wisconsin shouldn't be more important than votes in California or Texas or Louisiana or Oregon, but because of the electoral college, it really, really is.
Wisconsin may be politically exhausted, the months ahead may be arduous and complicated and downright dangerous, but at the end of this road, voters here have a unique opportunity to be the ones to hand Donald Trump the loss he deserves.
We have to be ready for this.
---
Thank you for reading The Recombobulation Area.
Subscribe to The Recombobulation Area newsletter here and follow us on Facebook and Instagram at @therecombobulationarea.
Follow Dan on Twitter at @DanRShafer.