Discover more from The Recombobulation Area
The Recombobulation Area is an award-winning weekly opinion column and online publication by longtime Milwaukee journalist Dan Shafer, covering news and politics in Milwaukee and Wisconsin. We live in discombobulating times. Let's recombobulate.
Over 5,000 subscribers
Trump's Strongest Support in Wisconsin is Coming From the Milwaukee Suburbs
Though the president's support is waning in suburbs around the country, the Milwaukee suburbs remain Trump Country.
The Recombobulation Area is a new weekly column by veteran Milwaukee journalist Dan Shafer. Learn more about it here.
Before we get into this week's column, a quick note from the week that was.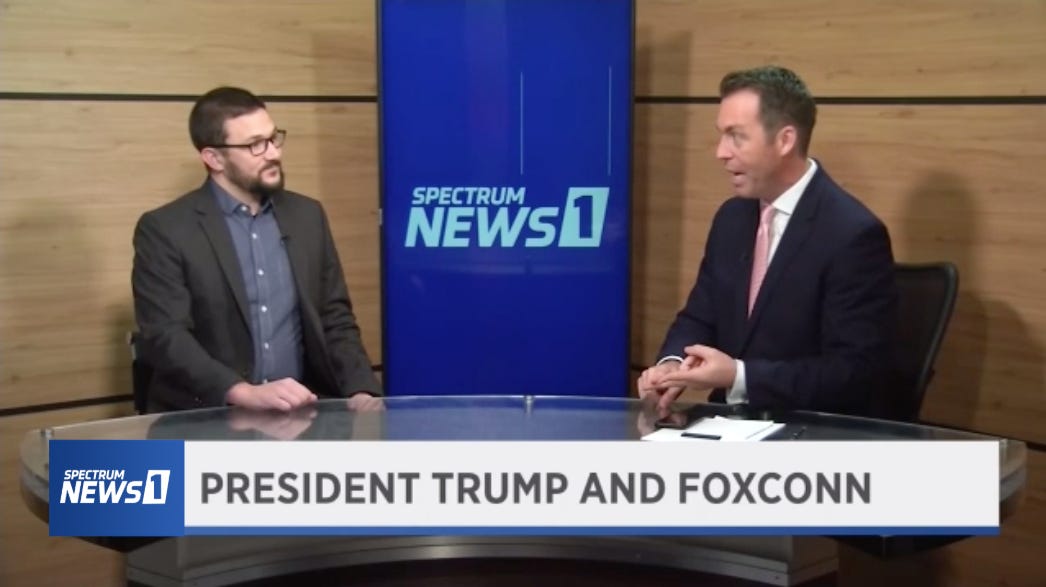 The Recombobulation Area made its television debut this week! I joined Jason Fechner on Spectrum News 1 Wisconsin to discuss last week's column on Foxconn and Donald Trump. The president failed to mention the flailing Mount Pleasant project he once called the "Eighth Wonder of the World" in his visit to southeastern Wisconsin.
You can watch the full segment here.
---
Wisconsin might be the most important state in the 2020 presidential election, and the Marquette University Law School Poll is the state's gold standard of measuring where voters stand, so here at The Recombobulation Area, each new poll is going to be monitored closely. Last time, we took a closer look at Pete Buttigieg's support in Wisconsin. See other breakdowns from November and October and August.
As the Democratic primary heats up with the Iowa caucuses just weeks away, the January edition of the Marquette University Law School Poll released this week showed little movement among the top candidates. It's not exactly a headline-grabbing result when poll director Charles Franklin says the big story is the lack of change.
Nevertheless, here's how the candidates' first-choice poll numbers moved as the calendar changed from 2019 to 2020.
Joe Biden: 23% (-) 

Bernie Sanders: 19% (-)

Pete Buttigieg: 15% (-)

Elizabeth Warren: 14% (-2)

Don't Know: 9% (-2)

Andrew Yang: 6% (+3)

Michael Bloomberg: 6% (+3)

Amy Klobuchar: 4% (+1)
And really, it's still anyone's race, as 60 percent of voters said they might change their mind on their top choice candidate.
So this week, we'll be taking a closer look at the one candidate sure to be on the ballot in 2020: Donald Trump.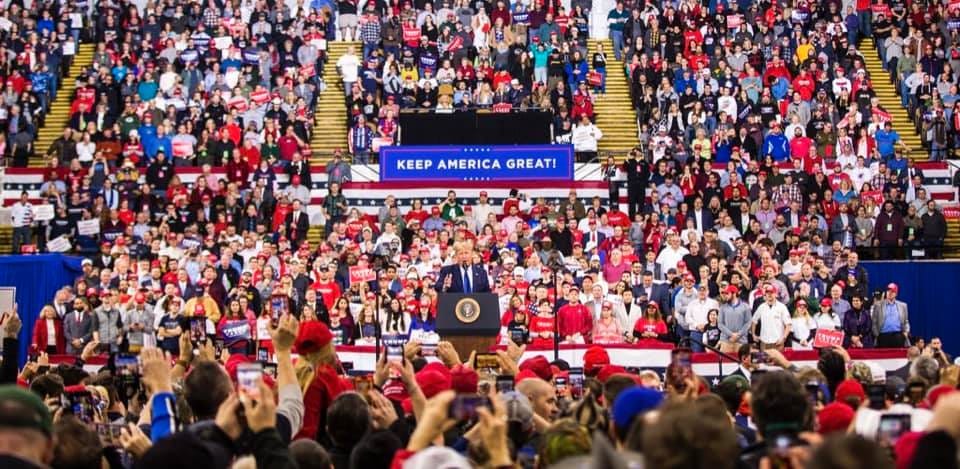 Donald Trump campaigns in Milwaukee, where his suburban support remains strong. Photo via Donald Trump campaign on Facebook.
---
Donald Trump may have paid a visit to downtown Milwaukee this week, but his support in Wisconsin, as it does in many states, lies outside the city. But here, it's not that far outside the city.
Among the more notable nationwide electoral trends of the Trump era has been the leftward shift in support from suburban voters. From suburbs of Philadelphia or Washington D.C. to Kentucky to Kansas to Arizona, Democrats are gaining ground in traditional Republican strongholds. 
But in Wisconsin, the president doesn't have a suburbs problem. His support in suburban areas has remained stable — remarkably stable. And it might actually be on the rise. 
Throughout his tumultuous presidency, Trump's approval rating in the Marquette University Law School Poll has remained incredibly steady. His overall approval rating in Wisconsin has never been above 47 percent or below 41 percent since he became president. For all that's happened since Jan. 20, 2017, his numbers have a hard floor that they've yet to fall though. 
His approval rating in suburban areas has been close to his overall number every step of the way — pretty much always within a percentage point or two. But what we've seen in recent months is that his numbers in suburban areas are on the rise.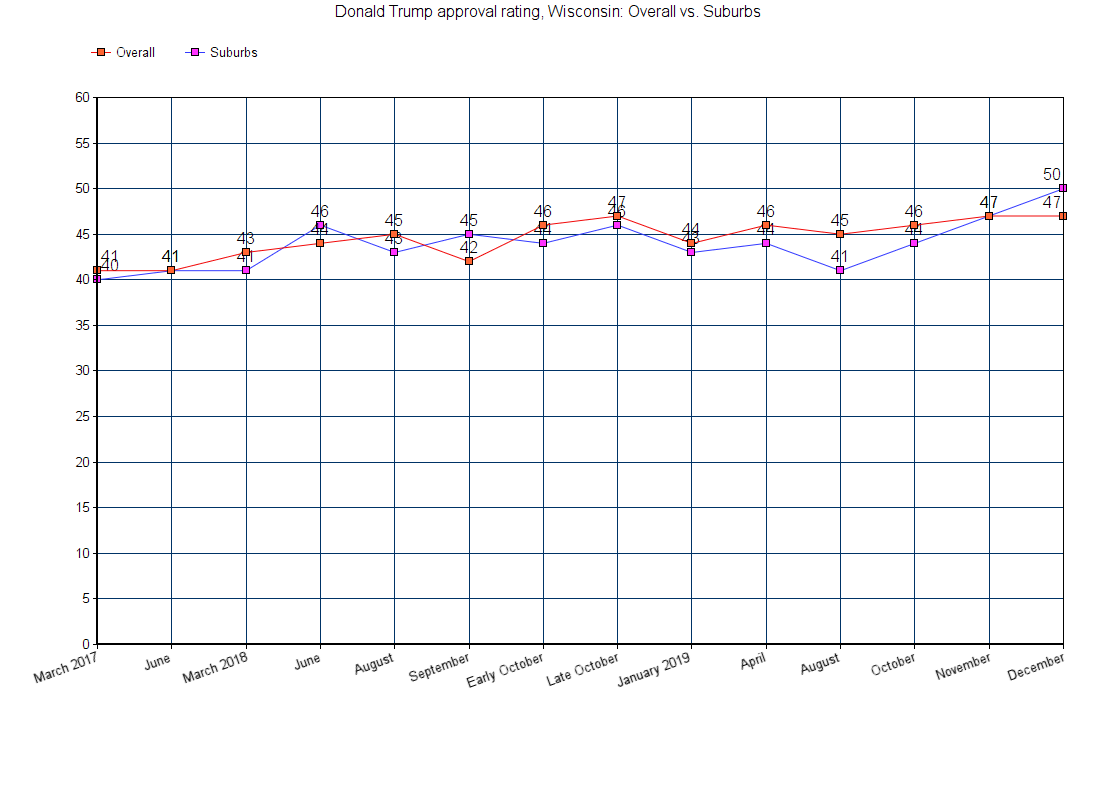 (Note: Please excuse the poor design of these charts. It's a work in progress. Hang with me!)
In December, Trump's approval rating in suburban areas reached its highest point of his presidency, at 50 percent. 
Somewhat famously, Milwaukee was identified in 2014 as one of the two most politically polarized metro areas in the nation (New Orleans was No. 1, Milwaukee No. 2). The suburbs are overwhelmingly Republican; the city overwhelmingly supports Democrats. With Trump in office, the shift other cities have seen with suburban support moving toward Democrats, particularly with suburban women, is not necessarily the case in Wisconsin (though, notably, Trump is doing very poorly with women voters-- 39 percent approve to 58 percent disapprove, according to the poll released this week).
As John J. Johnson noted at Marquette a year ago, there has been some not-insignificant movement along the way. Milwaukee County suburbs flipped from voting slightly more Republican than the rest of the state in 2012 to slightly more Democratic in 2016. Waukesha County voted overwhelmingly Republican in both elections, but less so in 2016. 
So what has happened during Trump's approval rating during his presidency in the Milwaukee suburbs?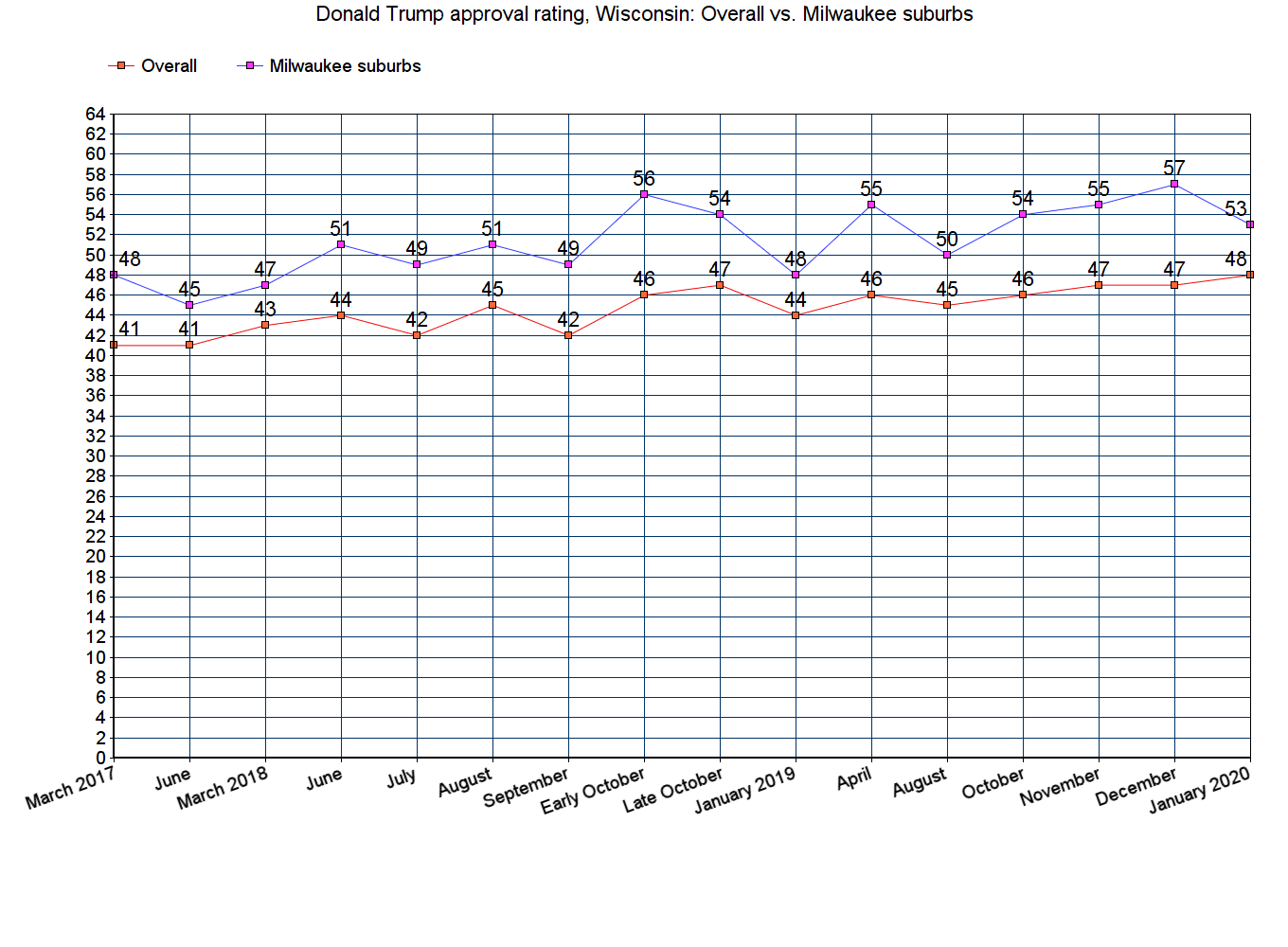 Trump's approval rating in the Milwaukee suburbs has only dipped below 50 percent once in the last nine polls, and has been well ahead of his overall number for his entire presidency. 
And this isn't always the begrudging support that is sometimes associated with some corners of the Trump Era Republican Party. The president enjoys 92 percent support within the GOP in the new poll; this is his party now, and they support him. And in the suburbs, his support is strong.
In the poll's 4-category approval rating (Strongly approve/Somewhat approve/Somewhat Disapprove/Strongly Disapprove) the Milwaukee suburbs have had the highest "Strongly approve" rating among the five regions (City of Milwaukee, Rest of Milwaukee, Madison, Green Bay/Appleton, Rest of State) for five consecutive polls. 
Here's how that support by region breaks down in the last six polls, dating back to August, combined: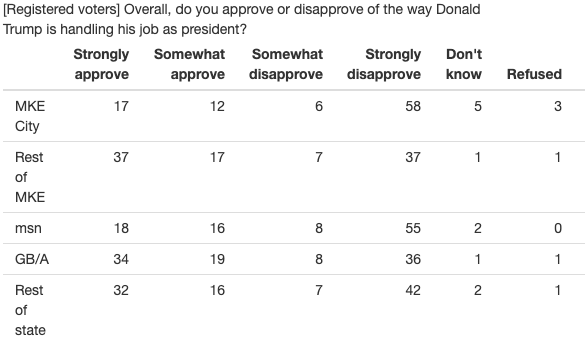 Translation: Trump's strongest support within Wisconsin is coming from the Milwaukee suburbs. 
While many may see the typical Trump voter as a more rural, white working class voter that is often portrayed in diners and dive bars in stories in traditional media outlets, the Wisconsin Trump supporter is just as (if not more) likely to be in the land of chain restaurants and strip malls.
Part of the reason to see Wisconsin as the most likely of the Pennsylvania-Michigan-Wisconsin trifecta to remain in Trump's win column is because of the president's strength of support in the suburbs. And his ability to retain that support as 2020 rolls on could have massive ramifications not only for the state's 11 electoral votes, but for the future of the country.
---
Thank you for reading The Recombobulation Area and supporting independent journalism.
Subscribe to The Recombobulation Area newsletter here and follow us on Facebook at @therecombobulationarea.
Follow Dan on Twitter at @DanRShafer.