Discover more from The Recombobulation Area
The Recombobulation Area is an award-winning weekly opinion column and online publication by longtime Milwaukee journalist Dan Shafer, covering news and politics in Milwaukee and Wisconsin. We live in discombobulating times. Let's recombobulate.
Over 5,000 subscribers
The Recombobulation Area's 2020 State Legislative Election Preview: Part I, The State Senate
Republicans running the State Legislature are failing the test of leadership in a time of crisis. Now, it's time to vote. A closer look at what's at stake and a breakdown of every race on the ballot.
The Recombobulation Area is a weekly opinion column by veteran Milwaukee journalist Dan Shafer. Learn more about it here.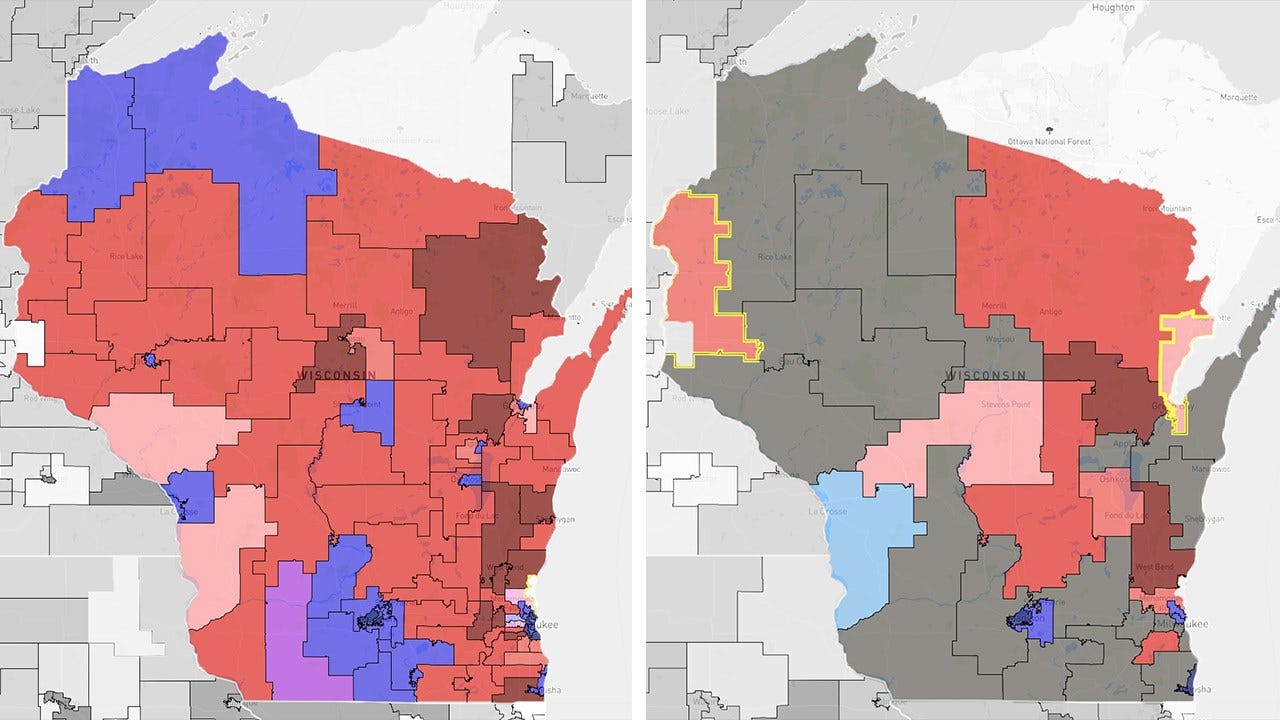 CNalysis has forecasted every state legislative race on the ballot for the 2020 election. Using those projections, we take a look at how the balance of power will tip in the State Senate and State Assembly.
This is Part I. Click here for Part II, The State Assembly.
If you've visited The Recombobulation Area here at any point since we launched in July 2019, you've likely encountered a similar refrain: The Republican-controlled Wisconsin State Legislature is a deeply problematic governing body, and their ongoing inaction at a time of genuine crisis is unforgivable. 
In Wisconsin, the State Legislature has outsized power and influence, and that has only grown in recent years. The Republicans who've run this branch of government for the last nine years have stifled progress, mismanaged state resources, and passed truly abhorrent policies time and time again. 
As the pandemic hit and crisis after crisis began to mount in 2020, they've all but disappeared, passing just a single bill in six months. 
In just a matter of weeks, Wisconsin voters have a chance to show them the door. Ballots are in the mail now, and early voting begins in Wisconsin on October 20. 
Not one legislative Republican deserves to keep their seat. Not one. If they refuse to do their job in this of all moments — as we experience a simultaneous pandemic-recession-historic protest movement — then quite simply, it is someone else's turn to lead.
Saying they have refused to do their job is a profound understatement. Wisconsin Republicans took longer than just about any other state to pass a (barely adequate) coronavirus relief bill, missing out on $25 million in federal unemployment funding in the process, and have not sent a single bill to Gov. Evers' desk in the more than 155 days since. It's beyond unacceptable. 
Making matters exponentially worse is that Republican legislative leadership sued for control of the statewide coronavirus response, won that control with the help of the conservative-majority State Supreme Court, and then offered no plan of their own. Four months, hundreds of deaths, and tens of thousands of cases later, they still have no plan to combat the pandemic. 
Now, as the state sees record-high after record-high in new cases, they continue to do nothing. Assembly Speaker Robin Vos said on Sept. 16 that "the world is beginning to return to normal." On Sept. 17, Wisconsin saw more than 2,000 new cases, and spiked to 4th in the nation for most new cases per capita. There is no end in sight, and it is not an exaggeration to say that legislative Republicans aren't doing a single thing about it.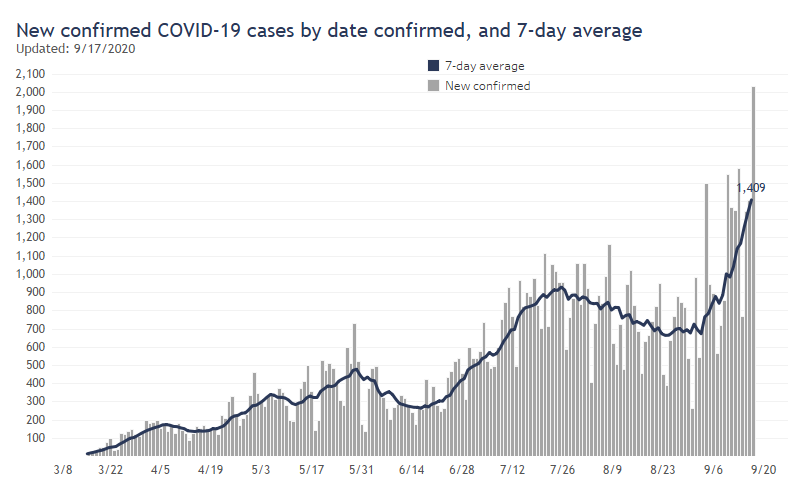 Image from the Wisconsin Department of Health Services. Wisconsin recorded a record 2,034 cases on Sept. 17.
It is someone else's turn to lead. This version of the Republican Party is not fit to govern this state in this moment of crisis. It's time to vote them all out. 
All 99 seats in the Wisconsin State Assembly are on the ballot. In the Wisconsin State Senate, 16 seats are on the ballot. In this unprecedented environment, no seat should be safe.
For Democrats, the actions of the last six months make for a simple campaign pitch — Republicans won't work for you, but I will. 
Of course, we know it's never that simple. Simplicity tends to evade Wisconsin politics. 
In this state legislative election, far too many seats will not have competitive races. In some cases, that's due to the partisan leanings of a specific region, but in many other cases, that's because of gerrymandering. The Wisconsin State Legislature is notorious for having one of the worst gerrymanders in the country. It's especially bad in the Wisconsin State Assembly, where in 2018, Democratic candidates received 53 percent of the vote but won only 36 percent of seats. 
Something is obviously wrong when a state as evenly divided as Wisconsin is tipped so far to one side. The Republicans controlled the redistricting process when these maps were drawn in 2011, and have had a stranglehold on control of the state since. The next round of map-carving will take place in the next legislative session, making this election one that will reverberate for the next decade.
When you cast your vote, though, that gerrymander doesn't matter. All that matters is you and your ballot and your constitutional right to participate in this democracy. Your vote carries greater weight in state and local elections, and you can truly make a difference here. 
So with decision time rapidly approaching, where do things stand with races in the Wisconsin State Legislature?
CNalysis has mapped and forecasted every legislative race in 40 states, including Wisconsin. They've taken a look at each individual race, and calculated the odds of a Republican or Democratic majority for both the Assembly and Senate. 
Immediately upon examining these predictions, you see the profound effects of the gerrymander in Wisconsin. The analysis gives the Democrats a 0 percent chance at a majority in the Assembly, and a 0.2 percent chance of a majority in the Senate. The Republicans even have a 30 percent chance of making the Senate majority a two-thirds supermajority that could override Gov. Evers' vetoes. This is not a level playing field.
But to be resigned to this fate would be overlooking the power of each individual voter. These projections give us a better idea of the bigger picture of what's at stake, but until the votes are counted, anything can happen. 
Let's get ready to vote.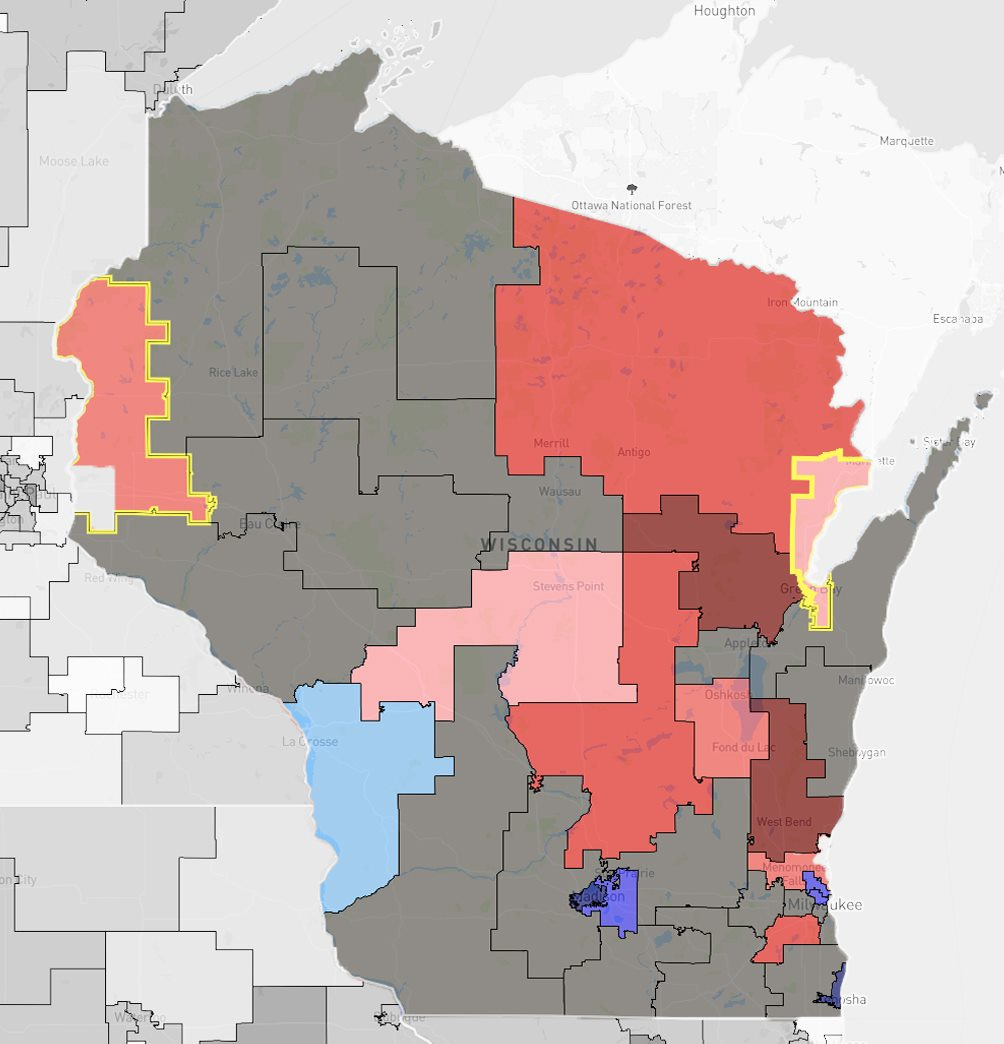 CNalysis projections of the 16 seats on the ballot in the State Senate. Darkest red or blue means "Uncontested." Races range from Safe Republican (dark red) to Safe Democratic (dark blue). Districts outlined in yellow are most likely to flip.
THE STATE SENATE
Current makeup: 
Republican: 18
Democrat: 13
Vacancies: 2

CNalysis Projection (Sept. 21, when first published):
Republican: 21
Democrat: 12

CNalysis Projection (current):
Republican: 20 (-1)
Democrat: 13 (+1)
State Senators serve four-year terms, and this year, 16 seats are on the 2020 ballot. Of those, five are Republican incumbents and four are Democratic incumbents running for reelection. 
This year, the State Senate election is marked by a number of high-profile retirements and resignations — four Democrats and three Republicans. 
Tom Tiffany was elected to serve in Wisconsin's 7th Congressional District. Former Minority Leader Jennifer Schilling resigned to take a job in the private sector. Democrats Mark Miller, Dave Hanson, and Fred Risser are all retiring after serving in the State Legislature for decades. Risser has been the longest-serving state legislator in the nation after 64 years (!) in the office. On the Republican side, Dave Craig will not be running for re-election, and Luther Olsen is retiring.
With these open seats, you can see how parties — the Republicans in particular — develop their bench. Assembly representatives Joan Ballweg (R - Markesan), Mary Felzkowski (R - Irma), Rob Stafsholt (R - New Richmond), and Melissa Sargent (D - Madison) are taking a step up to run for the higher chamber.
So, let's break this down in four categories: The Open Seats, The Close Races with Republican Favorites, The Safe Incumbents, and The Uncontested.
(Note: Each link on the District will go to the official map, and each candidate's name is linked to their campaign website. All available Wisconsin Eye candidate interviews are linked, and all projects are based on CNalysis' State Legislative Ratings. All races are listed in numerical order by district.) 
The Open Seats (6)
12th District: Ed Vocke (D) vs. Mary Felzkowski (R)
Replacing: Tom Tiffany (R - Minocqua)
CNalysis projection: Safe Republican
Wisconsin Eye interviews: Check back here
Felzkowski has represented the 35th Assembly District since 2013, and currently serves as the Co-Chair of the Joint Survey Committee on Retirement Systems. Vocke has made news in recent weeks organizing with fellow Democratic candidates for the Legislature to respond to the police shooting of Jacob Blake, issuing a call to action. His background includes working on his family farm, and in the hospitality industry. This would be his first time serving in elected office.
14th District: Joni Anderson (D) vs. Joan Ballweg (R)
Replacing: Luther Olsen (R - Ripon)
CNalysis projection: Safe Republican
Wisconsin Eye interviews:
Ballweg has represented the 41st Assembly District in central Wisconsin since 2011. She currently is the Co-Chair of the Joint Committee for Review of Administrative Rules (JCRAR), one of the Legislature's only active committees during the pandemic, which in late June mandated that tenants pay late fees on rent, and chose not to ban conversion therapy. That same committee in May sided with anti-vaxxers, blocking new vaccination requirements for school children. Anderson has for 25 years been active in union leadership as a member of the UE Local 1107, including serving as president. This would be her first time serving in elected office.
16th District: Melissa Sargent (D) vs. Scott Barker (R)
Replacing: Mark Miller (D - Monona)
CNalysis projection: Safe Democratic
Wisconsin Eye interviews
Sargent has represented the 48th Assembly District since 2013. She handily defeated Monona Grove School Board President Andrew McKinney in the Democratic primary, 77 percent to 23 percent. Sargent last year proposed two high-profile gun violence prevention bills that Gov. Evers called into a special session, only for legislative Republicans to gavel-in and gavel-out in seconds. Barker is a firefighter with Sun Prairie Fire Rescue, and calls himself a "moderate Republican." This would be his first time serving in elected office. 
28th District: Adam Murphy (D) vs. Julian Bradley (R)
Replacing: Dave Craig (R - Big Bend)
CNalysis projection: Safe Republican
Wisconsin Eye interviews:
Bradley won a five-candidate primary for the open seat with 41 percent of the vote, topping Steve Bobowski (23%) and Dan Griffin (21%). If elected, Bradley would make history by becoming the first Black Republican ever to serve in the Wisconsin State Senate. He previously ran unsuccessfully for Secretary of State (in 2014) and for State Assembly (in 2016), and has served as the chairman of the Republican Party of La Crosse County. Murphy is an entrepreneur and small business owner in the software industry. This would be his first time serving in elected office.
30th District: Jonathon Hansen (D) vs. Eric Wimberger (R)
Replacing: Dave Hansen (D - Green Bay)
CNalysis projection: Lean Republican (FLIP)
Wisconsin Eye interviews:
This is a key race. It's one of three seats that Republicans are hoping to flip in order to gain a supermajority. Dave Hansen has represented the 30th for 20 years, and said that his district was one that "Republicans told me they gerrymandered specifically to defeat me." It's a district that Trump won by a double-digit margin in 2016, but Hansen edged out a two-point victory.
Hansen's nephew, Jonathan Hansen, an Alderman in DePere, is the Democratic candidate for his uncle's seat after he defeated Sandra Ewald in the primary, 62 percent to 38 percent. Eric Wimberger was the candidate defeated by the elder Hansen in 2016, and he's running again in 2020. Wimberger is a veteran of the U.S. Marine Corps and now has his own law practice in Green Bay. 
32nd District: Brad Pfaff (D) vs. Dan Kapanke (R)
Replacing: Jennifer Schilling (D - La Crosse)
CNalysis projection: Tilt Democratic
Wisconsin Eye interviews:
This race is considered to be perhaps the most important on the State Senate map. The open seat in a swing region of the state provides opportunity for Republicans to flip the seat, which could give them a clear path to a supermajority. Of the three they're hoping to flip, this is projected to be the seat most likely to remain in Democratic control. 
Pfaff recently served as the agriculture secretary-designee under Gov. Evers, but was fired by the Republican leadership in an unprecedented move. Pfaff also was a long-time staff member for Rep. Ron Kind, and worked for the USDA under President Obama. Kapanke served as the State Senator of this district until 2011, when he was recalled, losing to Schilling. Kapanke admitted to using money from a charitable foundation to pay off personal debts while running for Congress in 2010. Pfaff and Kapanke actually squared off for this very seat nearly two decades ago, with Kapanke winning in the 2004 race. 
This tops the list of races to watch in the State Senate. 
The Close Races with Republican Favorites (4)
8th District: Neal Plotkin (D) vs. Alberta Darling (R, incumbent)
CNalysis projection: Likely Republican
Wisconsin Eye interviews:
If things really break right for Democrats in the Milwaukee suburbs, this seat could be in play. This district includes several north shore Milwaukee County suburbs and much of southern Ozaukee County, a part of the region that has been shifting to the left, but also includes several cities along the Washington/Waukesha County border where that shift is less prevalent.
Alberta Darling has served in the Wisconsin State Legislature for 30 years, 27 of which representing the 8th District. She is the Co-Chair of the powerful Joint Finance Committee and has held many leadership positions in the Senate for years. Plotkin is a small business owner and substitute teacher. This would be his first time holding elected office.
10th District: Patty Schachtner (D, incumbent) vs. Rob Stafsholt (R)
CNalysis projection: Likely Republican (FLIP)
Wisconsin Eye interviews: Check back here
This is the third of the State Senate seats Republicans are aiming to flip, and as a very conservative district, is the one most likely for them to find success in doing so. 
Patty Schachtner won this seat in a special election in January 2018, defeating state Rep. Adam Jarchow (who now peddles covid truther-isms on Twitter) by an 11-point margin. In addition to being a state senator, Schachtner also currently serves as the chief medical examiner for St. Croix County. Stafsholt has served in the State Assembly since 2017 and currently chairs the Committee on Sporting Heritage. He defeated Cherie Link in the primary, 65 percent to 35 percent. Fun fact: Both candidates are members of the Wisconsin Bear Hunters' Association. 
18th District: Aaron Wojciechowski (D) vs. Dan Feyen (R, incumbent)
CNalysis projection: Likely Republican
Wisconsin Eye interviews: Check back here
As legislative leadership was attacking Gov. Evers every step of the way during the early weeks of the coronavirus response, Feyen was one of the few Wisconsin state senators to issue a statement saying that the governor's Badger Bounce Back plan was "a step in the right direction." Naturally, leadership didn't listen to him, and nothing happened.
Feyen is in his first term in the State Senate. He chairs the Committee on Economic Development, Commerce and Trade and became the Assistant Majority Leader in 2019. Wojciechowski has served two terms as a member of the Winnebago County Board of Supervisors. If elected, he would be one of the few openly gay candidates ever elected to the State Legislature, and a 23-years-old, would be among its youngest members. 
24th District: Paul Piotrowski (D) vs. Patrick Testin (R, incumbent)
CNalysis projection: Lean Republican
Wisconsin Eye interviews:
Quietly, first-term State Senator Patrick Testin holds an extremely important role at this moment in the State Senate, one in which he should be actively leading and listening to the people of Wisconsin. That role is as Chair of the Committee on Health and Human Services. Since March, right around when the pandemic reached Wisconsin, this committee has not met a single time. They have not held one public hearing. As its leader, Testin certainly deserves blame for this. He also voiced opposition to the governor's mask requirement. He has not done his job in combating this pandemic. 
His challenger, Paul Piotrowski, served as a Stevens Point police officer for 27 years, and is also a Navy veteran and served as the Stevens Point City Clerk. 
The Safe Incumbents (2)
District 6: LaTonya Johnson (D) vs. Alciro Deacon (R)
CNalysis projection: Safe Democratic
Wisconsin Eye interviews: 
Johnson faced a primary that turned out to be a landslide as she defeated Michelle Bryant, a staff member for State Sen. Lena Taylor, 80 percent to 20 percent. Johnson is in her first term in the Senate, after serving in the Assembly from 2013 to 2017. She serves on the Joint Finance Committee. Deacon has worked in various public administration jobs in Milwaukee County and in the State of Wisconsin, and like Bradley, would be the first Black Republican elected to the Wisconsin State Senate. This would be his first time holding elected office. 
District 2: Tony Lee (D) vs. Robert Cowles (R)
CNalysis projection: n/a 
(Lee is a write-in candidate, and Cowles' seat is listed as Uncontested in the projection)
Wisconsin Eye interviews: Check back here
Robert Cowles has served in the Wisconsin State Legislature for nearly 40 years. He served in the Assembly from 1982 to 1987, and has held his current office in the Senate since 1987. He is the Chair of the Committee on Natural Resources and Energy, and Co-Chair of the Joint Legislative Audit Committee. Tony Lee won the primary as a write-in candidate with 286 votes. 
The Uncontested (4)
Four candidates are running unopposed in the November election. 
For the 26th Senate District in Madison, the competitive part of the race already happened in the primary, when former state representative and gubernatorial candidate Kelda Roys defeated a group of six other candidates, headlined by progressive upstart Nada Elmikashfi. Roys won 41 percent of the vote, Elmikashfi came in second with 27 percent. This seat draws a distinction from other uncontested races in that it was an open seat following Risser's retirement. 
But for three other races, incumbent candidates did not face a challenger in the primary, and will sail through the general election to another four-year term. 
These senators are: 
Stroebel's inevitable re-election is perhaps the most notable, as he serves on the powerful Joint Committee on Finance, and is the Chair or Vice-Chair of several other committees. He is among the many landlords serving in the Legislature, and in a June 25 meeting of the Joint Committee for Review of Administrative Rules (JCRAR), voted to mandate late fees on rent payments during the pandemic. 
By the end of her next term, Taylor will have served in the State Senate for 20 years. She lost to Scott Walker in 2008 in a race for Milwaukee County Executive, and lost to Tom Barrett this year in the race for Mayor — 62 percent to 36 percent. She defeated current Lieutenant Governor Mandela Barnes in the 2016 primary for her current seat, 61 percent to 39 percent.
Wirch has served in the State Senate since 1997, and was in the State Assembly from 1993 to 1997. His seat was also uncontested in 2016.
---
---
Dan Shafer is a journalist from Milwaukee who writes and publishes The Recombobulation Area. He previously worked at Seattle Magazine, Seattle Business Magazine, the Milwaukee Business Journal, Milwaukee Magazine, and BizTimes Milwaukee. He's also written for The Daily Beast, WisPolitics, and Milwaukee Record.
---
Thank you for reading The Recombobulation Area and supporting independent journalism in Wisconsin.
Subscribe to The Recombobulation Area newsletter here and follow us on Facebook at @therecombobulationarea.
Follow Dan Shafer on Twitter at @DanRShafer.