Discover more from The Recombobulation Area
The Recombobulation Area is an award-winning weekly opinion column and online publication by longtime Milwaukee journalist Dan Shafer, covering news and politics in Milwaukee and Wisconsin. We live in discombobulating times. Let's recombobulate.
Over 5,000 subscribers
The Recombobulation Area Turns 1
Becoming a paying subscriber for 50% OFF this week only.
The Recombobulation Area is a weekly opinion column by veteran Milwaukee journalist Dan Shafer. Learn more about it here.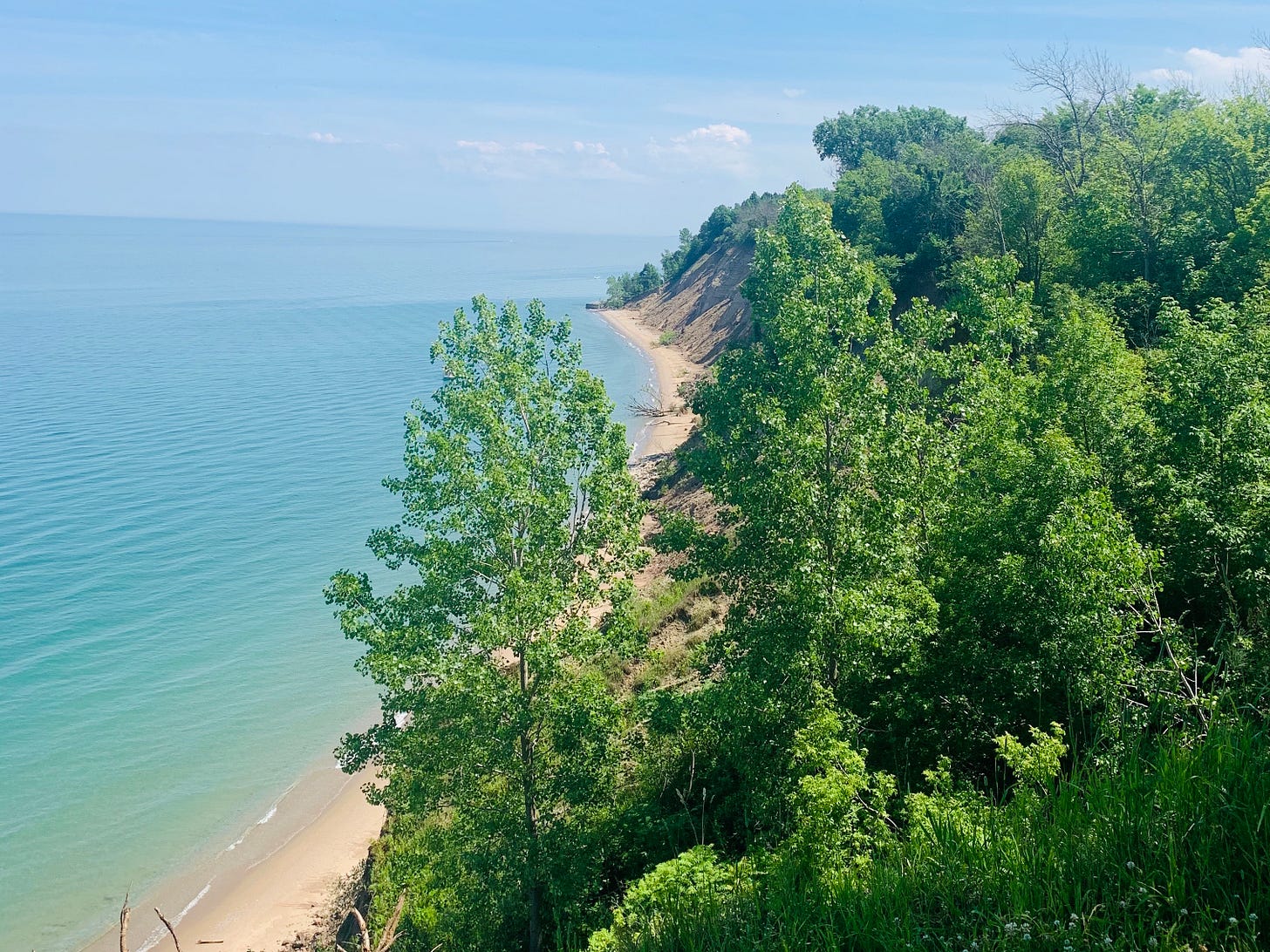 The shores of Lake Michigan at Sheridan Park in Milwaukee County. Photo by the author.
---
Greetings to you, the loyal subscriber of The Recombobulation Area.
Today marks one year since we launched. It sure has been quite the year. 
To mark the occasion, I just wanted first to take a moment to sincerely thank you for subscribing and being a part of this effort. With your free subscription, you are making a major difference in helping grow this new, local, independent media outlet.
To celebrate our first year together, I'm offering paid subscriptions at 50% off (!!!) for this week only. Just $25 for the year.
The Recombobulation Area gets 100 percent of its financial support from paid subscriptions. There are no outside influences affecting the views and opinions you see here. We're proud of that.
If you haven't yet considered joining that group of paying subscribers, what better time than now?
With local journalism seeing drastic cuts across the country, new efforts are going to need to help fill the void. Opinion and analysis journalism is an important part of that equation, too. Bold voices are often missing, especially here in Wisconsin, and I hope to deliver one of those voices to your inbox, every week. 
For those of you new to this effort, here are a few of the most-read and favorite columns from the past year.
In the very first newsletter, I wrote about Wisconsin senior Senator Ron Johnson, the Chairman of the Senate Committee on Homeland Security, and the responsibility he bears in the cruelty occurring at migrant detention centers at the southern border. A year later, he continues to abdicate his oversight responsibilities in his role as federal officers under the umbrella of DHS use violent force against protesters in Portland.
Last fall, I wrote about the impending end of downtown Milwaukee's five-year run of rebirth of reinvention, as the city, county and state were failing to grasp the opportunity to capitalize on the city hosting the Democratic National Convention and (potentially) an NBA Finals. Ah, the Before Times.
From one issue to the next, Wisconsin polls were showing consensus around certain issues, and over the past year, the state Republican Party was blocking action — on gun violence prevention, marijuana decriminalization, Medicaid expansion, and so much more. The party has only seemed more extreme in the months since.
Wisconsin Public Radio's "Derailed" series gave important perspective on the massive miss from a decade prior to build high-speed rail through the state. A truly transformative opportunity was squandered for purely political reasons. 
The race for Milwaukee County Executive
After Chris Abele announced that he would be leaving the position at the end of his term, the campaign for Milwaukee County Executive became the biggest race on the ballot for Milwaukee's local elections this spring. I interviewed the top three candidates, released podcasts of those interviews, and eventually endorsed the now-County Executive, David Crowley.
The last column published before the coronavirus pandemic was declared an emergency was an in-depth look at the Republican-controlled Wisconsin State Legislature's plans to take nine months off after the end of their planned session, even as Democrats continued to introduce legislation. The simultaneous pandemic, recession and historic protest movement that's unfolded since has done little to deter them from their commitment to inaction.
During the first week of the emergency stage of the pandemic, I wrote that restaurants need a bailout. I talked to industry leaders in Milwaukee and Madison about their efforts to organize let state leaders know what they can do to help the industry during their time of crisis. Four months later, we still need a restaurant bailout.
People had to choose between their health and their right to vote. They never should have had to make that decision.
In The Recombobulation Area's most-read (and most extensively reported) story, I took an in-depth look at the policy side of the Black Lives Matter fight in Wisconsin and Milwaukee.
Milwaukee declared racism to be a public health crisis under the leadership of health commissioner, Dr. Jeanette Kowalik, and that declaration helped the city fight coronavirus pandemic once it hit the city this spring. We had a long conversation (available in podcast form!) about managing those crises, and about her full-circle journey from intern to commissioner of the Milwaukee Health Department.
Reader favorite: Multi-part columns
They've become a regular staple of The Recombobulation Area in recent months, and judging by the reader response, they're becoming a real favorite. Take a look at columns from the last two weeks (July 10, July 17) to get a sense of how they look.
Also in this multi-part format: a breakdown of each new poll from the Marquette University Law School Poll. As campaign season heats up in this most crucial of swing states, each new poll will be big news, and here at The Recombobulation Area, we've been tracking the ins and outs of each new poll released since last August. See the most recent version — breaking down Joe Biden's big lead, Wisconsin's views on the Black Lives Matter, and more — here.
We are building this together. Let's (continue to) recombobulate. 
---
Dan Shafer is a journalist from Milwaukee who writes and publishes The Recombobulation Area. He previously worked at Seattle Magazine, Seattle Business Magazine, the Milwaukee Business Journal, Milwaukee Magazine, and BizTimes Milwaukee. He's also written for The Daily Beast, WisPolitics, and Milwaukee Record.
---
Thank you for reading The Recombobulation Area and supporting independent journalism.
Subscribe to The Recombobulation Area newsletter here and follow us on Facebook at @therecombobulationarea.
Follow Dan on Twitter at @DanRShafer.