Discover more from The Recombobulation Area
The Recombobulation Area is an award-winning weekly opinion column and online publication by longtime Milwaukee journalist Dan Shafer, covering news and politics in Milwaukee and Wisconsin. We live in discombobulating times. Let's recombobulate.
Over 5,000 subscribers
The Lost Summer: Milwaukee's Breakthrough Moment Isn't Happening
Plus: A few words on the murder of George Floyd
The Recombobulation Area is a weekly opinion column by veteran Milwaukee journalist Dan Shafer. Learn more about it here.
---
Editor's note: The initial version of this column when published first commented on some especially timely events of the week prior, namely the murder of George Floyd, and also a brief a note for subscribers on the return from a week off from the column. To eliminate any confusion, you can now find those at the end of the piece.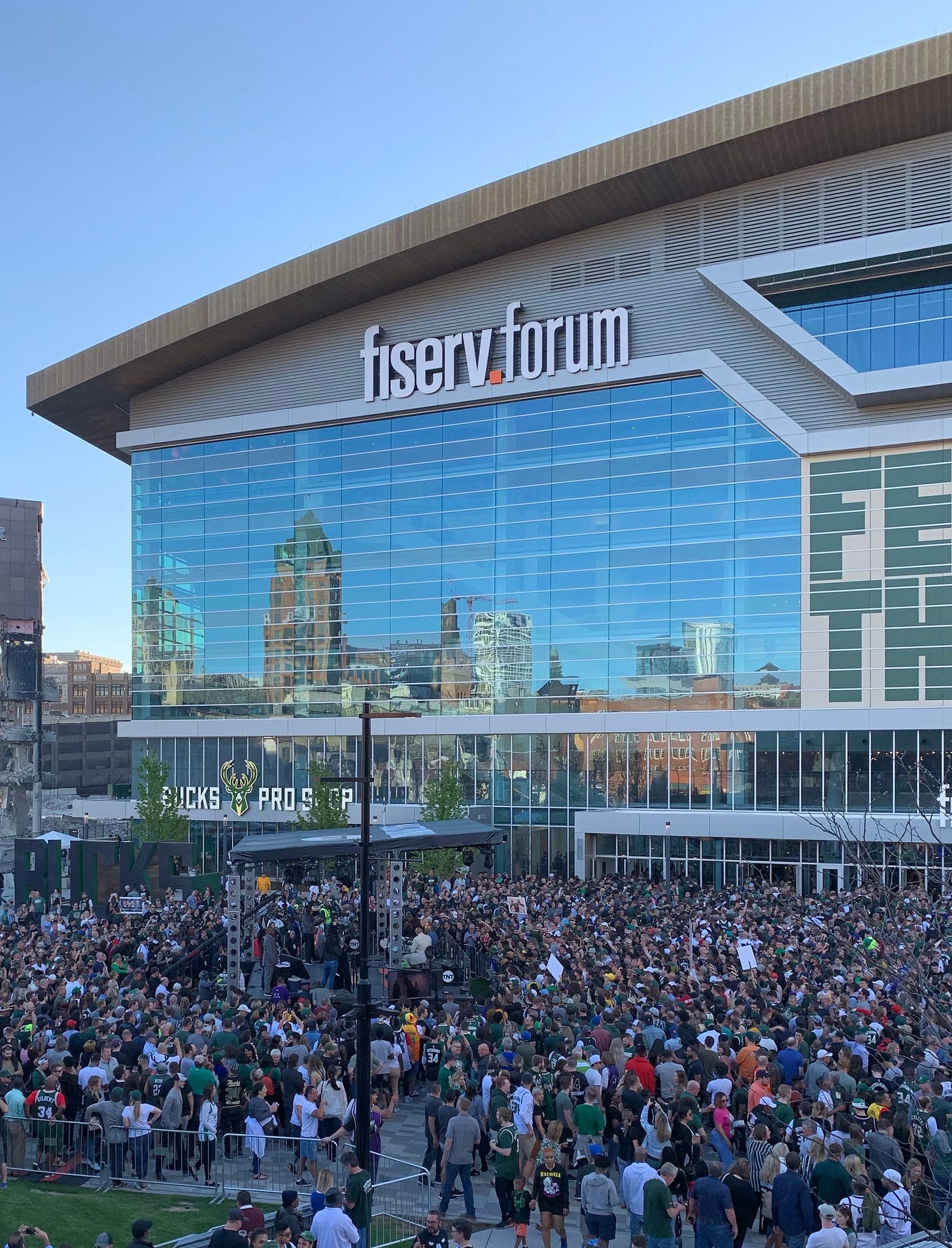 The Lost Summer: Milwaukee's Breakthrough Moment Isn't Happening
On a warm night over Memorial Day Weekend, fireworks went off in my neighborhood — summer in Milwaukee was officially underway. 
After what often feels like 11.5 months of winter, a Milwaukee summer is a sacred time. But as those fireworks burst into the sky, it served as a reminder of all the summer nights that will be so very different this year. The "City of Festivals" will not see its skies illuminated in anything resembling the celebratory gatherings that define this town in summer. It's hard to envision what these next few months are going to be like. It's just going to be so...weird.
This was supposed to be Milwaukee's signature summer, the culmination of a years-long pursuit of a real, meaningful breakthrough moment for the city. It's not going to happen now. 
The coronavirus pandemic has crushed any hopes of this summer unfolding as so many envisioned. The once-in-a-generation event that was to serve as the year's highlight — the Democratic National Convention — may happen in Milwaukee, but not in any form resembling the 50,000-visitor, events everywhere, jam-packed city, eyes-of-the-world-on-us spectacle that we thought would happen. Not in a County where more than 265 people have died of COVID-19 and more than 7,000 people have tested positive for the deadly virus. By the time Aug. 17 rolls around, the convention could be stripped down to just Joe Biden, a podium, a few delegates, and a camera crew at Fiserv Forum. It's not going to lift Milwaukee. 
(Sidenote: Should city leaders band together and try to force the Democratic Party's hand to call off the 2020 convention and grant the city the 2024 convention instead, as Pabst Theater Group CEO Gary Witt has suggested? It certainly would present the best case scenario outcome for the city.  Even being years on the horizon, having something tangible to look forward to instead of fooling ourselves into thinking any version of the economic impact the DNC once promised would be a better option. But that seems quite unlikely given the dismissive way in which city leaders have responded to Witt's creative proposal. There's no good outcome here, and making big, bold gestures isn't exactly Milwaukee's way, so we might be stuck with a tiny fraction of an event with nothing similar to look to on the horizon. Terrific.)
What's especially crazy for this "small market" city is that the DNC might not have even been the biggest event to be held downtown in summer 2020. Giannis Antetokounmpo and the best-in-the-league Milwaukee Bucks were on a realistic path toward delivering the city its first championship parade since the 1957 Milwaukee Braves won the World Series (the 1971 Bucks didn't get a parade) before the pandemic became a national emergency and derailed the NBA season. If the season returns and the Bucks win while playing at Disney World in Orlando, a victory would surely be sweet, but it undoubtedly won't be the same without tens of thousands in and out of the arena during home games, or that parade that Milwaukee sports fans have spent decades dreaming about. 
Beyond the DNC or a potential NBA Finals to power the city to that next level it's been hoping to find itself in by the end of this year, Milwaukee is left with its same old problems. Communities of color already struggling in the most racially unequal metro area in the nation are seeing problems exacerbated by health and economic effects of the pandemic.  
And now, looking ahead to the summer season that provides an annual boost to the city, Wisconsin State Fair became the latest major event to cancel for the year. It's the first time in 75 years that it won't be held. The last time it was cancelled was during World War II. 
The 11-day State Fair is the region's largest annual event, last year drawing more than 1.1 million people through its gates, with an estimated $200 million economic impact to the region. Summerfest has been pushed back to September. And at this point, just about every ethnic festival that marks each weekend in the city — Polish Fest, Bastille Days, Festa Italiana, German Fest, Irish Fest, Mexican Fiesta — has been cancelled. These are all the right decisions, of course. The health and safety of attendees and staff is far more important than the events themselves. The pandemic is far from over, and we're clearly not yet in a place where these festivals could safely happen. 
And beyond the big festival park events, so much of what makes this city what it is during the summer are street festivals. Losing those, in many ways, hurts more. Milwaukee is a city of neighborhoods and those annual celebrations in those neighborhoods add so much to the character of the city. 
And yet, also central to Milwaukee's character is resilience. I have no doubt that this city will deliver its fair share of memorable moments in this festival-less summer, and will thrive in ways we couldn't now imagine. 
And when these festivals and neighborhood gatherings and playoff games (hopefully) return in 2021, I can't imagine the enthusiasm with which Milwaukee will celebrate. What type of energy will this city have after riding out a devastating pandemic and enduring two long winters? It brings a smile to my face just thinking about the catharsis and joy this city could see in 2021 when we get a chance to celebrate together again.
Here in 2020, this summer was poised to present a real opportunity to vault Milwaukee forward, and, as Mike Gousha put it, "recast itself in the national conversation." 
However, there were already signs that this generational opportunity was not being realized in a meaningful, lasting way for the city and region. So perhaps Milwaukee is back where it started, before the Bucks took off and the city landed the DNC, grappling with stagnant growth, fraught with institutional racism, hampered by an increasingly anti-city state legislature -- and yet still surviving and resiliently reinventing itself in thrilling new ways. 
But first, let's confront the truth of the moment: Milwaukee's dream summer is no longer happening. Perhaps, though, this unfortunate reality can be a recalibrating moment for our city. Let's not pin our hopes to one big, potentially redemptive moment. Let's continue to do the tireless, incremental, day-by-day work to make this city better from the ground up. 
---
A couple things first...
The Recombobulation Area was off last week so that I could do some self-recombobulating. I hadn't taken a break from the column since New Year's, and it was good to once again gather my things, put my shoes back on, and get ready to head to my gate to take flight once again. 
It has become a bit busier here at The Recombobulation Area in recent months, and I want to take a moment to thank those of you who have taken the time to subscribe. We are building this new, independent media outlet together. As I said from the beginning of this endeavor, this is starting small, and growing piece by piece. And it is growing. The number of paying subscribers has more than doubled since the beginning of March. 
So thank you to new subscribers, and a special thanks to those of you who have been here since the beginning. My door is always open to hear from you, so feel free to email me at therecombobulationarea@gmail.com. Let's keep building. 
Another of my goals with The Recombobulation Area since the beginning was to write about the Midwest as a region, so I'd be remiss not to share a few words about the biggest story in the Midwest right now, the murder of George Floyd in Minneapolis. 
George Floyd should be alive right now. And his death is not an isolated tragedy. The killing of unarmed black men by white police officers is a plague of injustice across the nation, and it is beyond unacceptable. In the Midwest, we've seen incidences like this one in every large city. It can't keep happening, and yet it keeps happening. We're clearly not doing enough to make the changes required to keep this from happening.
Derek Chauvin, the since-fired Minneapolis Police Department officer who killed Floyd by putting his knee on his neck for minute after minute despite pleas for his life, should be arrested and charged, as should the three additional officers — Tou Thao, Thomas Lane, and J Alexander Kueing — who played a part in this unspeakably appalling incident. There needs to be justice for George Floyd and justice for the black community in Minneapolis and it needs to happen swiftly.
Black lives matter. There is systemic racism and injustice present in our cities here in the Midwest, and we can't ignore it. We need to make real change, and after the unjust murder of George Floyd, it's never been more clear just how deeply and immediately a change is needed. 
There's going to be much more to process from this tragedy as events continue to unfold, but an agent of the state killing an American citizen in the heinous and unjust way it was done by Minneapolis police officers this week is what started it all and remains the most grave concern, and the one that needs to be at the top of the list of what most needs to be addressed by public officials. 
Years after the violence and unrest that occurred in Milwaukee after the police killing of Sylville Smith, the Sherman Park neighborhood has been able to rise from tragedy and rebuild in inspiring ways, but the tragedy of Smith's death — and Dontre Hamilton's death, and Derek Williams' death, and Corey Stingley's death, and the deaths of so many more — is still very present in our city. The deep and overwhelming tragedy of George Floyd's death, too, will echo in America for a long, long time. 
---
Thank you for reading The Recombobulation Area and supporting independent journalism.
Subscribe to The Recombobulation Area newsletter here and follow us on Facebook at @therecombobulationarea.
Follow Dan on Twitter at @DanRShafer.