Discover more from The Recombobulation Area
The Recombobulation Area is an award-winning weekly opinion column and online publication by longtime Milwaukee journalist Dan Shafer, covering news and politics in Milwaukee and Wisconsin. We live in discombobulating times. Let's recombobulate.
Over 5,000 subscribers
The GM Strike is a Major 2020 Election Story
Nearly 50,000 mostly-Midwestern workers are on strike, and what's happening involves issues from trade to health care to corruption to taxes to global warming to yes, the 2020 presidential campaign. 
The Recombobulation Area is a new weekly column by veteran Milwaukee journalist Dan Shafer. Learn more about it here.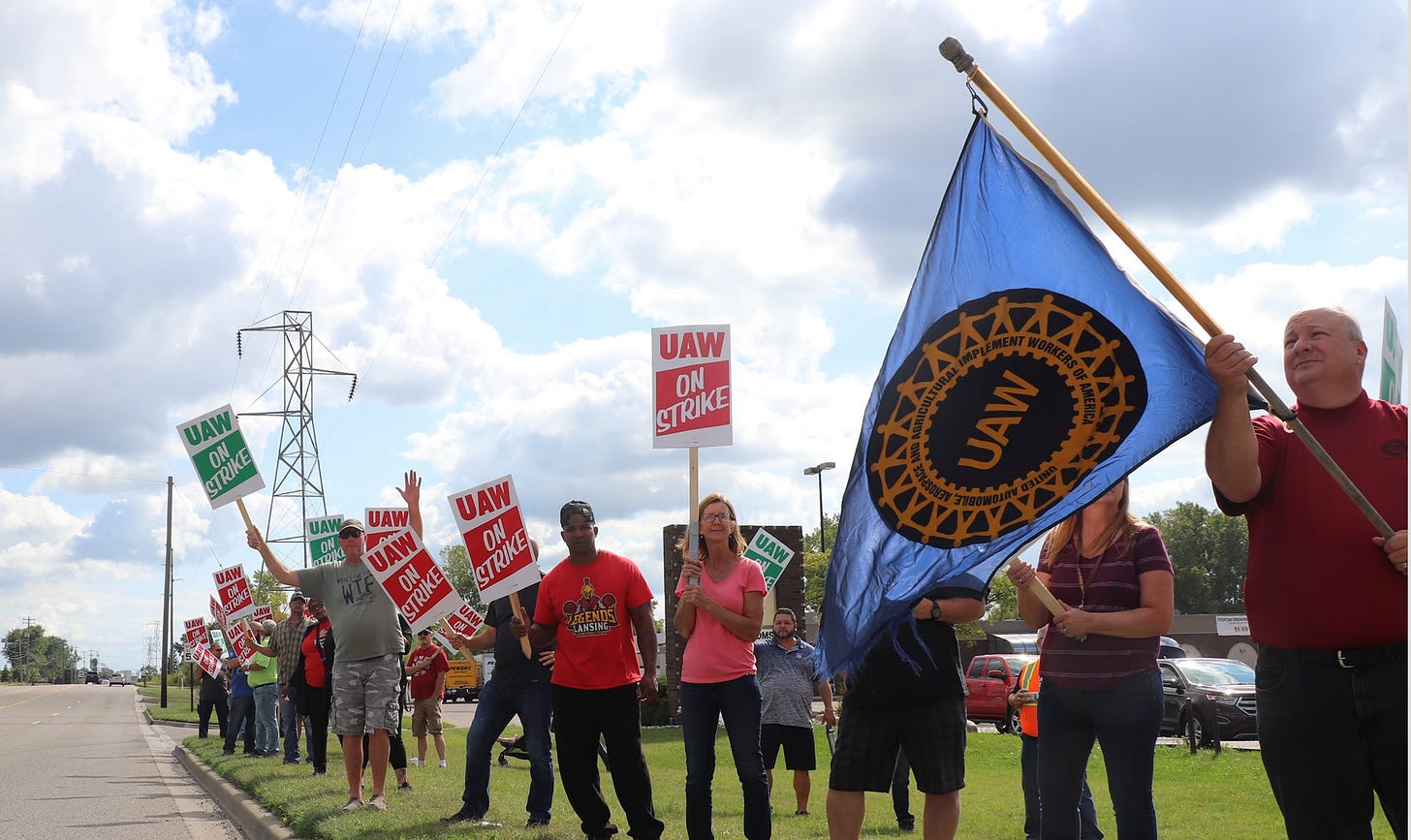 Photo via UAW on Facebook.
---
It should go without saying that the United Automobile Workers strike against General Motors is a big deal, but it bears repeating: This strike -- with nearly 50,000 workers going on strike at 55 plants and facilities in ten states, halting production across the country -- is an enormously big deal.
The strike is still in its first week, so it hasn't quite broken through as a dominant national story, but perhaps we should be paying a bit more attention to it.
That's because what's happening encapsulates so much of what's going on in the economic, political, Big Issue zeitgeist of America in 2019. It's a trade story. It's a health care story. It's a Midwest story. It's a manufacturing story. It's an automation story. It's a globalization story. It's a technology story. It's a climate change story. It's the story of a region invariably tied to an industry. It's a corporate America story. It's a corruption story. It's a tax cut story. It's a union story. It's a political story. It's an election story. 
When announcing the strike, UAW named five objectives to secure: fair wages, affordable healthcare, share of profits, job security, and a "defined path to permanent seniority for temp workers." Do those sound like topics you've heard about from politicians on the stump and at rallies?
GM is saying it is offering billions in new investments and thousands of new jobs. As negotiations are underway, details of the specifics of both what the union is looking for and what GM is offering continue to be murky. For one, the Detroit Free Press is reporting that "One person said GM has proposed that workers pay 15% of their health care costs, up from the current estimated level of 3% of health expenses. Another person familiar with talks said GM's offer preserves current health care benefits at the same cost."
But health care is certainly a key component of this strike. On Day 3, GM stopped paying for striking employees' health care (the union's strike fund will pick up the COBRA tab, for now). Is health care policy something that's been an important debate topic lately? Is it deeply woven into inevitable strife between employer and employee?
For workers at GM, this strike comes on the heels of deep job cuts, with 14,000 announced last November that would end production at five factories in North America. The 1,400 layoffs at the Lordstown, Ohio, plant earlier this year could lead to the eventual loss of 43,000 Ohio jobs. Signs of trouble in the manufacturing industry in the Midwest aren't hard to see (as explored in a recent column here at The Recombobulation Area). Are shuttered plants, factory layoffs and decimated communities in the Midwest something you hear about from presidential candidates from time to time?
This is the UAW's first national strike against GM since 2007, which, of course, came before the auto bailout. The bailout, though imperfect (especially as far as GM is concerned), is one of the more underrated policy achievements in recent years, and one that the Obama administration deserves credit for. The industry survived, jobs were saved, and the companies that were once on the brink became profitable again. 
According to Bloomberg, "GM has posted near-record adjusted profits of about $12 billion for three straight years." It's paradoxical, then, that these deep job cuts are coming at a time of tremendous profitability for the nation's largest automobile manufacturer, and right on the heels of a $157 million first-year boost from the Trump/Paul Ryan tax cut and $14 billion of stock buybacks since 2015. 
So it's not hard to see why workers, who deserve much credit for saving the company at a time of dire crisis, are ready to drive a harder bargain in 2019 than in 2007, when, after a two-day strike, the union signed a contract where workers would make sacrifices, eventually meaning they shouldered the burden during the Great Recession. 
But the UAW is now mired in huge problems of its own making, with the FBI and IRS investigating the union for widespread corruption. The home of UAW President Gary Jones was raided less than a month ago, and Region 5 Director Vance Pearson was arrested last week, becoming the 10th person charged in the investigation. The future of the thousands of workers on strike could certainly be in better hands.
So we have probably corrupt union leaders trying to make a deal with a deeply flawed corporation that's been putting thousands of its workers out of jobs, and the economic future of 50,000 working class Americans are at stake. And these halted plants and facilities don't exist in a vacuum, and the ripple effect of nationwide production being down is already hitting the next wave, as most North American suppliers that work with GM say they "need to adjust their production schedules." 
Meanwhile, the Midwestern manufacturing economy is essentially already in a new recession, Trump's trade war has already killed 300,000 jobs, and -- oh, right! -- the product being manufactured in this case is part of America's biggest contributor to climate change, and the American auto industry failed to evolve its fuel efficiency standards without the federal government requiring them to do so during the auto bailout. 
This is a situation where America could really use some leadership. But that's been in short supply for the last few years. In 2017 in Youngstown, Ohio, Trump famously said factory jobs are "coming back. They're all coming back." That clearly isn't happening, as one of the president's central campaign promises -- to revive manufacturing in places like this Midwest -- is failing to come to fruition.
The vast majority of the workers at the plants and facilities that make up GM's U.S. footprint live in three states -- Michigan (which has the most, as you'd expect), Indiana, and Ohio. Other states with a GM presence include Kentucky, Kansas, Missouri, Maryland, New York, Tennessee and Texas. 
Many of those states, of course, are important swing states in the 2020 presidential election. Michigan (16 electoral votes) and Ohio (18 electoral votes), in particular, are key to victory. And as all of these Big Issues that are part of this hugely important strike spill over into campaign rallies and debate stages and hyper-specific targeted Facebook ads, it's important to remember what types of policies could be in place to truly help the people feeling the direct effects.
Could Medicare-For-All, for example, untether workers from employer-based health care in a way that makes people less subject to the whims of inconsistent or unreliable corporations like GM? There's certainly an argument to be made in its favor in this case.
The UAW strike against GM, and how it plays out in the coming days and weeks could play a significant role in shaping the coming conversation. It's certainly the biggest story in the Midwest this week, and as the 2020 campaign drives through this part of the country in the months to come, the crucially important issues it involves are going to be ones we'll all be talking about. What GM does, what UAW does, and what policy-makers do to address the underlying symptoms and causes of this strike will be an important part of determining the future of our country.
---
Thank you for reading The Recombobulation Area and supporting independent journalism.
Subscribe to The Recombobulation Area newsletter here and follow us on Facebook and Instagram at @therecombobulationarea.
Follow Dan on Twitter at @DanRShafer.