Discover more from The Recombobulation Area
The Recombobulation Area is an award-winning weekly opinion column and online publication by longtime Milwaukee journalist Dan Shafer, covering news and politics in Milwaukee and Wisconsin. We live in discombobulating times. Let's recombobulate.
Over 5,000 subscribers
State Republicans Are Planning a 'Nine-Month Vacation' From the Legislature. Democrats Want to Keep Working.
Gov. Evers and state Democratic leaders are saying Republican leaders Robin Vos and Scott Fitzgerald are to blame for bringing the legislative session to an abrupt end.
The Recombobulation Area is a weekly opinion column by veteran Milwaukee journalist Dan Shafer. Learn more about it here.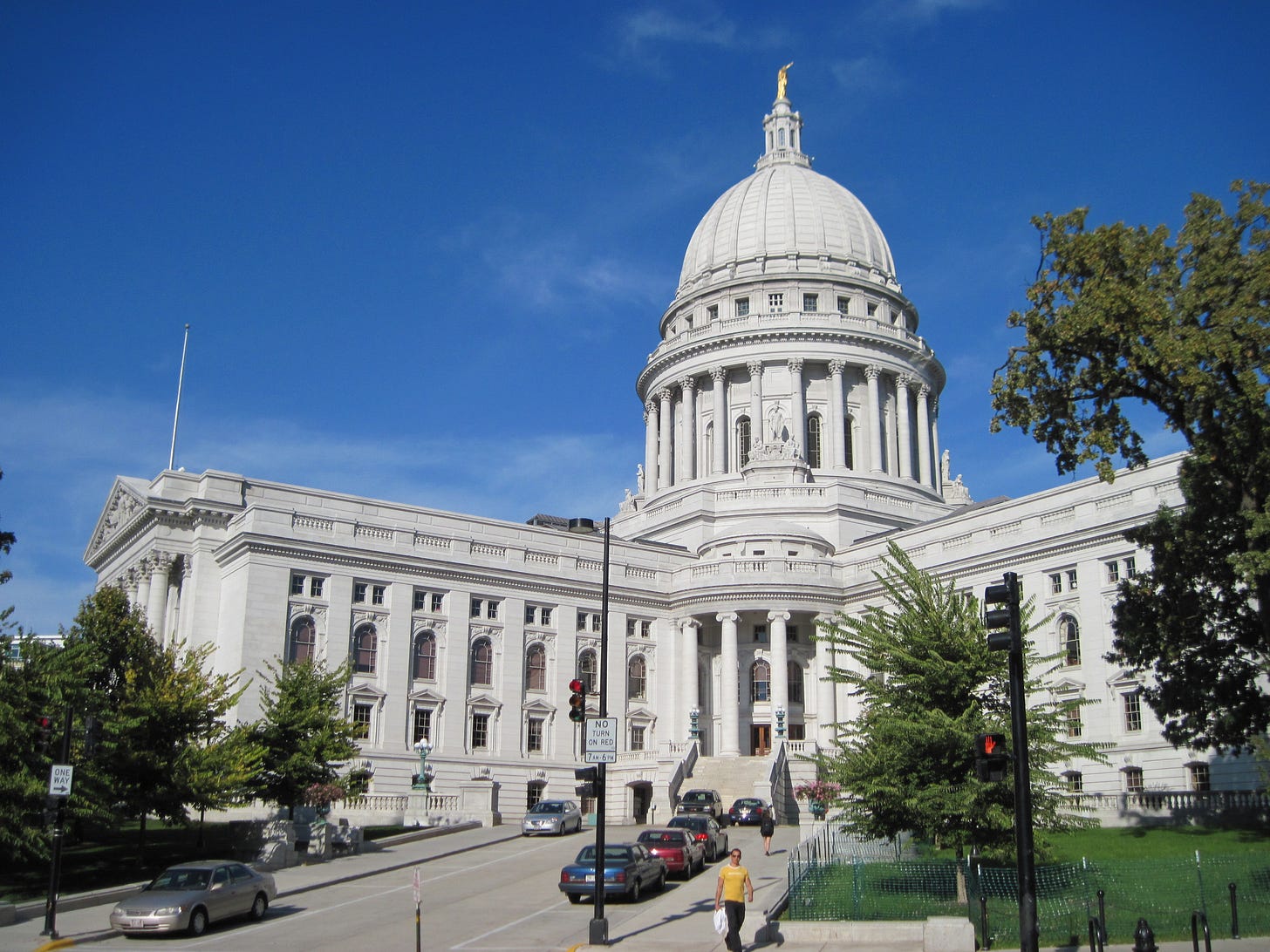 The Wisconsin State Capitol in Madison might not be a very busy place for the rest of the year. By QuartierLatin1968 - Own work, CC BY-SA 3.0
---
Wisconsin Republicans in the State Legislature are planning to conclude their work at the state capitol. For the year. With more than nine months to go.
The Senate is planning to return for one last day in late March. The last item listed on the state legislature's schedule for committee activities is on Thursday, March 12. And that's it. For the rest of 2020. 
Republicans control both houses of the Wisconsin State Legislature. They have a 63-36 majority in the Assembly, led by Assembly Speaker Robin Vos (R - Rochester), and a 19-14 majority in the Senate, led by Senate Majority Leader Scott Fitzgerald (R - Juneau). Fitzgerald, notably, is running for Congress to replace Rep. Jim Sensenbrenner, who will be retiring at the end of his 21st term. 
And under the leadership of Vos and Fitzgerald, 132 elected officials are going to be taking a nine-month legislative break. 
Because of the way state law is structured, according to the Legislative Reference Bureau, the Wisconsin State Legislature is required to meet annually, and statutes require the session schedule to include "at least one meeting in January of each year," but beyond that, leadership sets the schedule. 
And while Republican leadership is planning to wrap this year's session up by the end of the month, Democrats are going to keep working.
"We'll find every possible way we can push legislation forward if the Speaker is going to keep us out of committee hearings and votes," said Robyn Vining (D - Wauwatosa).
Democrats in the legislature would prefer to stay in session. 
"The state of Wisconsin has work to do," said Vining. "On maternal death rates, we have work to do. Our infant mortality rates, we have work to do. Our racial disparities in health care, we have work to do. Our homicide rates and our violence against women and children, we have work to do. When you look at the opioid crisis — and on both sides of the aisle, we all agree there's an opioid crisis — we have work to do. So to look at ending early is unconscionable."
Vining has a list of 2019-2020 session priorities that includes more than 20 bills, many of them with bipartisan support, that are yet to advance in the Wisconsin State Legislature and could be given time were the session to continue. These bills address a wide range of topics that include: fair maps, victims of sex trafficking (AB 41), sexual assault kits, tax loopholes, gun safety, small business, parenting, domestic violence, gun violence prevention, Medicaid expansion, adoption and foster care, property taxes, violence prevention in Milwaukee, epinephrine access, insulin prices, a host of items relating to pregnancy and maternal health care, and more. 
"The mission is the mission," she said, making note of the fact that most bills take three sessions to make their way through the legislative process, on average. "If they're not going to let us meet to push bills forward through committee, to push bills to the floor for a vote, then we're just going to have to figure out other ways to accomplish the mission."
She added, "I think the Speaker has vastly underestimated the tenacity of Democrats if he thinks that shutting down the session is going to keep us from working for the people of Wisconsin. I, for one, am not going to stop. My colleagues are not going to stop. The governor is not going to stop, and I think the people of Wisconsin are going to quickly learn who they can trust to work on their behalf."
Melissa Baldauff, spokesperson for Governor Tony Evers, said there's a lot of time left in the year for the governor and the legislature to be working on bipartisan legislation and find common ground, and expressed frustration over the session's soon-approaching end.
"It's just absurd to suggest that (Republicans in the legislature) couldn't keep working," she said. "The only reason they're not taking any legislation up is because they want to give themselves a nine-month vacation."
The legislative session schedule is set by leadership, and in this case, Vos and Fitzgerald are choosing to end this session now. Baldauff says they are to blame for this early end.
"This is really just two people saying they're done," said Baldauff. "The legislature, they set their own schedule. The calendar they released at the beginning of the session had floor periods through April. And a veto review floor period in May. They have days on their calendar that they set to be doing work into April and they're not doing it."
Added Vining: "Robin Vos is screeching us to a halt and the Republicans have gone home to raise money and campaign."
Vining said the legislature could be called back in for veto override votes in May, but said it likely wouldn't result in any changes, because "they know they don't have the votes," she said.
A spokesperson for Vos — who, along with Fitzgerald, Assembly Majority Leader Jim Steineke, and Senate President Roger Roth, did not respond to questions and request for comment for this story — told the Racine Journal Times on Feb. 22, when the Assembly session came to a close, that "It is not uncommon for the Assembly to complete its regular session around this time. Half of the regular sessions in the last decade ended in February."
That is not an incorrect assessment. According to the Legislative Reference Bureau, these have been the final regular session floor days in the Senate and Assembly for the last decade. 
Senate
2009: April 22, 2010

2011: July 17, 2012 ("Senate convened only to elect new president following the shift in balance of power as a result of the recall elections; the final floor day on which bills were considered was March 14, 2012")

2013: April 1, 2014

2015: March 15, 2016

2017: March 20, 2018
Assembly
2009: April 22, 2010

2011: March 15, 2012

2013: March 20, 2014

2015: February 18, 2016

2017: February 22, 2018
Notably, each session to end by March has happened with the same legislative leadership. Vos and Fitzgerald have held their same positions since January, 2013. 
Also of note, during this current session, 1,884 bills have been introduced, 20 have been fully vetoed by the governor, and 184 bills have been signed into law, according to Madeline Kasper of the Legislative Reference Bureau. 
While the late March Senate session date still remains, there's a chance for this to become the least productive session of the Wisconsin State Legislature in nearly two decades, when 106 bills were passed into law after 1,436 were introduced in the 2001-2001 session (only two other post-2000 sessions produced fewer than 300 laws: 2011 (267 laws) and 2007 (239)). Granted, this is the first session under divided government since 2008, so some of that does indeed comes with the territory, but it's still a low number.
Baldauff said there are many bills that died having passed just one house of the legislature, making the current scenario scenario unique in comparison to past sessions. 
Rep. Steineke (R - Kaukauna), released a press release on March 3 celebrating the "bipartisan wins" from this legislative session, noting data from the Legislative Reference Bureau that showed that the Assembly passed 371 bills, more than 94 percent of which with bipartisan support. But that number suggests precisely the concern Baldauff expressed — there aren't enough bills making it over the finish line.
"To end the legislative session with so much of that kind of work left undone is what's really unique here," she said.
Furthermore, if indeed that spirit of bipartisanship that Steineke celebrated — "By all accounts, it was a session full of successes — success supported by both Republicans and Democrats alike," he said — is the reality at the Capitol, why stop now? Why end the session so early? Why not use this as an opportunity to build? 
Republicans could have used these next few months — months they had already set aside for legislative session work — to continue to pass bipartisan legislation or see some of the bills passed in the Assembly on through to the Senate. 
Along with Vining's session priorities, dozens of Democrats also just introduced a bill to raise the minimum wage. The governor this week announced a six-part bipartisan package of legislation to prepare for flood season. There's mental health funding for rural communities has been left unaddressed by both houses of the legislature, said Baldauff. The list goes on.
Could this mean the governor will — as he's done before on gun violence prevention, agriculture and rural prosperity, and education — call another special session?
"What he's said in the past is that he certainly doesn't rule that out," said Baldauff. "He doesn't have anything in particular planned right now. But that could change. It's certainly within his power as the governor to call for another special session if it was warranted."
She added, "Right now, the legislature can still come back and do work, though. There's nothing stopping them. They had the will to come in in December 2018 and pretty quickly act to override the will of the people and strip power from the governor and attorney general. They could certainly come in and pass some legislation that could help folks in Wisconsin if they wanted to."
Being a Wisconsin state legislator is a full-time job. It is paid a full-time salary. To take a nine-month vacation with no plans to convene for a session is completely unacceptable. There are urgent matters to be addressed. Vos, Fitzgerald and the Wisconsin State Legislature need to keep working. 
---
Thank you for reading The Recombobulation Area and supporting independent journalism.
Subscribe to The Recombobulation Area newsletter here and follow us on Facebook at @therecombobulationarea.
Follow Dan on Twitter at @DanRShafer.