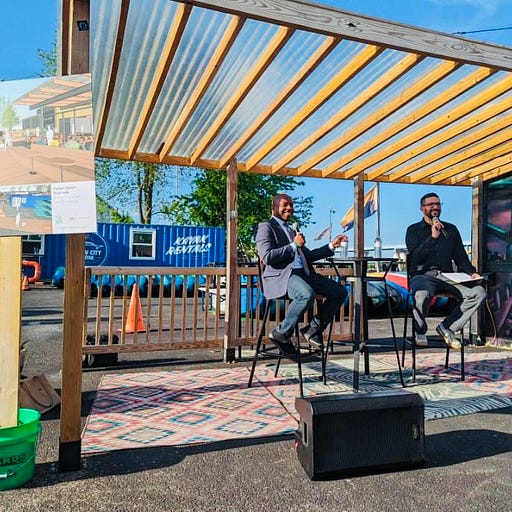 Jun 10, 2022 • 41M
PODCAST: A Conversation with Cavalier Johnson
From our June 9 event, live at Boone & Crockett!
The Recombobulation Area podcast is the podcast version of The Recombobulation Area. Keepin' it simple.
The Recombobulation Area is a six-time Milwaukee Press Club award-winning weekly opinion column and online publication written and published by veteran Milwaukee journalist Dan Shafer. Learn more about it here.
---
Thanks to everyone who joined The Recombobulation Area at Boone & Crockett for our event: "A Conversation with Cavalier Johnson"! It was a terrific event and we appreciate all of your support.
For those of you who subscribe and were unable to attend, you can listen to the full conversation here, in podcast form.
Topics discussed include: the city of Milwaukee's relationship with the state of Wisconsin, rising violent crime in the city, and the future of the Stadium Freeway and infrastructure in Milwaukee. Plus: The mayor answered several questions from those of you who joined us at the event.
We're planning to host more events in the not-too-distant future, so stay tuned, and we hope to see you soon!
---
The Recombobulation Area is a reader-supported publication. To help fund our work, consider becoming paid subscriber.
---
Dan Shafer is a journalist from Milwaukee who writes and publishes The Recombobulation Area. He previously worked at Seattle Magazine, Seattle Business Magazine, the Milwaukee Business Journal, Milwaukee Magazine, and BizTimes Milwaukee. He's also written for The Daily Beast, WisPolitics, and Milwaukee Record. He's won 13 Milwaukee Press Club Excellence in Journalism Awards. He's on Twitter at 

@DanRShafer

.
---
Subscribe to The Recombobulation Area newsletter here and follow us on Facebook and Instagram at @therecombobulationarea.
Follow Dan Shafer on Twitter at @DanRShafer.