Discover more from The Recombobulation Area
The Recombobulation Area is an award-winning weekly opinion column and online publication by longtime Milwaukee journalist Dan Shafer, covering news and politics in Milwaukee and Wisconsin. We live in discombobulating times. Let's recombobulate.
Over 5,000 subscribers
Officer Willmann's Outrageous Attack, Milwaukee's Mask Mandate, Wisconsin's COVID-19 Outbreak, Landlords in the Legislature
It's been quite a week. Let's recombobulate.
The Recombobulation Area is a weekly opinion column by veteran Milwaukee journalist Dan Shafer. Learn more about it here.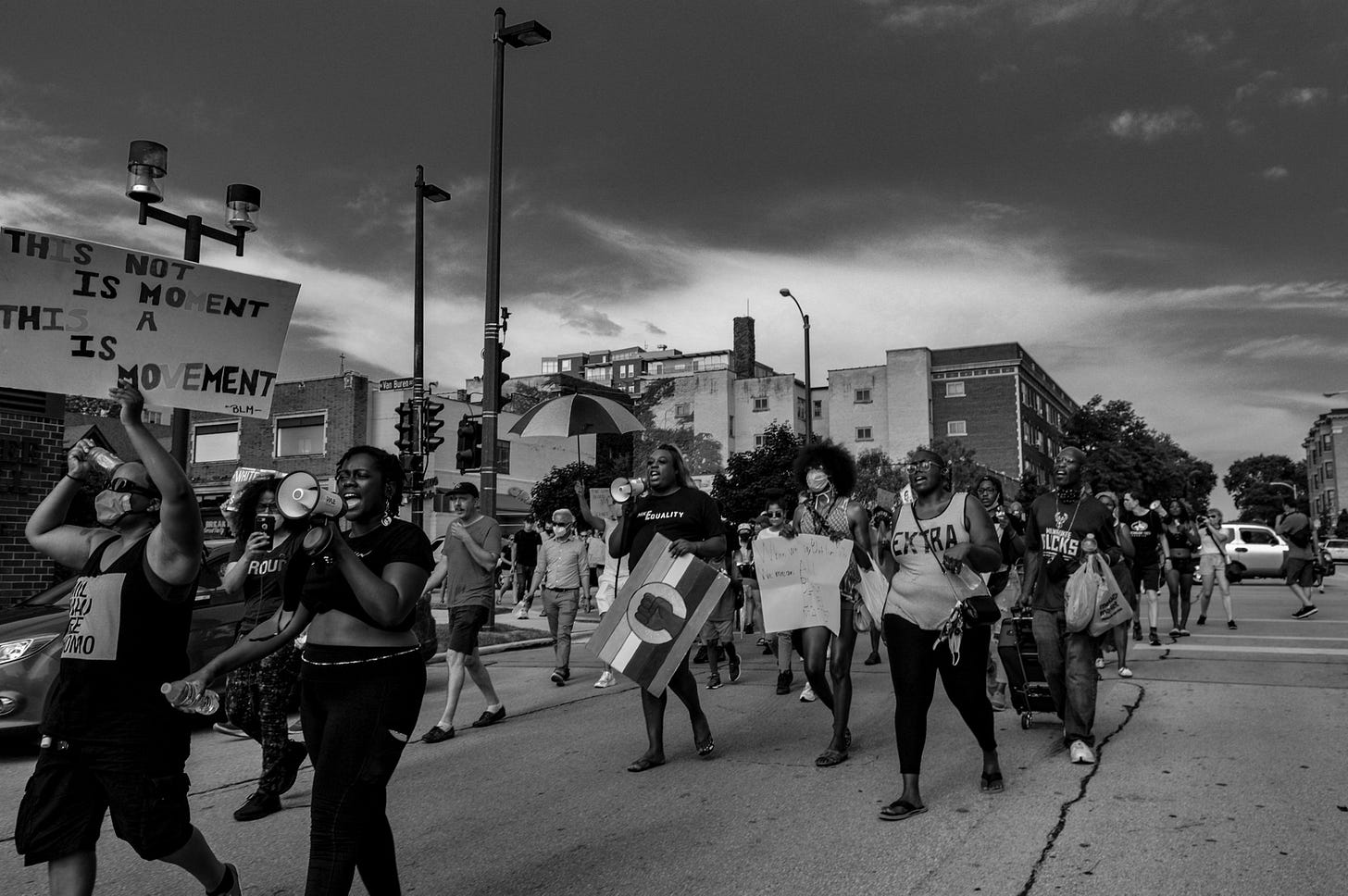 Photgrapher LaTasha Lux captured images of "Black LBTQIA Womxn's March" before she was punched by Milwaukee police officer Matthew Willmann, giving her a concussion. Photo by LaTasha Lux.
---
Fire Matthew Willmann
Willmann is the off-duty Milwaukee police officer who punched photographer LaTasha Lux outside of a bar on Old World 3rd Street on Sunday afternoon during a protest march. That punch gave Lux, a Black woman, a concussion. 
Myself and another photography were assaulted today 7/5/2020 by this man today at the corner of 3rd and State Street. We were there documenting a protest when the woman threw her drink in protesters. The man punched myself and the other photographer. Please share these photos.
Video obtained by WUWM clearly shows Willmann striking Lux.
Additional video published by the Milwaukee Journal Sentinel shows a woman (said to be Willmann's wife) approaching protesters walking along State Street and throwing a drink at them. The report also says she was shouting racial slurs at the protesters, who were part of a "Black LBTQIA Womxn's March."
Lux has been documenting the protests and has produced some of the best photojournalism of the Black Lives Matter movement in Milwaukee (give her Facebook page a follow here).  
After the incident, Lux and another photographer, Sean Kafer (who had a camera that was broken when struck by Willmann), were detained for five hours as they gave statements. WUWM reported that Kafer was cited for disorderly conduct, and Willmann "is said to have been issued a citation for vandalism." Really, vandalism? 
The next day, Old German Beer Hall put out a pretty strong statement about what happened in front of their bar, and took action in banning Willmann and his wife from the establishment. 
It's notable that this bar was able to act quickly and decisively after the incident crashed through their front door. 
While police reportedly continue to investigate the incident, the mounting video evidence makes it clear that Willmann was in the wrong. And this is someone who has been with the department for nearly 20 years, is paid a nearly $100,000 salary. How is this remotely acceptable behavior for someone at that level? A person he was with used racism and disrespect to instigate a confrontation, and his reaction was to escalate it into violence. It's unacceptable at any moment, and especially so now. It speaks to the larger problem that's brought people to the streets in protest for weeks on end.  
"I can't sit here and think that this is only happening to LaTasha," Lux's attorney, Nicole Muller, told the Journal Sentinel. "How many other women of color or people of color call the cops because they've been victimized, and then they are treated as the aggressors or treated as the criminals?"
Through his harmful, belligerent actions, Willmann has provided yet another clear example of why the Black Lives Matter protests are so desperately needed. Acts of racism, acts of violence, police acting above the law...they're all happening with no accountability.
This officer should be held accountable for his actions, for traumatizing and injuring an innocent person peacefully documenting a protest march, and as an example to other officers within the department that this type of thing cannot be tolerated.
Officer Willmann has broken the trust of the city he polices, and it's his turn to be held accountable. 
Wear a mask
The City of Milwaukee appears to be moving forward with a much-needed rule requiring people to wear masks in public places. That's a good thing. 
The local business leaders who pushed this, led by the Milwaukee Independent Restaurant Coalition (MIRC) and the Pabst Theater Group, took an important step in forming a coalition and  speaking out about the issue, and asking for a mandatory mask rule.
Led by Ald. Marina Dimitrijevic, the city is making significant progress toward requiring people to wear masks, a simple yet incredibly important part of protecting public health during this deadly pandemic in a city where more than 10,000 people have now tested positive for COVID-19. 
After the proposed ordinance passed through the Public Safety and Health Committee by a 3-1-1 vote, it now goes to the full Common Council on Monday, where hopefully, it will be approved. The state of Wisconsin has no plan to address the pandemic, so it's important for local governments like Milwaukee to be proactive. As Dr. Jeanette Kowalik said in our recent conversation, Milwaukee has the state's most vulnerable population, and "By us still having an order, that's impacting the rest of the state," she said. 
Milwaukee County, notably, is seeing cases rise. But not as dramatically as it is in some other parts of the state. Dane County's positive case numbers have spiked to its highest level of the pandemic thus far, and the county has instituted an indoor mask requirement.
Here's the latest 7-day average of new positive cases per day in Dane County (above) and Milwaukee County (below), as of Thursday evening.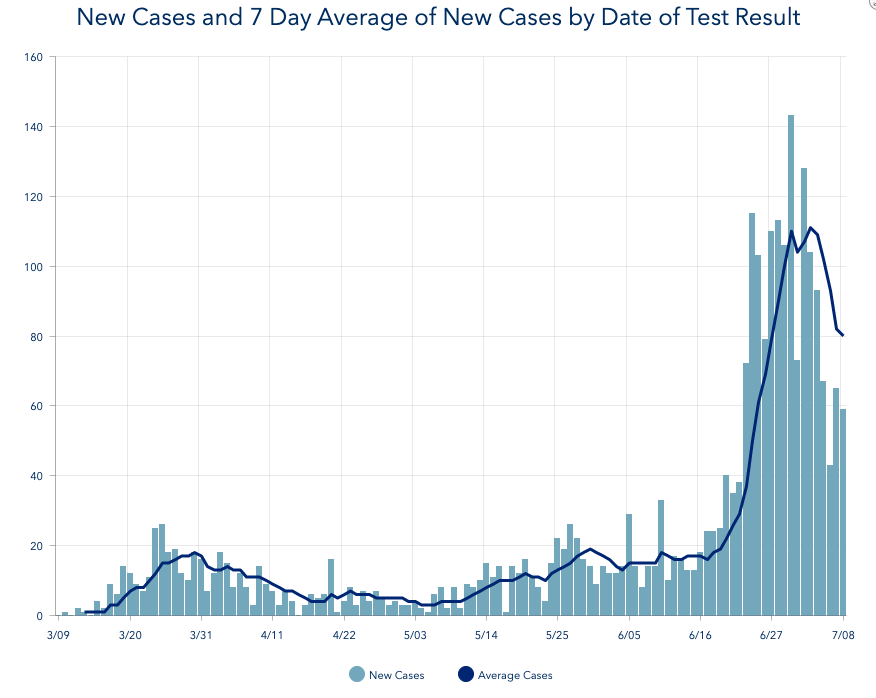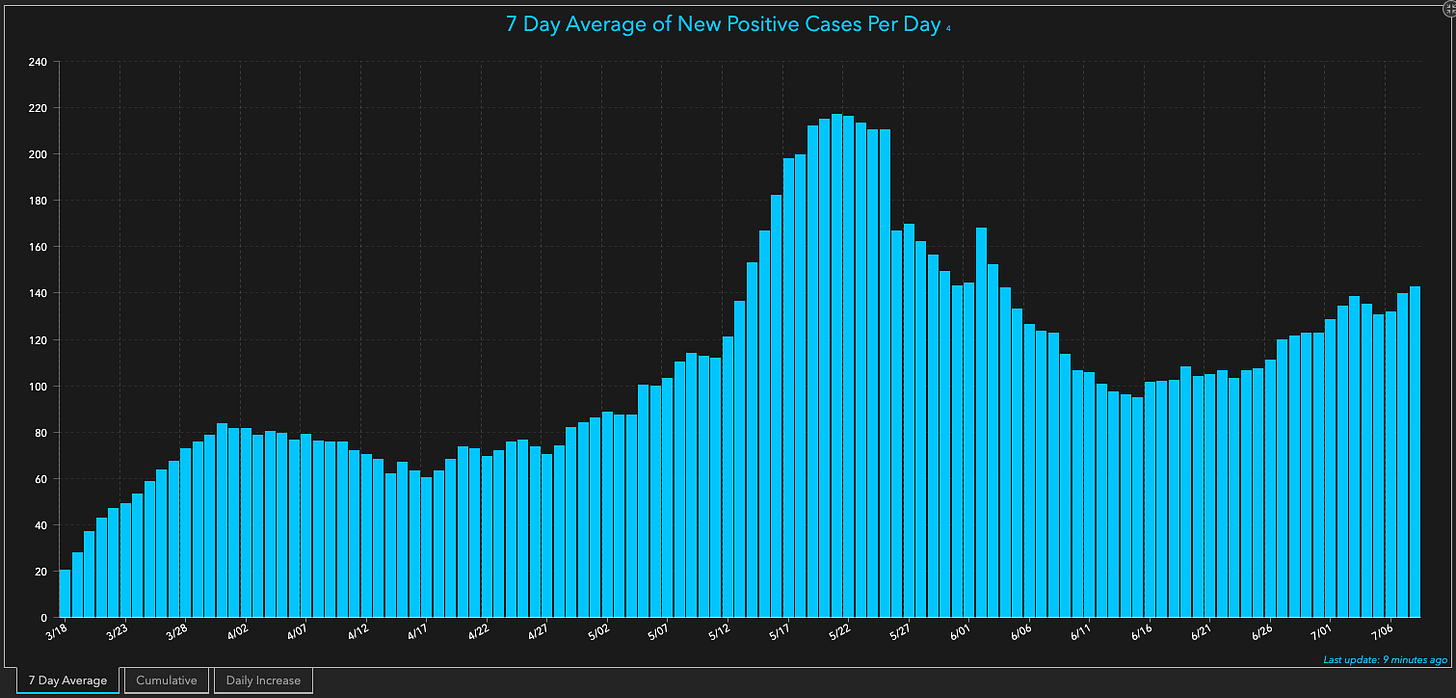 When you see these indicators heading the wrong direction, simple measures like mandating masks indoors should be a no-brainer for policy-makers.
The state's lack of coronavirus plan is becoming a bigger problem
Wisconsin this week gained the unfortunate distinction of being home to the fastest COVID-19 spread in the country. On Tuesday, the website rt.live, which tracks the rate of the disease's spread in each state, showed Wisconsin with the fastest rate of transmission. Wisconsin's rate has been climbing since the chaotic ending to the state's "Safer-at-Home" public health policy in place to combat the spread of the virus.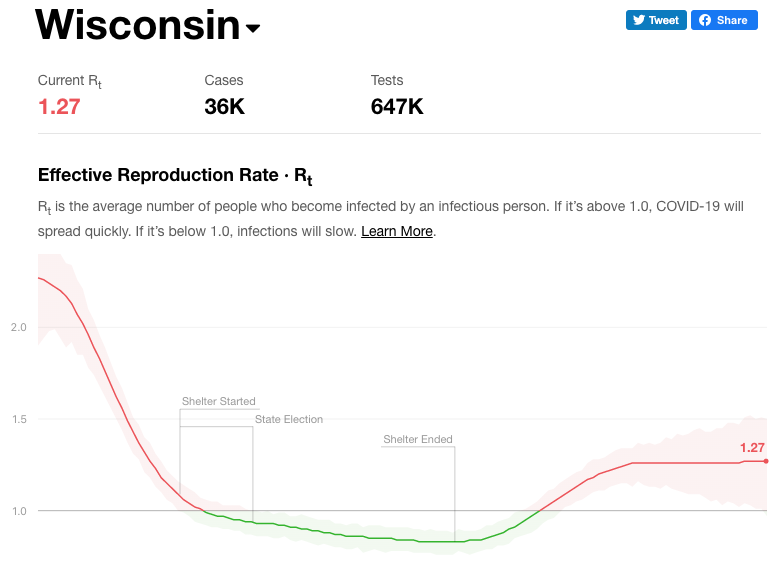 And while Wisconsin dipped to being the state with the sixth worst rate of transmission by Thursday, being anywhere near the top of this list is a real problem. 
Of course, since Assembly Speaker Robin Vos and Senate Majority Leader Scott Fitzgerald threw a fit and got their allies in the State Supreme Court to toss the governor's public health order, there has been no replacement plan. After taking this action to demand a seat at the table, they have left that seat empty. Now, the state is in trouble.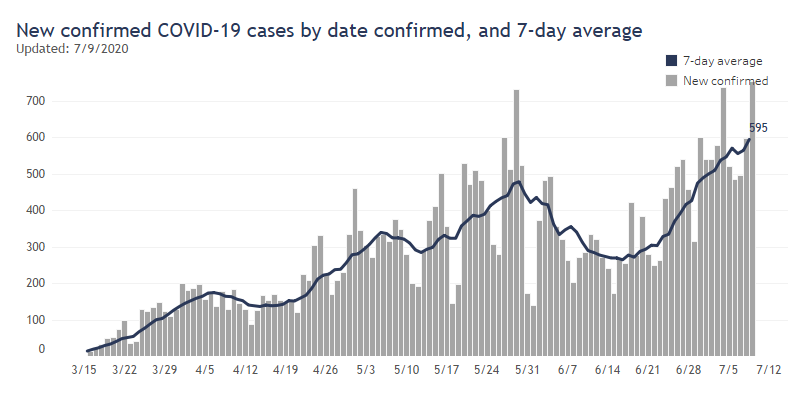 From the Wisconsin Department of Health Services.
Legislative Republicans continue to take no action to address the pandemic. They haven't passed a bill in nearly 90 days. They have not held a single meeting of the Assembly Committee on Health nor the Senate Committee on Health and Human Services during the entire pandemic.
Now, this wholly preventable problem is escalating, and without action, it's going to continue to escalate. It's depressing, but maybe it takes an outbreak reaching truly dangerous, life-threatening levels before Americans begin to take it seriously.
Republicans like Vos clearly aren't taking it seriously. On Twitter, the Assembly Speaker has been retweeting covid truthers and Liking tweets saying the pandemic is nearly over. It's not what you want to see from one of the most powerful people in the state.
In a press conference this week, legislative Republicans ripped Gov. Tony Evers, focusing on unemployment insurance payments, which is, of course, an important issue, and one fraught with a myriad of problems (including many of the GOP's own making). But the economy is not magically getting fixed until the pandemic is under control. And thanks to Wisconsin Republicans, we don't have a plan or even the possibility of a plan to come together to do that. Two-thirds of Wisconsin counties are now experiencing coronavirus outbreaks. Unemployment is going to continue to be a problem until that's no longer happening. What's happening with unemployment insurance in Wisconsin — and around the country, since this clearly is not an isolated issue — are doomed to compound unless the root of the problem is seriously, meaningfully addressed. 
What's it going to take for Wisconsin Republicans to take this deadly pandemic seriously?
Wisconsin should really have a statewide eviction ban. Instead…
While most attempts at meaningful action has been ignored by state GOP leadership, there is one issue that legislative Republicans did snap into action to address: Making sure tenants pay late fees on their rent. 
On June 25, Republicans in the Joint Committee for Review of Administrative Rules (JCRAR) called a last-minute meeting to vote against an emergency rule that would have banned landlords from collecting late fees during the pandemic. That's right, they haven't passed a bill since April, passed on coming to the table to craft a reopening plan, and blew $25 million in federal support for unemployed Wisconsinites because they took so long to pass a coronavirus relief bill, but landlords getting their late fees over Fourth of July weekend required immediate action. 
State Sen. Duey Stroebel, the Vice-Chair of the committee, was among those Republicans. He "has ties to about a dozen rental properties," according to a Journal Sentinel report about the many landlords in the Legislature (including, also, the Assembly Speaker). 
In Milwaukee County, evictions are up 26 percent in June. That's been especially the case in properties owned by Youssef "Joe" Berrada, who filed 275 eviction suits last month, according to the JS, which reported that "In one week alone, Berrada companies were behind nearly half of all evictions filed. Berrada companies filed 225 evictions out of the 461 evictions filed in the week of June 22." Berrada, a Mequon millionaire who owns or manages about 8,000 rental units in Milwaukee, is the type of person the Legislature is protecting with action like this. 
The legislature should instead be working to reinstate the governor's eviction ban that expired on May 26. Financial assistance programs from the state and from Milwaukee County are making a real difference, but more needs to be done as federal aid runs out and many need to continue to stay home to protect themselves from the pandemic. 
It's insane that there's not a statewide — or nationwide — eviction ban right now when we know the most effective way to combat this pandemic is to stay home.
---
Dan Shafer is a journalist from Milwaukee who writes and publishes The Recombobulation Area. He previously worked at Seattle Magazine, Seattle Business Magazine, the Milwaukee Business Journal, Milwaukee Magazine, and BizTimes Milwaukee. He's also written for The Daily Beast, WisPolitics, and Milwaukee Record.
---
Thank you for reading The Recombobulation Area and supporting independent journalism.
Subscribe to The Recombobulation Area newsletter here and follow us on Facebook at @therecombobulationarea.
Follow Dan on Twitter at @DanRShafer.