Discover more from The Recombobulation Area
The Recombobulation Area is an award-winning weekly opinion column and online publication by longtime Milwaukee journalist Dan Shafer, covering news and politics in Milwaukee and Wisconsin. We live in discombobulating times. Let's recombobulate.
Over 5,000 subscribers
More than 8,000 Midwesterners Died From Coronavirus in April
More than 120,000 people in seven states became infected with the deadly virus in just one month.
The Recombobulation Area is a weekly opinion column by veteran Milwaukee journalist Dan Shafer. Learn more about it here.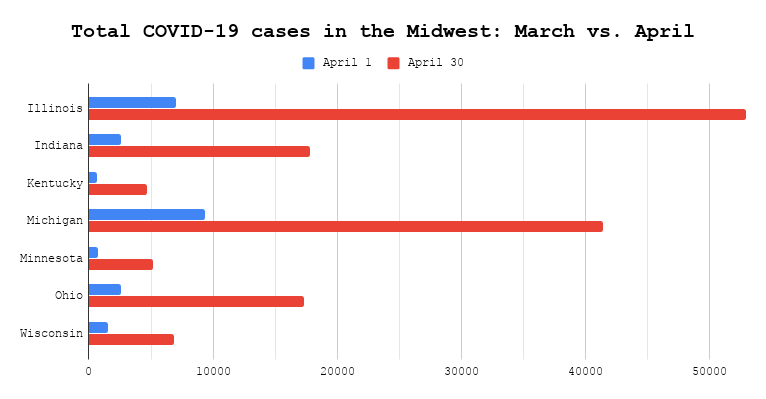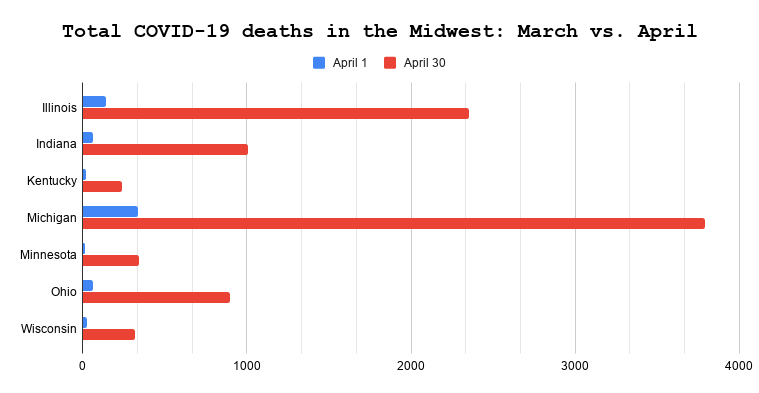 Data compiled from state health departments official websites.
---
The month of April was a deadly, dreadful one in the Midwest. 
In April alone, more than 8,000 people in the Midwest died from the novel coronavirus. 
The number of cases in the region grew from a combined seven-state total of 24,214 on April 1 to 146,115 on April 30. 
The Midwest, as a region, has seen more cases of COVID-19 than France (129,581) and has suffered more deaths than Germany (6,288). The scale of the virus here in this part of the country has reached global proportions. Very soon, there will be more cases just in the state of Illinois (52,918, as of Apr. 30) than in all of Canada (53,236).
Using each state's official daily reported data, I've been tracking the increases in cases and deaths every day and posting the results on Twitter. I started monitoring this information on March 21, tracking the seven states most closely associated with being in the "Midwest" -- Illinois, Indiana, Iowa, Michigan, Minnesota, Ohio, and Wisconsin. On April 16, seven Midwestern governors announced a "bipartisan, fact-based, data-driven" partnership to reopen the economy. This group includes Kentucky, but not Iowa, so I made the swap in which state I was monitoring the following week. Now, we have a full month of information to look back on and see what's truly happened as this pandemic has unfolded.
It's as if there's been a natural disaster in every Midwestern state this month. It is a deep and overwhelming amount of tragedy that we're seeing. It is still staggeringly incomprehensible. Hundreds are dying every day. 
So to look at how the virus and its impact has grown, here are the confirmed positive-test COVID-19 cases and deaths from April 1 to April 30, in these seven Midwestern states.
Illinois:
April 1: Cases: 6,980 | Deaths: 141
April 30: Cases: 52,918 (+45,938) | Deaths: 2,355 (+2,214)
Indiana:
April 1: Cases: 2565 | Deaths: 65
April 30: Cases: 17835 (+15,270) | Deaths: 1,007 (+942)
Kentucky:
April 1: Cases: 680 | Deaths: 20
April 30: Cases: 4,708 (+4,028) | Deaths: 240 (+220)
Michigan:
April 1: Cases: 9,334 | Deaths: 337
April 30: Cases: 41,379 (+32,045) | Deaths:  3,789 (+3,452)
Minnesota:
April 1: Cases: 689 | Deaths: 17
April 30: Cases: 5,136 (+4,447) | Deaths: 343 (+326)
Ohio:
April 1: Cases: 2,547 | Deaths: 65
April 30: Cases: 17,285 (+14,738) | Deaths: 898 (+833)
Wisconsin:
April 1: Cases: 1,550 | Deaths: 24
April 30: Cases: 6,854 (+5,304) | Deaths: 316 (+292)
In each state, you have stories like that of Odell and Gloria Robinson, owners of Nino's Southern Sides in Shorewood, Wisconsin, and Nino's Express in Milwaukee. The husband and wife, high school sweethearts married for more than 40 years, both contracted the virus in late March. Odell was released from the hospital after eight days. Gloria was placed on a ventilator, where she remained for more than two weeks. She died April 15. She was 64. 
Or the Tapiru family in Chicago, where a nursing home nurse, her husband and her son all contracted the deadly virus. Josephine Tapiru, 56, and Luis Tapiru, 20, both died of COVID-19. Luis Sr. awoke and was removed from a ventilator and learned the tragic news. 
Or Skylar Herbert, the five-year-old girl from Detroit's west side who became Michigan's youngest victim of coronavirus when she died on April 19. 
We're losing more than could ever be calculated. 
And there's little evidence to suggest that the region is beyond the peak and headed for the valley. Outbreaks at food plants all over the Midwest contributed to thousands of new cases. Nearly 900 people tested positive at a Tyson Food plant in Indiana. In Brown County, home to the nearly 300 tested positive at a JBS beef plant, and nearly 200 more at American Food Groups, making Green Bay the site of the second-fastest growing COVID-19 outbreak in the country. Workers have been infected in 15 different food processing facilities and counting across Minnesota, Wisconsin, Iowa, and the Dakotas. More than 800 employees have now been infected at a Smithfield pork processing plant in South Dakota after the Sioux Falls plant became the nation's biggest hotspot in mid-April. And here Milwaukee County, city and county leaders are voicing concern over the outbreak at the Patrick Cudahy plant in Cudahy, and OSHA has opened an investigation, and the company and Cudahy city officials remain silent. No state, no county, no city is immune from a coronavirus outbreak. 
Most Midwestern governors are recognizing the fact that this health crisis is not yet under control. Even just by looking at the daily increases, it's clear that we're not out of the woods. The testing might be up, bringing the overall number of positive cases up with it, but the number of fatalities has not decreased. And in nearby Iowa, which never had a full stay-home order and is now opening up 77 of its 99 counties, the number of cases has grown to 7,145 -- more than Wisconsin, despite Iowa's population being less than half of the Badger State's. You don't have to be an epidemiologist to see the difference in outcomes.
Leaders from both parties, like Republican Mike DeWine in Ohio and Democrat Andy Beshear of Kentucky, have some of the highest approval ratings of any executive leaders in the country on how they're handling the crisis. A distinct majority of Wisconsinites approve of how Gov. Tony Evers is handling the crisis, too. The leaders taking decisive action to save lives are being recognized for their efforts, as they should be. 
And as stay-home orders from many of these Midwestern governors rightfully extend further into May — May 26 in Wisconsin, May 28 in Michigan, May 29 in Ohio, May 30 in Illinois — we can only hope that the number of deaths we see over the course of the month will be less than the 8,279 who lost their lives across the region in this overwhelmingly tragic month of April. Saving lives is what's most important right now, and that's what needs to remain the priority as we battle the pandemic on into May. 
---
Thank you for reading The Recombobulation Area and supporting independent journalism.
Subscribe to The Recombobulation Area newsletter here and follow us on Facebook at @therecombobulationarea.
Follow Dan on Twitter at @DanRShafer.