Discover more from The Recombobulation Area
The Recombobulation Area is an award-winning weekly opinion column and online publication by longtime Milwaukee journalist Dan Shafer, covering news and politics in Milwaukee and Wisconsin. We live in discombobulating times. Let's recombobulate.
Over 5,000 subscribers
Milwaukee Is Heading the Wrong Direction on Bus Transit
As it navigates a fiscal crisis, the County is proposing to cut more than 30 percent of MCTS routes and is eliminating the important JobLines route.
The Recombobulation Area is a new weekly column by veteran Milwaukee journalist Dan Shafer. Learn more about it here.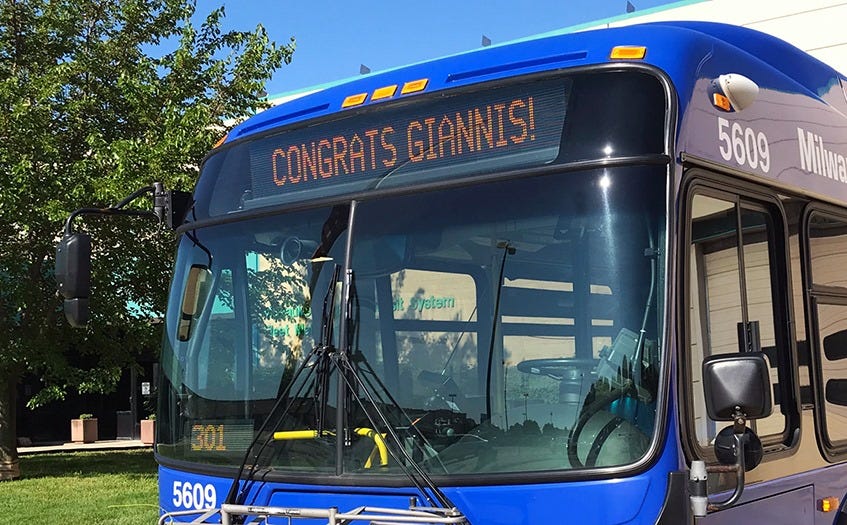 Photo via Ride MCTS.
---
It's no secret that Milwaukee does not have the best public transportation infrastructure.
The Downtown streetcar is a welcome addition to the larger transit mix, but it's only a drop in the bucket in a highway-obsessed city devoid of real regional options. The Hop just set a ridership record with more than 100,000 riders in the month of July; the Milwaukee County Transit System (MCTS) averages more than 100,000 bus rides every day. MCTS could be averaging more. Of course, that's not what's happening. 
The County-governed transit system announced Tuesday that it plans to eliminate 16 regular routes along with several seasonal services in its proposed 2020 budget. Even if the County is facing a fiscal crisis and a serious infrastructure problems — which it most certainly is! — this is disappointing. 
Milwaukee should be bending over backwards to provide more transit options to its residents, ones that do not come with the entry barrier of car ownership. With climate change breathing down our necks, in 2019, any large metro area needs to make building clean transportation infrastructure a top priority. And Milwaukee is already behind most major American cities on transit. 
Milwaukee's bus system has endured years and years of cuts, but instead of reversing that long-term trend, under this new proposal, the total number of MCTS bus routes would drop by more than 30 percent, from 51 to 35. 
The proposed eliminations include six freeway flyer routes (College Avenue, Hales Corners, State Fair Park, Loomis - Holt, South Shore and Brown Deer- Bayshore), four UBUS routes (Holt College, 6th Street - Port Washington Road, Fair Park - Hales Corners, Brown Deer), and five shuttles (Canal Street, House of Corrections, Oak Creek, Park Place - Bradley Woods, Brown Deer). Three regular routes would be either significantly reduced (Route 55 Layton, Route 80 6th Street) or eliminated (Route 52 Clement - 15th Avenue). 
While Milwaukee County Transit System says "97% of annual ridership would not be impacted by these changes," these are the types of regional transit lines that a more connected Milwaukee metro should be looking to expand -- or at least retain and improve. 
Seasonal services proposed to be reduced or eliminated include Brewers Line buses for Miller Park and shuttles and freeway flyer services for ethnic festivals, Summerfest and Wisconsin State Fair. These are the types of lines that people in a city with a strong drinking culture (and a state with way too many DUIs) should be using far more frequently as it is. 
MCTS would also be eliminating about 60 buses as part of this budget proposal, though thankfully no layoffs are currently planned. 
Perhaps the most concerning MCTS cut, however, is already decided and set to go into effect at the end of next week. 
In 2012, a coalition of community organizations in Milwaukee worked to file a lawsuit alleging racial discrimination as part of the Wisconsin Department of Transportation's $1.7 billion reconstruction of the Zoo Interchange — the largest public works project in Wisconsin's history. The project didn't include public transit improvements, ignoring those who rely on mass transit, many of whom are African American. 
Lawsuit partner Midwest Advocates, a Madison-based environmental law center, noted at the time that 32 percent of Milwaukee's black population did not have a vehicle, 40 percent did not have a driver's licence, and that, in the 12 years prior, MCTS eliminated 21 regular routes, four freeway flyer routes and several more route segments in addition to reducing many more routes.
In 2014, the Black Health Coalition of Wisconsin, Inc. (BHCW) and Milwaukee Inner-city Congregations Allied for Hope (MICAH), Midwest Advocates and the American Civil Liberties Union reached a settlement in the lawsuit from the Wisconsin Department of Transportation. The groups' win brought $13.5 million for additional bus routes to Milwaukee County in the form of the JobLines program, which added routes to connect people to suburban job centers. 
"This is one of the beginning steps in a thousand mile journey to expand transportation outside the boundaries of Milwaukee County," Rev. Willie Brisco, MICAH president, said in a release after winning the settlement. "This allows bridges to be built between communities thus giving way to us working together for the benefit of all."
Sadly, funding from the settlement ran out in 2018. The Milwaukee County Board extended the life of the program for one more year, but now, it is set to end on Aug. 24. 
It's beyond disappointing that a service created with the specific goal of getting discriminated-against African Americans in the most segregated city in the country to a job is something Milwaukee couldn't keep going on its own. 
Cities that are making bus transit a priority are reaping the rewards. One city that is doing a particularly good job expanding its bus service is Seattle. I lived there in 2017 and 2018 and saw first hand how prioritizing bus transit can rewire how a city gets around. 
Seattle has been the fastest-growing big city in the country over the past decade, adding more than 114,000 people, but between 2010 and 2017, the number of people driving to work decreased significantly. The region's massive light rail expansion is a big part of that, but the most popular mode of transit for commuters is the bus -- more than 36 percent of all downtown workers take the bus to work and less than 25 percent drive alone on their daily commute. CityLab declared Seattle "America's Bus-Lovingest Town." The Emerald City may have its own host of problems, but its bus-friendly policies — bus-only lanes and streets, free bus passes for high school students, huge planned expansions — are not among them. There are even some bus-only lane vigilantes inspiring others to keep cars out.
Milwaukee can learn a great deal from Seattle's bus policy, but Milwaukee, too, is doing some really good things with its bus service. The Ride MCTS app, where you can pay a fare right on your phone, is far better than anything offered in tech-savvy Seattle. Promoting its heroic drivers in the way that it has, getting national attention in the process, has been terrific. In 2016, bus ridership rose more in Milwaukee than any city outside of Seattle and Houston (another city with a revamped, reprioritized system). These are successes worth building on, and gutting services now would be a blow to the system. 
When considering these cuts, this is one of those places where, as the rubber meets the road, rhetoric needs to match reality. Our leaders -- city, county, state, business community, nonprofit, wherever -- need to make public transportation in Milwaukee a real priority. That starts with expanding MCTS, growing the number of routes, and keeping programs like JobLines. 
---
Thank you for reading The Recombobulation Area.
Subscribe to The Recombobulation Area newsletter here and follow us on Facebook and Instagram at @therecombobulationarea.
Follow Dan on Twitter at @DanRShafer.