Discover more from The Recombobulation Area
The Recombobulation Area is an award-winning weekly opinion column and online publication by longtime Milwaukee journalist Dan Shafer, covering news and politics in Milwaukee and Wisconsin. We live in discombobulating times. Let's recombobulate.
Over 5,000 subscribers
Milwaukee Deserves a Real Mayor's Race
Tom Barrett is the longest-serving big city mayor in the entire country. Should he be?
The Recombobulation Area is a new weekly column by veteran Milwaukee journalist Dan Shafer. Learn more about it here.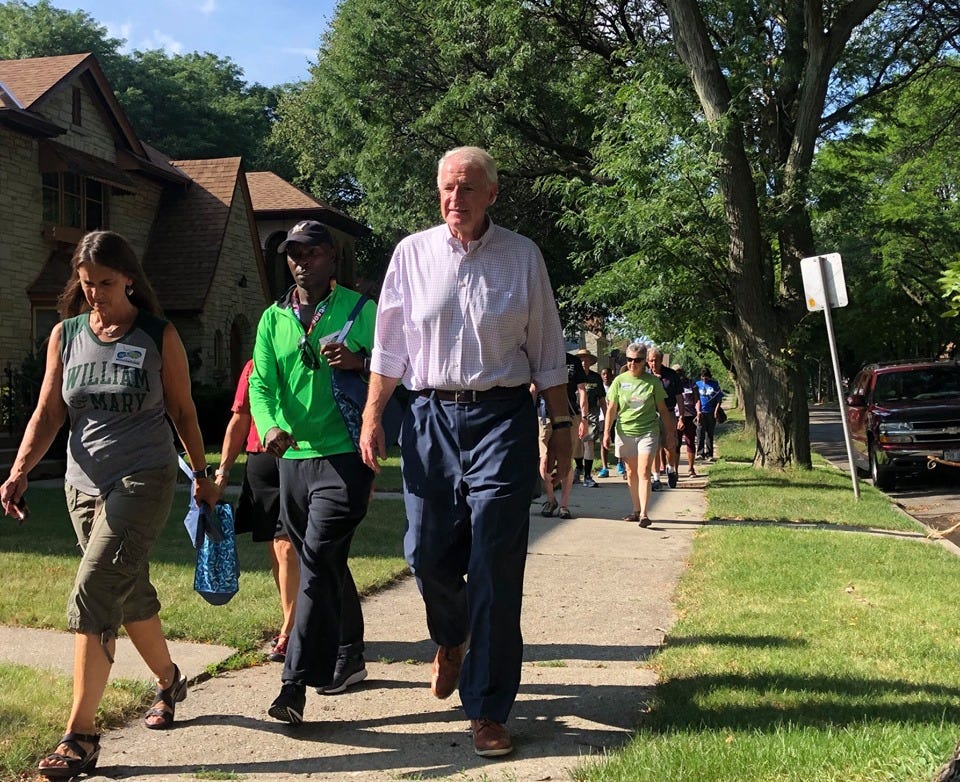 Mayor Tom Barrett walks with constituents as part of his "100 Miles in 100 Days" initiative. Photo via Facebook.
---
Among the biggest surprises from the Democratic presidential primary thus far is that, all things considered, it has actually been pretty good. It's been far from perfect, but in the "big tent" party, candidates of varied and diverse backgrounds have had substantive policy debates, confronted tough issues, and are contributing to an important larger conversation about what could make the country better. In many ways, it's been what a campaign should be, and there are several candidates who have proved themselves worthy of the nomination. 
It's a welcome departure from the dichotomy of the 2016 primary that played out in irrevocably damaging fashion. Now, as candidates like Gov. Jay Inslee or Sen. Kirsten Gillebrand exit the race, you have a chorus of candidates praising their contributions to the larger campaign and their advocacy of the issues they were fighting for. 
Perhaps there's something to be gained from a larger primary and campaign that features several voices willing to get the issues out into the open for the public to digest and dissect and discuss. 
So when looking ahead at the upcoming race for Milwaukee mayor, it's hard not to get a bit disappointed. 
Tom Barrett has been more manager than visionary during his time as the 600,000-person city's chief executive, but he hasn't been a bad mayor. There's a reason he's been re-elected three times. He might even be a good mayor, but I'd be hard-pressed to find someone to say he's been great, and it would be tough to put together an argument contending as such. He's done some good things, and he's done some not-so-good things, and he's been an honorable and ethical public servant. Clearing the low bar set by other Wisconsin politicians, however, doesn't exactly make for a leader worthy of unending praise.
Tom Barrett is currently the single longest-serving mayor of any of America's 50 largest cities. If he were to win re-election next spring, he'll have been mayor of Milwaukee for 20 years. And in each of his re-election campaigns, he's received more than 70 percent of the vote.
Does Tom Barrett deserve to be the longest-serving big city mayor in the entire country? Is he really going to be running things at Wells and Water for two full decades?
As it stands, it certainly seems that way. Barrett has a monstrous fundraising lead over any potential contender, and would be seeking re-election at a time when the tide has been turning in the city's favor. 
The only declared candidate, Ald. Tony Zielinski, is not a serious one. He announced early and has been campaigning in some capacity for the better part of the past two years, so he does have a fundraising head start on other potential candidates. But he's been essentially running a campaign straight out of anti-transit candidate Ald. Bob Donovan's playbook -- you know, the one that got him clobbered by Barrett in 2016. Donovan probably had better name recognition and a more established track record than Zielinski does now, and Barrett ended up with more than double Donovan's votes -- 110,437 to 46,957 -- in the 2016 general election.
With Zielinski essentially running to the right of Barrett, is anyone going to challenge him from the left? While the mayor has certainly been a staunch Democrat, he's hardly been the most progressive leader, and with younger, more diverse candidates who support more liberal policies seeing success nationwide (yes, even in the Midwest!), it stands to reason that someone could challenge him from the party's progressive wing.
And, political spectrum aside, he's vulnerable on a number of key city issues -- more so than he has been in the past. During his current term, he played a part in mishandling the city's lead crisis, an extremely serious issue that impacts more than 70,000 homes in the city. A yet-to-be-concluded audit and ongoing state and local criminal investigation is looking into the city's handling of the issue. A number of Health Department officials, including Commissioner Bevan Baker -- a Barrett appointee going back to his first term in 2004 -- resigned or were fired in the aftermath. Even if you're willing to give Barrett the benefit of the doubt, it's impossible to see the mayor's handling of the crisis as a success.
Even what many see as his signature issue -- the streetcar -- is leaving much to be desired. Milwaukee needs to be prioritizing the expansion of its public transportation infrastructure, and the streetcar is an important part of that. But in recent months, Barrett has proved unable to get a streetcar extension passed through the Common Council in time for a line to be completed in time for the Democratic National Convention next July. And the streetcar's lakefront extension is facing major complications after the City and County-backed Couture project, which is supposed to include a transit concourse with the streetcar winding through it, failed to secure the proper funding to be built. For all that Barrett has done to bring the streetcar to life, his advocacy for extending it at such a crucial juncture seems lackluster, and a genuine opportunity could be going unrealized.
There is undoubtedly a major reinvention happening in downtown Milwaukee, and Barrett has obviously played a key role in that transformation and in securing next year's Democratic National Convention. But there are clearly things at this point in his tenure that he should have to answer for. Issues of public safety and police-community relations happening under his watch, too, are worthy of greater discussion.
So is the mayor going to get a real challenge? That remains to be seen.
Common Council President Ashanti Hamilton filed paperwork that would allow him to get into the race, but he's never officially announced he's running. His candidacy could be a compelling one, but now it doesn't seem like it's even going to happen at all. 
The Milwaukee Journal Sentinel and Urban Milwaukee have, in recent weeks, suggested that Hamilton's campaign could be over before it's even begun, due largely to a lack of funding. The 46-year-old Hamilton has served as the 1st District's alderman since 2004 and became Council President in 2016, and while he's been among the more visible members of the Council for some time, he hasn't carved out a distinct political identity. It seemed like deep-pocketed county executive Chris Abele could be in Hamilton's corner, but that support never really materialized beyond a courtside photo at a Bucks game. 
Still, it's not too late for Hamilton to mount a challenge with more than six months to go before a potential Feb. 18 primary (any number of candidates can enter the mayoral primary, and the top two would then go on to a head-to-head race in the general election on April 7, the same day as Wisconsin's presidential primary).
Another potential candidate for mayor is State Senator Lena Taylor, who appears to be going through the steps one goes through before making an official announcement. She started expressing interest in a run in May, and just this month,  in an interview on WISN 12's UpFront, she not-so-subtly hinted at a run.
Since 2005, Taylor has represented the Wisconsin State Senate's 4th District, which includes Milwaukee and some near-north Milwaukee County suburbs (Rep. Gwen Moore represented that State Senate district before running for Congress in 2004). In 2012, Taylor became the first African-American woman to ever serve as the co-chair of the State Legislature's important Joint Committee on Finance. She played key roles in the 2011 Act 10 fight and in the deal that approved funding for the Milwaukee Bucks arena. She's been among the most well-known Milwaukee area politicians for some time, so name recognition would not be as much of a challenge for her as it would other candidates. Compared to Hamilton, she's been more sharply critical of Barrett. The outspoken state senator would be sure to deliver some campaign fireworks, and could present a real challenge to the Mayor. 
To be sure, neither Taylor nor Hamilton would be free of criticism about some aspects of their past. Neither would be a perfect candidate.
Is there time for anyone else to jump into the mix? If there's a window open, it might not be for long. And it's hard to see who might be up for the challenge at this point.
Both Hamilton and seeming-more-likely Taylor, however, could bring a compelling dynamic to the campaign. Milwaukee has never elected a woman mayor and has only had an African American mayor on an interim basis (Marvin Pratt in 2004). For a city that's close to 40 percent black and 20 percent Hispanic to have such little diversity in its mayor's office is not great. The most segregated city in the country could use more integrated leadership. The Common Council is moving in a more representative direction of where the city is headed in terms of diversity, and it would be a good thing for the mayor's office to also reflect that change.
Milwaukee deserves a real mayoral campaign. It's time for the city to get its issues out of the table for everyone to discuss. It hasn't really had a real campaign since 2004, and Barrett's current term makes him vulnerable, especially because of the lead issue. And 20 years is just a really long time for any one person to be mayor.
Milwaukee does, of course, have a history of long-serving mayors. Before Barrett, interim mayor Marvin Pratt served for a few months, but preceding him, John Norquist was mayor for 16 years (1988-2004) and Henry Maier was mayor for 28 years (1960 - 1988). Even if he chose not to seek re-election (he hasn't officially said he will, though it's largely assumed), Milwaukee will only have three elected mayors in a 60-year timeframe. 
And at the end of a bigger-tent campaign where several candidates would get the city's issues out on the table for everyone to discuss, Mayor Tom Barrett may very well be the best choice to guide this city into the 2020s. Even if he faced real challengers, he could prove to be the one to run the best campaign, make the best arguments, and put forth the best vision for the city's future. 
But after 16 years and not one serious challenge, this time around, he should have to earn it. Milwaukee has serious issues that warrant a big discussion, and it's about time we had the debate.
---
Thank you for reading The Recombobulation Area.
Subscribe to The Recombobulation Area newsletter here and follow us on Facebook and Instagram at @therecombobulationarea.
Follow Dan on Twitter at @DanRShafer.