Discover more from The Recombobulation Area
The Recombobulation Area is an award-winning weekly opinion column and online publication by longtime Milwaukee journalist Dan Shafer, covering news and politics in Milwaukee and Wisconsin. We live in discombobulating times. Let's recombobulate.
Over 5,000 subscribers
Marquette Poll: Breaking Down Biden's Big Lead
Plus: Women support the Black Lives Matter movement, "Defund the Police," and Trump's handling of the pandemic.
The Recombobulation Area is a weekly opinion column by veteran Milwaukee journalist Dan Shafer. Learn more about it here.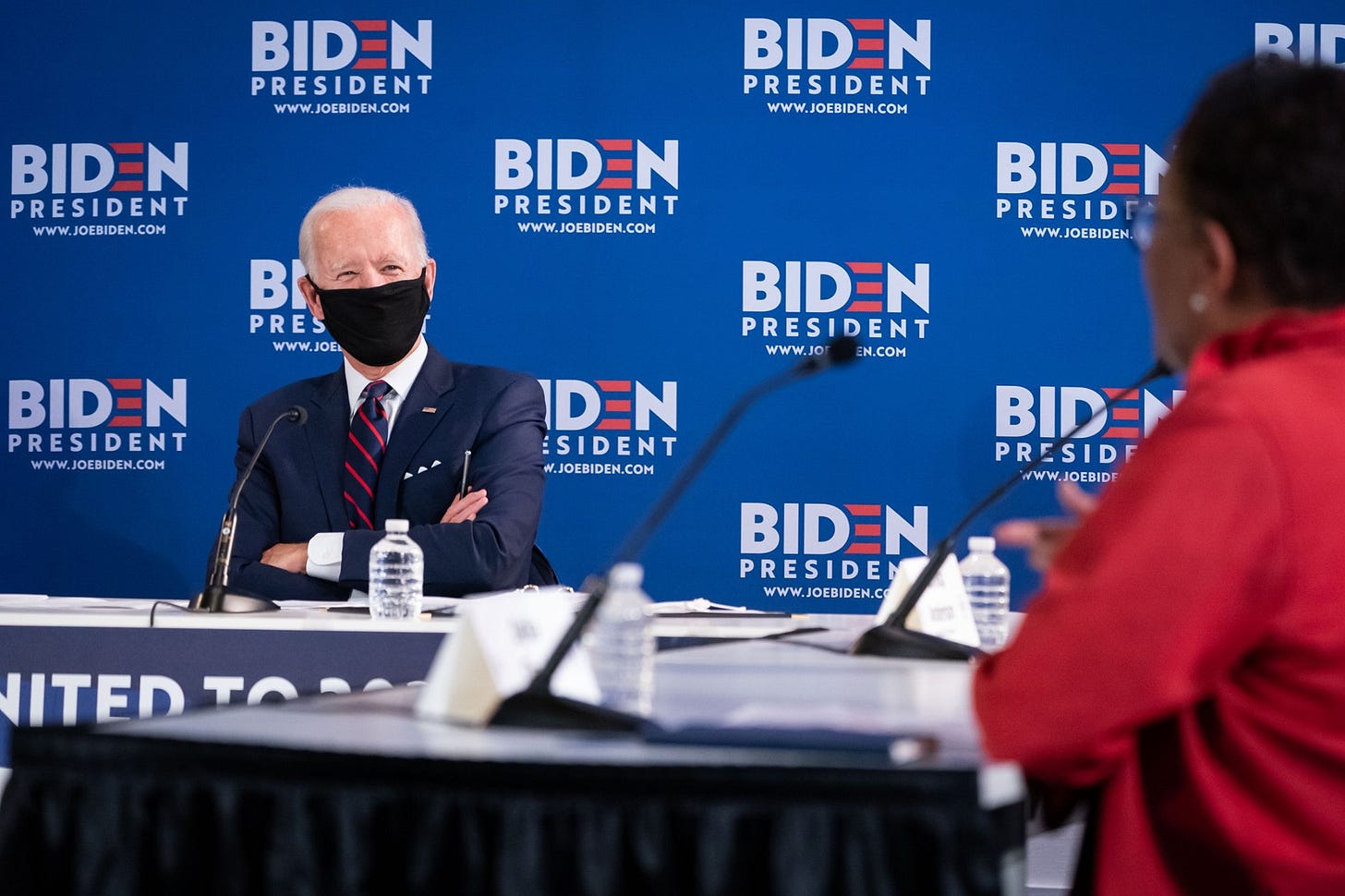 The former vice president has his biggest lead yet in Wisconsin for the 2020 race for president. Photo via Joe Biden on Facebook.
---
Wisconsin might be the most important state in the 2020 presidential election, and the Marquette University Law School Poll is the state's gold standard of measuring where voters stand, so here at The Recombobulation Area, each new poll is going to be monitored closely. See the breakdown of the May poll here.
---
Trump vs. Biden: New Battlegrounds Emerge
Joe Biden has opened up his largest lead yet in Wisconsin in his campaign to unseat President Donald Trump. In this extremely important swing state, Biden is up 49 percent to 41 percent. That's a big shift from the poll held in early May, where the poll showed Biden with just a three percentage point lead. Additionally, a new New York Times poll shows a double-digit lead for the former vice president.
So where is Biden gaining ground?
In the May poll, I took a closer look at the matchup breakdowns by age, noting how Biden saw the most support with the youngest (18-29) and oldest (60+) age groups. And just like the last poll, the zoomers (56%-33%) and boomers (50%-41%) favor Biden. 
And while the 45-59 age group was nearly identical from May to June, with majority support for Donald Trump, the 30-44 age group shifted significantly.
May:
Biden: 37
Trump: 49
Neither: 11
June: 
Biden: 55
Trump: 36
Neither: 5
Washington Post campaign reporter Dave Weigel noted the relatively small margin for Trump in the crucial Milwaukee suburbs.
While this is indeed an important region to consider, that margin isn't much different than it was in early May, when it was Biden 45 percent to Trump 49 percent in the "Rest of MKE" market. The "Rest of state" region remained unchanged, too, with a slight lead for Biden. The former vice president increased his lead in the city of Milwaukee (76%-19%, up from 64%-24%), and in the Madison area (51%-34% to 60%-34%).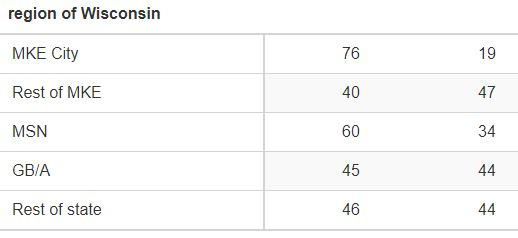 Biden (left) vs. Trump (right) by region of the state.
But the real shift this time came from the Green Bay-Appleton media market.
May:
Biden: 37
Trump: 52
June: 
Biden: 45
Trump: 44
So, add these as two to the list of important factors to watch in the race to win Wisconsin: 1) The Green Bay-Fox Valley area, and 2) 30-44-year-olds. 
Also shifting significantly from May to June is views among men, who have long-favored Donald Trump in head-to-head matchups.
May:
Biden: 37
Trump: 55
June:
Biden: 46
Trump: 46
Only 131 days until Election Day.
Wisconsin women show strong support for Black Lives Matter
As Black Lives Matter has moved to the forefront of the national consciousness following the police murder of George Floyd in Minneapolis on May 25 and the worldwide protests that have followed, it's clear that people are responding to this movement more than ever before. 
In seeing the response in my own social circle, I've noticed a difference in how men and women are responding to Black Lives Matter, with women being far more receptive to the message of the movement and supportive of its goals. I was curious to see how people would respond to the inevitable questions about Black Lives Matter, police violence, and racism in this poll.
And as it turns out, women do indeed view the Black Lives Matter movement more favorably than men. Among all respondents to the poll, 59 percent have a favorable opinion, and that number goes up to 65 percent among women. Among men, just 52 percent have a favorable view of Black Lives Matter. 
On the question on discrimination against Black Americans, 40 percent of women "strongly agree" that "there is a lot of discrimination against Blacks in the U.S. today," while only 6 percent of women "strongly disagree" with that statement. The gap between those strong opinions is smaller among men — 27 percent "strongly agree" to 15 percent "strongly disagree."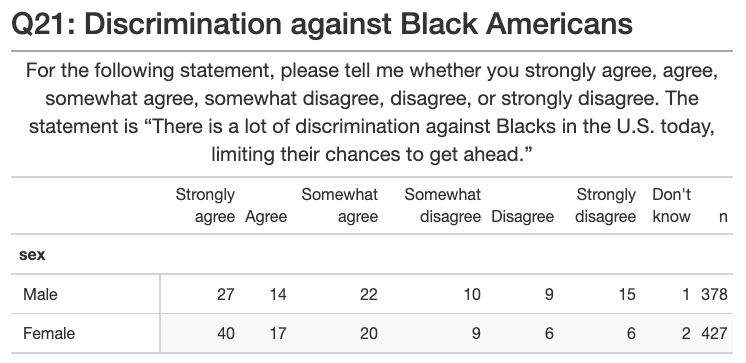 On whether police killings are "isolated incidents" or "part of a larger pattern," responses again diverge based on gender.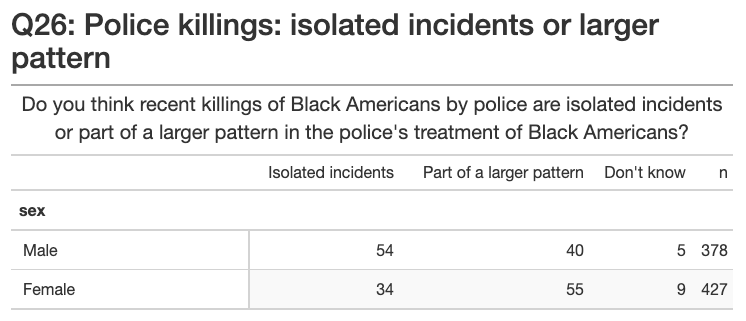 And on the question on approval of the mass protests following George Floyd's killing, men and women responded similarly — 59 percent approval among men; 62 percent approval among women. But women have more vociferous approval of the protests — 39 percent of women "strongly approve" of the protests, compared to just 29 percent of men. 
The "Defund the Police" Question
Calls to "defund the police" have been common among Black Lives Matter protesters and social justice organizations. In real terms in Milwaukee, the African-American Roundtable is leading a coalition that's calling for a $75 million divestment from the police department, with $50 million going to the Health Department and $25 million toward affordable housing (see my recent feature story on the Black Lives Matter policy fight in Milwaukee and Wisconsin for more on this). 
Early polling might suggest that the phrase "defund the police" isn't quite connecting. Just 23 percent of people polled say they support calls to defund the police, while a whopping 81 percent say they support "calls to restructure the role of the police and require greater accountability for police misconduct." It's unclear if there's a meaningful difference in between those statements when they're put into real terms.
However, it's important to note that most people of color polled support calls to "defund the police." Black people support it by a 45 percent to 41 percent margin, and Hispanic people support it by a 57 percent to 36 percent margin. "Restructuring" is viewed more favorably in pretty overwhelming numbers among non-white people -- 83 percent support with Black people, and 97 percent with Hispanic people. 
It would be interesting to know how favorably the term "Black Lives Matter" would have polled in Wisconsin between 2013 and 2019. Would it have carried the type of majority support it enjoys today? It's clearly been quite the journey for that three-word phrase that's changed the world. 
So, is "defund the police" the right messaging? I suppose that's a debate worth having. But after years and years of calls for reform went unheeded, it's clear that something different was needed. Since it already has support from many people of color, perhaps it's time those of us in the white majority do a better job of listening and working to understand the real message of what people are really saying at this moment.  
The President and the Pandemic
As the coronavirus pandemic continues to rampage the nation, with deaths and cases again climbing, views on the president's handling of the outbreak has been…steady. 
In May's poll, 44 percent of people said they approve of his handling of the pandemic. In June's poll, 44 percent of people said they approve of his handling of the pandemic. 
While it's astonishing to me that his approval rating on this question is anywhere north of zero, this approval number mirrors the president's remarkably steady approval rating in Wisconsin throughout his presidency, always landing in between 41 and 48 percent approval. In just about every metric, his approval rating in general is nearly identical to his approval of his handling of the coronavirus. Given everything that's happened, it's hard to see this as driven by anything other than naked partisanship. 
---
Dan Shafer is a journalist from Milwaukee who writes and publishes The Recombobulation Area. He previously worked at Seattle Magazine, Seattle Business Magazine, the Milwaukee Business Journal, Milwaukee Magazine, and BizTimes Milwaukee. He's also written for The Daily Beast, WisPolitics, and Milwaukee Record.
---
Thank you for reading The Recombobulation Area and supporting independent journalism.
Subscribe to The Recombobulation Area newsletter here and follow us on Facebook at @therecombobulationarea.
Follow Dan on Twitter at @DanRShafer.