Discover more from The Recombobulation Area
The Recombobulation Area is an award-winning weekly opinion column and online publication by longtime Milwaukee journalist Dan Shafer, covering news and politics in Milwaukee and Wisconsin. We live in discombobulating times. Let's recombobulate.
Over 5,000 subscribers
Is Milwaukee's 'Boom' Going Bust?
Five years ago, downtown Milwaukee stood on the brink of a reinvention. In the years since, risks have been taken, big decisions made, opportunities seized. But is the end of this run in sight?
The Recombobulation Area is a new weekly column by veteran Milwaukee journalist Dan Shafer. Learn more about it here.

Milwaukee's downtown has been radically reshaped over the last five years. But is the city's winning streak coming to an end? View of Milwaukee Skyline in May 2017 from Lakeshore State Park. By Nate V, via Wikimedia Commons.
---
In the fall of 2014, downtown Milwaukee was on the verge of major change, the likes of which it had not seen in decades. Milwaukee was about to make important decisions about not only big, shapeshifting projects like the downtown streetcar and the new NBA arena, but about what kind of city it was going to be. 
Five years ago this week, a piece on the city's "New Boom" I wrote for Milwaukee Magazine was published as the cover story for the November issue. In it, after months of reporting, I asked a question as to whether Milwaukee would make bold decisions that would alter its future, and whether the city truly had the will to change and seize the opportunity it had been presented.
So now, in 2019, what's the answer? Has Milwaukee vaulted into a brave new future? Has the promise that felt so palpable in the early part of the decade now been realized?
Yes and no. 
The "yes" is obvious. Milwaukee has indeed made bold decisions, ones that are helping the city. The most visible example is the new arena, Fiserv Forum, and the Deer District that — with a little boost from Giannis Antetokounmpo and the title-contending Bucks — has transformed a huge part of downtown. The entire project has come together better than even the most optimistic arena-backers could have hoped. There's also The Hop, the downtown streetcar project that's exceeding ridership estimates and ensuring that Milwaukee will no longer have the unenviable distinction of being the largest U.S. city without fixed rail. The new 32-story Northwestern Mutual tower now stands as the signature structure of Milwaukee's new skyline. Businesses continue to relocate downtown. People are moving downtown. New shit is being built all the time. Even the Grand Avenue mall is getting updated for this new era. And to top it all off, the Democratic Party chose this city and this downtown to host its all-important 2020 convention for this presidential election.
But pieces are missing from the larger puzzle. One of the quotes that sticks with me most from that cover story five years ago is from developer Barry Mandel, who talked about the grandiose possibilities at hand, and how if all of these potential changes happened "in concert," that it would allow for a "quantum leap." Milwaukee has made a significant jump forward, but it has not been of such a magnitude where the city's paradigm has been dramatically altered. Milwaukee's trajectory has been lifted, to be sure, but the big problems that plague the city largely remain, and it has not rocketed past other peer cities.
Building a new professional sports arena, building new public transportation infrastructure and fostering an environment for a downtown revival are not acts unique to Milwaukee, particularly during the last half-decade. Cities all over the country are making these kinds of investments and have been seeing people return to their downtowns. Milwaukee is an amazing city, and it's been on a real winning streak in recent years, but let's not pretend that this is the only major American city where this type of progress is being made.
In some ways, what Milwaukee has done over the last five years is an overcorrection to years of inaction. That Milwaukee finally found a way to do what it has is maybe less remarkable than it feels, since so much of Milwaukee's "boom" happened in a hurry, perhaps disorienting our concept of time as it relates to the changes we're seeing. 
Milwaukee is still losing residents. Milwaukee is still missing opportunities. Milwaukee is hitting major stumbling blocks as it tries to bring the downtown momentum to other parts of the city. 
The Couture apartment tower and its ground-level transit hub has endured setback after setback and now its future is entirely unclear. That project, along with the NM building, were referred to as two "exclamation point" towers, and now there's only one of them. When exciting hotel-centric proposals arrived to dramatically remake a vacant downtown block on West Wisconsin Avenue, the opportunity was completely squandered. New real estate was opened up by a $34 million highway project that reconfigured the lakefront interchange was thought to produce yet another skyline-defining tower, but it's still no more than a hopeful rendering. Plans for the former Bradley Center block have yet to materialize.
Extending the streetcar into a full-blown fixed rail system has always been key to its success, but the Common Council missed its opportunity to extend the project to the Forum in time for the DNC, and other extensions are bogged down. The County let the JobLines bus route, which connected employees to suburban job centers, expire with no replacement. Even more routes are on the chopping block, as the region goes backwards on bus transit. These are the types of connections this deeply segregated city needs.
And just within the past few weeks, the city managed to let Strauss Brands and its $60 million, 250-job project walk away from Century City. This latest failure undoes years of hard-fought planning and strategy, and efforts to revive to the heart of Milwaukee's once-thriving industrial north side will go back to the drawing board. 
And perhaps more than anything at the moment, Milwaukee is being kneecapped by deeply problematic decision-making in Madison by Robin Vos, Scott Fitzgerald, and the Republicans running the state legislature. 
The next wave of big decisions Milwaukee needs to make has arrived. The County faces a full-on fiscal crisis and an infrastructure dilemma that's nearing crisis levels, and the future of places like the Milwaukee Public Museum, Mitchell Park Domes, the Milwaukee County Safety Building are unclear, the Milwaukee County Parks and Milwaukee County Transit System face turbulent futures, and, like older cities all over the Midwest, Milwaukee needs to replace lead pipes that bring its citizens water. 
A one-cent sales tax increase that would go a long way toward solving these challenges, proposed by a coalition of city and regional leaders, is being shot down wholesale by Republicans at the state level. GOP leaders aren't even willing to seriously discuss the proposal (which would bring in a new $160 million every year!), much less allow Milwaukee County to hold a referendum and make its own decisions about its financial future at a local level. Instead, you have people like Vos calling into question the priorities of a city that, problems and all, is on the rise -- and is adding $400 million more in state revenue each year than it did a decade prior.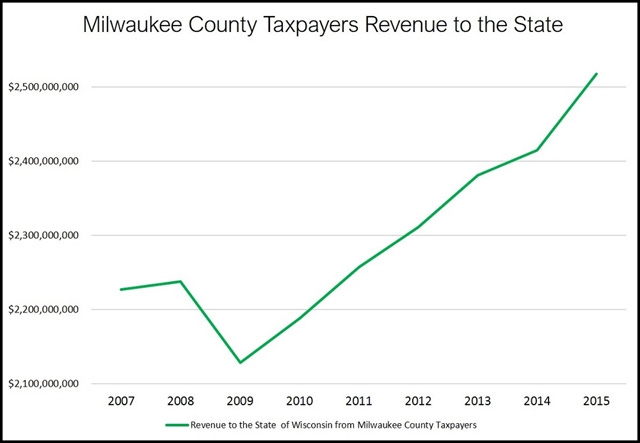 Next year's Democratic National Convention could be seen as the crowning achievement of what's been an exciting few years for Milwaukee, filled with progress and new places and the ever-present talk of "renaissance," but it could also mark the end of this winning streak. 
Milwaukee will have put in the work to land the convention and host the massive event, but won't have control over reaping many of its financial benefits. The sales tax revenue generated from being in the national spotlight and host to 50,000 visitors will go to Madison, where some of it might make its way back to Milwaukee, but it'll be filtered the gerrymandered Republican majority in the state legislature. Without a local sales tax increase or other dedicated revenue stream that goes beyond the structures already in place (which are already pledged to support other projects like the arena and the convention center), Milwaukee is going to be missing out.
So, once again, I ask the question: Will Milwaukee keep chugging along the way it has in recent years, reluctant to make bold moves, letting golden opportunities slip away? 
The difference this time is that the bold moves now are not simply saying "yes" to transformational downtown projects. This time it means standing up for the city, fighting for it, and overcoming the obstacles standing in the way of extending this "boom" into a bold new era for Milwaukee. 
Because while the successes and big-ticket projects of the last half-decade are indeed meaningful, and a city of Milwaukee's size and stature and character deserves these kinds of assets and amenities to thrive, it would be a shame if this opportunity to build upon this progress by raising the floor for all Milwaukeeans was squandered.
Funding infrastructure and transit and parks might not grab the same spotlight that comes from a new NBA arena, but this is how the success of the downtown boom can spread throughout the city. Many of the leaders who've championed what's happened in recent years talk about making the city's downtown somewhere for people to live, work and play. Now, it's time to retrace the ways people are living, working and playing in Milwaukee and invest in the ways that are going to make that better, and invest even more in places home to marginalized communities who are looking for better, more equitable ways to share in the city's success.
This doesn't have to be the end of Milwaukee's "boom." There is a path forward where tough decisions are made, opportunities are realized, and this city's remarkable run continues well into the 2020s. But if we're not careful — and if we can't get past the Republican roadblock in Madison — this "boom" might just go bust. 
---
Thank you for reading The Recombobulation Area and supporting independent journalism.
Subscribe to The Recombobulation Area newsletter here and follow us on Facebook and Instagram at @therecombobulationarea.
Follow Dan on Twitter at @DanRShafer.