Discover more from The Recombobulation Area
The Recombobulation Area is an award-winning weekly opinion column and online publication by longtime Milwaukee journalist Dan Shafer, covering news and politics in Milwaukee and Wisconsin. We live in discombobulating times. Let's recombobulate.
Over 5,000 subscribers
Hmong Deportation Crisis: Republicans Aren't Answering the Call to Action
The Trump administration is trying to deport thousands of Hmong residents who came to the U.S. as refugees. Standing up for our Hmong neighbors shouldn't be partisan, but in the Trump Era, it is.
The Recombobulation Area is a weekly opinion column by veteran Milwaukee journalist Dan Shafer. Learn more about it here.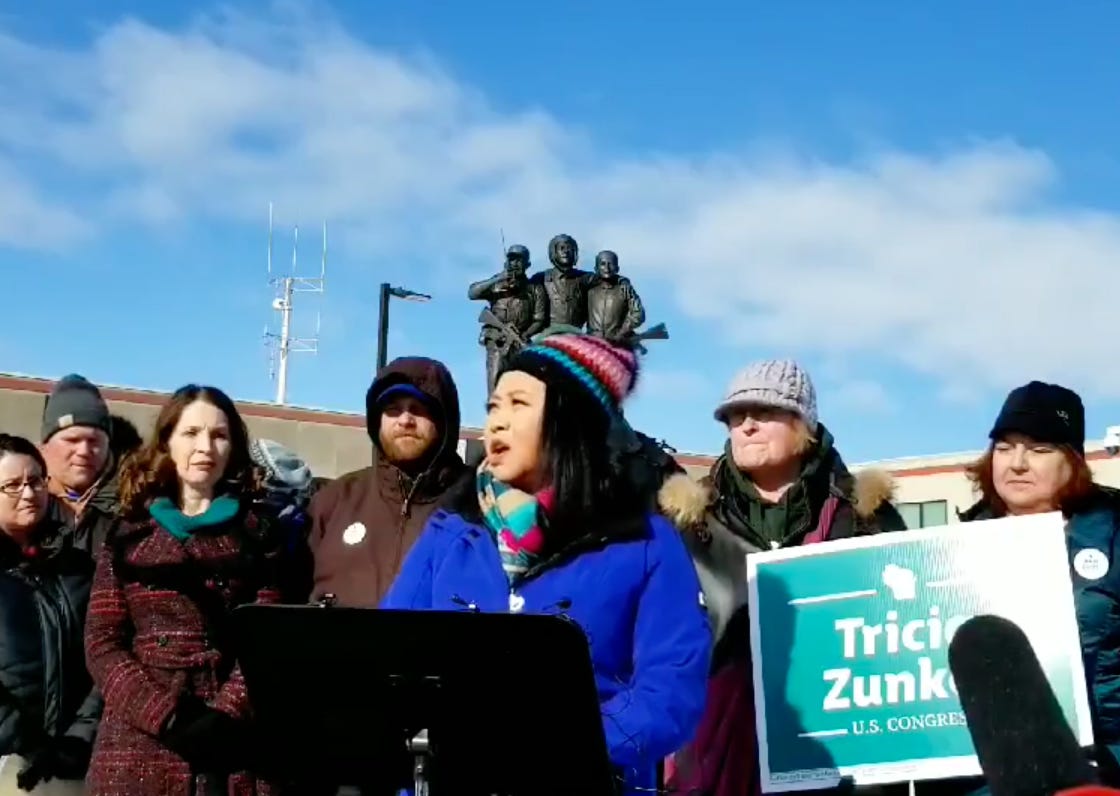 Ka Lo, the first Hmong woman to serve on the Marathon County Board, speaks in front of the Hmong Vietnam War Veterans Memorial in Wausau. When people sound the alarm like this, we need to answer. Screenshot photo via Ka Lo on Facebook.
---
In its latest act of needless and reckless cruelty, the Trump administration is putting members of the Hmong community in very real danger by threatening to deport hundreds of people in Wisconsin and thousands more across the country. 
Maiyoua Thao, District 7 Alderperson on the Appleton Common Council, said deportation for these residents would be like giving them "a death sentence."
"If the plans of the U.S. government is to send (Hmong residents) back, basically they'll be persecuted, imprisoned or killed,"said Long Vue, executive director of the Wisconsin United Coalition of Mutual Assistance Association Inc., a statewide coalition of Hmong associations.
"They can make it hard on us. They can put us in camps. We don't know. It's fear of the unknown," said Kou Vang, vice president of the Hmong American Partnership in Appleton.
When people in our state, in our communities, in our neighborhoods sound the alarm like this, we need to listen.
Wisconsin is home to the third-largest Hmong population of any state in the country with nearly 50,000 Hmong residents living here. That's about 19 percent of the nation's total Hmong population, a group of people who came to the United States as refugees after fighting alongside Americans in the Vietnam War more than four decades ago. 
The Hmong-Americans at risk of deportation deserve a path to become official U.S. citizens. The solution is not deportation. The sympathetic, logical, and downright American thing to do is not to turn away a group of people who arrived here as refugees and have made our state and country better, but to find a way for them to live and thrive here long into the future. 
The people at risk of deportation are legal residents, just not U.S. citizens, as PBS Wisconsin noted in an interview with Vue on "Here and Now." These are people who have served their time long ago -- some for crimes as small as possession of marijuana, one advocate noted -- but could be deported to a country they've never known because of this unexpected (and unexplained) potential shift in State Department policy under Trump and Secretary Mike Pompeo.
That policy shift came to light publicly in the Minneapolis Star Tribune after Democratic Congresswoman Betty McCollum of Minnesota, (who represents the state's 4th District, including St. Paul and the eastern Twin Cities area that borders Wisconsin), called the proposal "unconscionable" in a letter to Pompeo. Bo Thao-Urabe, executive and network director of the St. Paul-based Coalition of Asian-American Leaders, had written to McCollum in late January urging her to contact Pompeo, saying that if the repatriation agreement being discussed by the State Department and Lao Foreign Minister Saleumxay Kommasith would "have a devastating impact on hundreds of families and perhaps thousands of individuals related to those families in our state." Minnesota is home to about twice the number of Hmong and Laotians as Wisconsin. 
After that Feb. 8 report, the story moved to Wisconsin, and Wisconsin Public Radio confirmed that Trump's State Department is calling on Laos to accept deported residents and is funding a program to make it happen. 
What's happened since is significant. When vulnerable people facing a real threat call out for help, it's important to note who answers.
So in the days that followed, many leaders from across the state have spoken out against this deportation threat, including Outagamie County Executive Tom Nelson, Gov. Tony Evers, Sen. Tammy Baldwin, Rep. Gwen Moore and Rep. Mark Pocan, Rep. Ron Kind, 8th District congressional candidate and State Rep. Amanda Stuck, 7th District candidate and Wausau School Board President Tricia Zunker, and a group of 36 members from the Wisconsin State Legislature. All of them are Democrats.
Two-party system partisan politics gets a bad rap, and often, rightfully so. But here is a case where the differences between the two parties couldn't be more clear. One party is trying to deport refugees who came to this country after fighting alongside American service members, and the other party is trying to stop that from happening.
And as the Trump administration continues its policies of cruelty toward refugees and immigrants, Republicans refuse to offer even the most tepid criticism. 
Staunch Trump ally Senator Ron Johnson, the chairman of the Senate Committee on Homeland Security and Governmental Affairs and member of the Foreign Affairs Committee, was urged by Nelson to "hold hearings immediately to get to the bottom of this development," as part of an "obligation to support and protect (Hmong-Lao Americans)." He hasn't done that, and Nelson renewed his call to hold hearings days later.
Johnson has, instead, released a statement that dances around the issue, offers broad information about deportations, and says the new policy would "not apply to all Hmong in Wisconsin." In another statement, Johnson said he's urging the Trump administration "to act carefully and judiciously to ensure law-abiding Hmong in the United States legally are treated fairly." He certainly isn't standing up for those facing the threat of deportation. He isn't even making it clear if there's anything in the State Department's potential new policy that he opposes. As he has been in the past, Johnson is once again central to Trump's cruel agenda toward immigrants and refugees. 
Mike Gallagher, a Republican Congressman who represents the 8th District (which includes Green Bay, Appleton and northeastern Wisconsin), hasn't said much about the issue. In response to media inquiries following an event held in Appleton this week featuring Nelson, Stuck, Green Bay Mayor Eric Genrich, and several members of Appleton city government, Gallagher's spokesman said the congressman reached out to the State Department and Homeland Security for more information, and nothing more.
Rep. Glenn Grothman, a vocal Trump supporter who has taken some extremely hard-line anti-immigration positions as a congressman, is also silent on the Hmong deportation crisis. He has, however, shown support for Hmong community many times in the past, including as recently as September of last year, when he introduced a resolution recognizing the Hmong New Year, saying "I am glad that both sides of the aisle have come together to recognize Hmong Americans' significant role in our communities and their pursuit of the American Dream." But now, nothing. Rep. Jim Sensenbrenner and Rep. Bryan Steil have also been completely silent on the crisis.
At the state level, as recently as Jan. 21, Republican State Senators Roger Roth of Appleton and Jerry Petrowski of Marathon were proposing a bill that would make May 14 Hmong-Lao Veterans Day in Wisconsin, a step toward full veteran status for about 1,000 Wisconsinites. But now, silence. As soon as the Trump name enters the conversation, Republicans close ranks, keep quiet, and wait out the news cycle, regardless of whatever cruelty Trump and his administration leaves in its wake. 
We can't pretend not to know what this action -- the threatened deportation of more than 4,500 Hmong and Lao people living in the U.S. -- is a part of. Taking an aggressive stance toward any non-white immigration has been central to Trumpism every step of the way. He tears apart families. He puts children in cages. He bans people from entire countries from setting foot in this land of immigrants -- and he just extended that ban to six more nations, including Africa's biggest country (Nigeria), just this month. The president lies about and demonizes immigrants at just about all of his campaign rallies. He did so in Milwaukee less than a month ago. 
And not unlike then, and not unlike when GOP leaders failed to answer the call after a Milwaukee man was the victim of an acid attack on the city's south side, Wisconsin Republican leaders are not stepping forward to defend this harrowing threat posed to our Hmong neighbors. Their silence, once again, is deafening.
We can't pretend that treating immigrants with respect has not become a partisan issue in the Trump Era. Republicans do not seem interested in granting the same freedoms they so vocally celebrate to people of color coming to this country to seek a better life. Democrats are doing the right thing and fighting to protect Hmong families from being torn apart. 
Most of all, we need to be listening to the Hmong leaders who are stepping up and speaking out in Wisconsin. 
"(Being deported to Laos) would be dangerous for those individuals on the list who committed crimes when they were young," Vue said on PBS. "They have never been back to Laos. They cannot speak the Laotian language. They have no families over there. It would be very hard for them to go back into a society in which they are not welcome. They were not welcome in the first place, and for them to go back, it's just unimaginable."
Ka Lo is one of more than 5,600 Hmong residents living in Marathon County, and she's the first Hmong woman to serve on the Marathon County Board. In a speech in front of the Hmong Vietnam War Veterans Memorial in front of the Marathon County Courthouse in Wausau, she said, "The United States has had decades of failed immigration policies and this is one of them. Policies that rip American communities and families apart have no part in the American lexicon. The failed American policies have spread unnecessary rumors and fears among our communities." 
She added, "We have to come together as a community. Some of you in our white community, you might think that you don't have a place within this dialogue, and that you cannot help change this failed policy. But you do have a place. If these policies concern you and how it will change our community for the worst, you have a stake in this." 
Rep. McCollum said she plans to introduce legislation next week to block the Trump administration from deporting Hmong and Lao residents. Let's hope all Wisconsin's members of Congress join her, and leaders from around the state stand up alongside leaders like Lo and Thao and Vue and Vang to do their part to stop the Hmong deportation crisis.
---
Thank you for reading The Recombobulation Area and supporting independent journalism.
Subscribe to The Recombobulation Area newsletter here and follow us on Facebook at @therecombobulationarea.
Follow Dan on Twitter at @DanRShafer.