Discover more from The Recombobulation Area
The Recombobulation Area is an award-winning weekly opinion column and online publication by longtime Milwaukee journalist Dan Shafer, covering news and politics in Milwaukee and Wisconsin. We live in discombobulating times. Let's recombobulate.
Over 5,000 subscribers
Gov. Evers Should Keep Calling Special Sessions Until Wisconsin Republicans Take Action
It's time for the governor to start playing some offense and force Vos, Fitzgerald and the Wisconsin GOP to defend their egregious abdication of responsibility at a time of genuine crisis.
The Recombobulation Area is a weekly opinion column by veteran Milwaukee journalist Dan Shafer. Learn more about it here.
The Wisconsin State Capitol, empty both physically and virtually, for months. Photo by Daderot - Own work, CC0.
---
In the midst of a deadly pandemic that's claimed the lives of more than 150,000 Americans, a deep recession that's left millions out of work and without health coverage, and the largest protest movement in the nation's history, Wisconsin Republicans have no plans to take action on anything.
Now, more than 100 days into an extended break from legislating, the party controlling the levers of government in the Wisconsin State Legislature appears to be unmoved by the cataclysmic events of the past five months. 
They sued for a "seat at the table" to be part of the coronavirus response. They upended the state for that seat. Left local governments across the state scrambling. Forced businesses to make impossible decisions. They had to have that seat, had to add the extra legislative hurdle into the state's pandemic response process. But ever since, Republicans have left that seat empty, and the public health order has been replaced with nothing. More than two months and tens of thousands of coronavirus cases later, it is long past time for Wisconsin Republicans to take their hard-fought seat and get to work. 
Anyone following Wisconsin politics knows that won't just happen, though. Assembly Speaker Robin Vos, Senate Majority Leader Scott Fitzgerald, Assembly Majority Leader Jim Steineke and Republican legislative leadership have made it abundantly clear that not even a simultaneous pandemic-recession-historic protest movement will awake them from their slumber. Just take a look at their calendar for August — it's completely empty.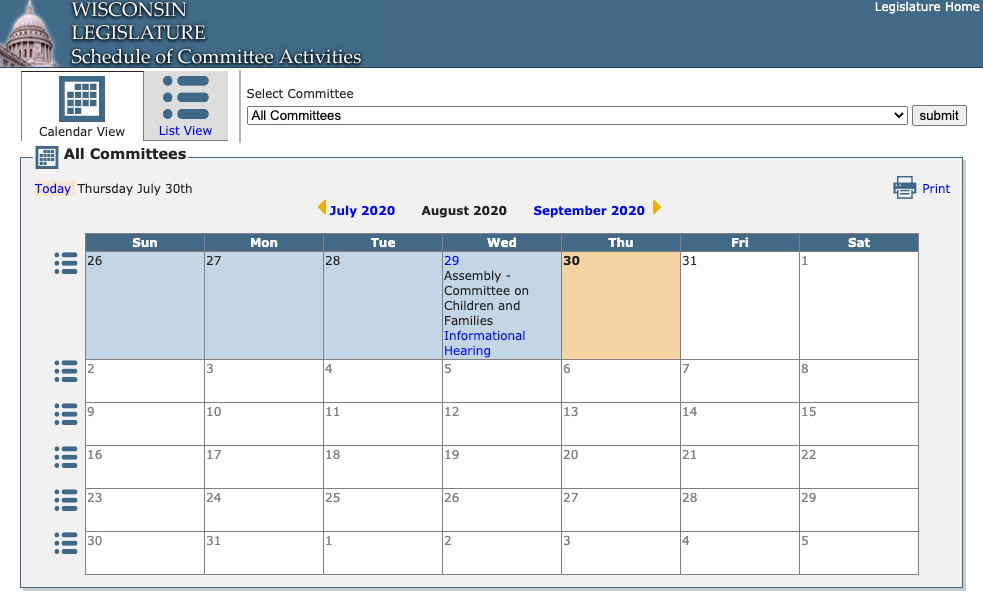 The Republicans running the Wisconsin State Legislature cannot continue to abandon their responsibilities as elected leaders at a time of genuine crisis. It is simply no longer acceptable. No semblance of normalcy is going to be achieved until the pandemic is under control and capably managed, and the state of Wisconsin cannot continue to proceed without a plan. 
Gov. Tony Evers' decision to issue an order requiring masks is a good start. But as the state's decision on masks inevitably hurtles toward the State Supreme Court, it can't be the governor's lone course of action.
Now, with lives on the line and much to be done, it's time for Gov. Evers to utilize one of the executive powers of his office that hasn't been stripped away by state Republicans and call a special session of the legislature. And then he needs to call another special session of the legislature. And another. And another, until Vos, Fitzgerald, Steineke, and the rest of the 82 Republican members of the Senate and Assembly who've been on vacation for months start showing up to work and stop running from their absolutely crucial responsibilities. 
Evers could start with a session on coronavirus relief. Or law enforcement reform. Or unemployment. Or evictions and housing. Or health care. Or school reopenings and education. Or a mask requirement (if the new order doesn't hold up in court). He could call one each day for a week. He could keep calling special sessions every day, over and over, until Wisconsin Republicans are finally forced to confront crisis after crisis happening in our state. 
The time for patience has long passed us by. So if a torrent of special sessions is what it takes to get state Republicans to act, that is the call the governor not only should but must make. 
If anything, Evers has been too reluctant to act in the months since the end of "Safer-at-Home." He's given the legislature too much of an opportunity to act when it's been made abundantly clear they haven't been acting in good faith. Now, they simply aren't acting at all. It's unacceptable.
After signing the state's lone coronavirus relief bill back on April 15 — which, thanks to a prior stretch of legislative inaction, came so late in the process that the state missed out on $25 million in federal funding for unemployed Wisconsinites — Evers said, "This bill is finally a step in the right direction, but there is much more work to be done." No more work has been done. The week following the police murder of George Floyd, Evers encouraged legislative leaders to finally discuss a law enforcement reform bill that's been denied even as much as a public hearing for three years. Legislative Republicans didn't budge. Weeks later, after the Legislative Black Caucus asked the governor to call a special session on the topic, Evers and Lt. Gov. Mandela Barnes followed up on Juneteenth with a renewed call for bipartisanship, saying, "Calling another special session where legislative leaders come in and gavel in and gavel out risks us losing this incredible moment in history where we can and should be able to work together to get something accomplished." Republicans haven't worked at all, and nothing has been accomplished.
And therein lies the snag in any plans for action: Legislative Republicans will simply gavel in and gavel out of any special session, just as they have in special sessions past. They have shown remarkable commitment to doing absolutely nothing. 
Of course, it's not illegal for them to repeatedly gavel in and gavel out and again ignore calls for action, but with such overwhelming need being so blindingly obvious at this very moment, would they be able to withstand the public pressure such a scenario could create? Could Vos and Fitzgerald honestly tell the people of Wisconsin that it's in their best interest for their elected officials not to show up to work? Could sustained momentum of repeatedly calling special sessions finally put Wisconsin Republicans on their heels? Could Evers and the Democrats finally start playing some offense here? Could real, meaningful action finally be taken that could save the lives of people living in Wisconsin?
The governor has largely avoided confrontation since the chaotic end that state Republicans brought to his "Safer-at-Home" public health order, but that was more than 75 days ago now. Since then, more than 40,000 people in Wisconsin have tested positive for COVID-19 and nearly 500 people have died from the virus.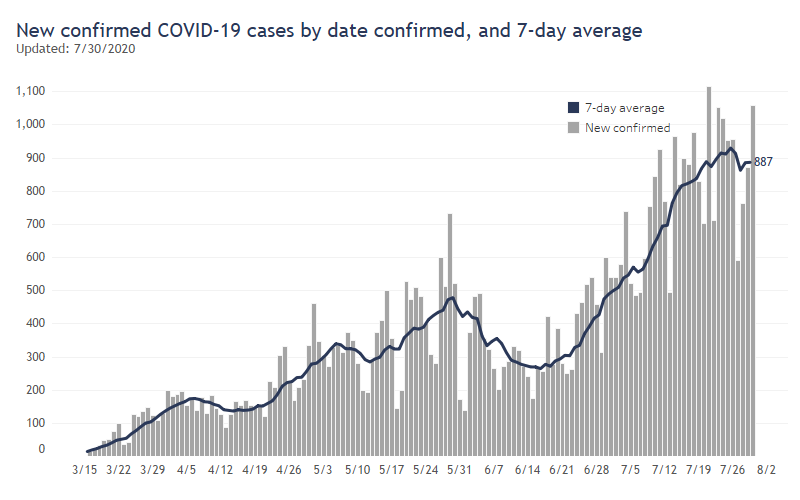 At the same time, more than 60 consecutive days of sustained protest for racial justice have occurred in the state's largest and most diverse city, and the historic Black Lives Matter protests have reached just about every corner of the state. Hundreds of thousands of people in the state remain unemployed, the backlog for processing unemployment insurance claims remains staggering, people are now set to lose the $600 per week in pandemic unemployment assistance payments, and the federal moratorium on evictions is about to come to an end. It feels like we're headed for a cliff. Evers would be joining the Republicans in abdicating responsibility if he doesn't take more decisive action.
So, if the governor wanted to start calling special sessions, there are plenty of bills that legislative Democrats have been proposing that he could put on the agenda.
Take the "Healthcare Heroes Act," for one. Introduced in late June by Wauwatosa Democrat Robyn Vining , the bill would provide hazard pay and fully paid sick leave for the heroes working in the hospitals, fund COVID-19 testing and treatment for the uninsured, and pay for all of it by making the long-overdue decision to accept the federal Medicaid expansion (which would also help address looming budget shortfalls in the coming year).
Also proposed by legislative Democrats: a COVID response plan (released in the immediate aftermath of the State Supreme Court's decision ending "Safer-at-Home"), and a fairly comprehensive package of bills aimed at addressing the many problems with the state's much-maligned unemployment insurance system. None of these have received public hearings or have even been given an inkling of consideration by Vos, Fitzgerald, Steineke, and legislative leadership. 
In calling for bipartisanship on Juneteenth, Evers and Barnes said, "We should not need a special session when people across our state are demanding we take action."
Apparently, we do. Vos, Fitzgerald and the rest of the covid truthers in the Wisconsin Republican Party have left us with no other options. 
Make them be the ones to reject calls to act after more than 100 days of inaction, Gov. Evers. Make Robin Vos be the one to stand up and tell Wisconsinites that he'll be providing them no help and no plan as families get ready for school in the fall. Make Scott Fitzgerald explain to voters in the midst of his congressional campaign why health care workers don't deserve any of our support. Make Jim Steineke say why he's not willing to even discuss proposed solutions for thousands of unemployed workers. Make the members of the Wisconsin Republican Party go on record to say whether or not they believe that Black Lives Matter. 
This is a time of genuine crisis. Throw the existing playbook out the window. Use the options you have available, and take action for Wisconsin now. We can't wait any longer. 
---
Dan Shafer is a journalist from Milwaukee who writes and publishes The Recombobulation Area. He previously worked at Seattle Magazine, Seattle Business Magazine, the Milwaukee Business Journal, Milwaukee Magazine, and BizTimes Milwaukee. He's also written for The Daily Beast, WisPolitics, and Milwaukee Record.
---
Thank you for reading The Recombobulation Area and supporting independent journalism.
Subscribe to The Recombobulation Area newsletter here and follow us on Facebook at @therecombobulationarea.
Follow Dan on Twitter at @DanRShafer.