Discover more from The Recombobulation Area
The Recombobulation Area is an award-winning weekly opinion column and online publication by longtime Milwaukee journalist Dan Shafer, covering news and politics in Milwaukee and Wisconsin. We live in discombobulating times. Let's recombobulate.
Over 5,000 subscribers
Facing an Alarming Coronavirus Outbreak, Wisconsin Is Stuck
State leaders are either unwilling or unable to act to combat the spread of the deadly virus as it spirals out of control in Wisconsin.
The Recombobulation Area is a weekly opinion column by veteran Milwaukee journalist Dan Shafer. Learn more about it here.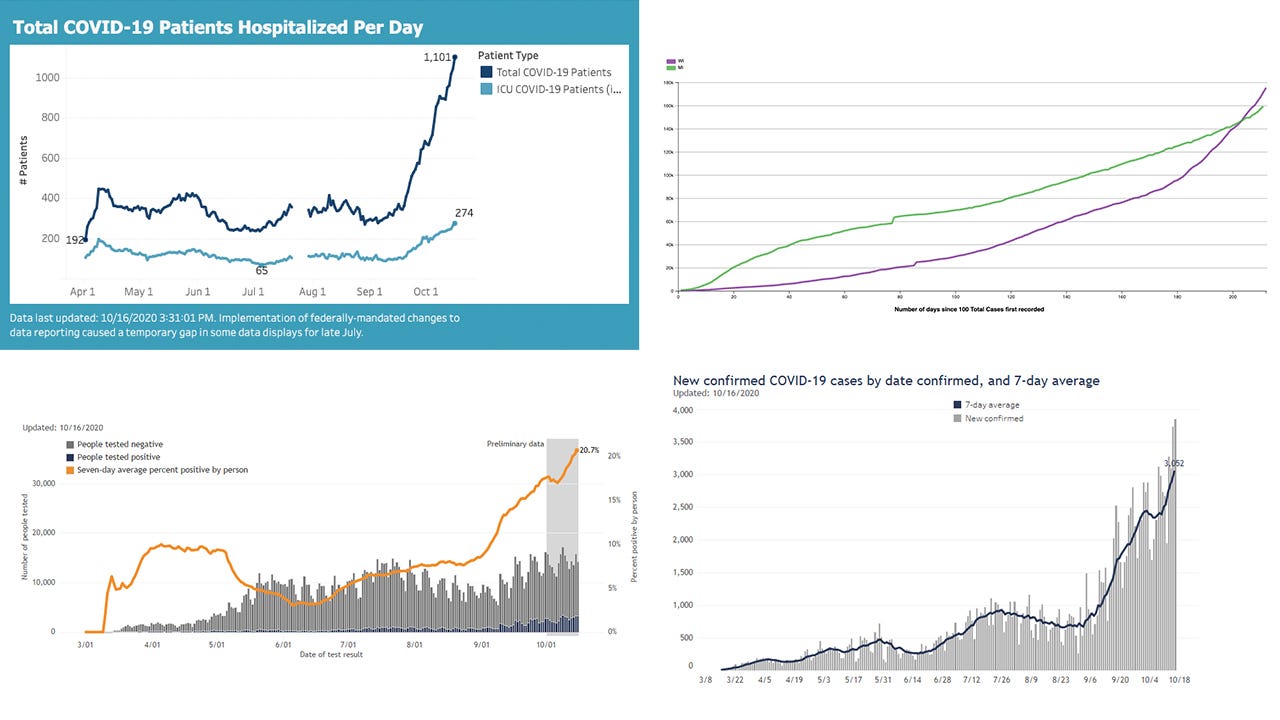 Day after day, Wisconsin is setting records in new covid-19 cases, hospitalizations and deaths. Charts from Wisconsin Hospital Association, Wisconsin Department of Health Services, and the Centers for Disease Control.
---
Wisconsin is experiencing one of the worst coronavirus outbreaks in the world, and it appears there's nothing we can do about it. 
Gov. Tony Evers' latest order limiting capacity for indoor public gatherings lasted all of six days. The Tavern League of Wisconsin sued to strike it down and Sawyer County Circuit Judge John Yackel quickly ruled in favor of the powerful lobbying group. 
While 1,324,307 Wisconsinites voted to elect Evers in 2018, Yackel won a six-year term as judge in an uncontested race in 2015. He was previously appointed by Scott Walker as the Lincoln County Circuit Court judge, but lost re-election in 2013. Now, as the Republican-led State Legislature avoids action entirely — six months without a bill, five months without a plan — this judge is deciding cases on matters of life and death in the state that's become the epicenter of the pandemic in America. Quite the system we've got here. 
Yackel's unfortunate ruling came down on Wednesday, Oct. 14, the same day the state opened a field hospital at Wisconsin State Fair Park in preparation for covid-19 patients if and when hospitals reach capacity. No patients are there yet, but Wisconsin hospitals are being pushed to their limits by this deadly, dangerous outbreak. A Madison nurse told Wisconsin Public Radio this week about the alarming circumstances frontline health care workers are facing, saying that "This is slowly grinding us into dirt."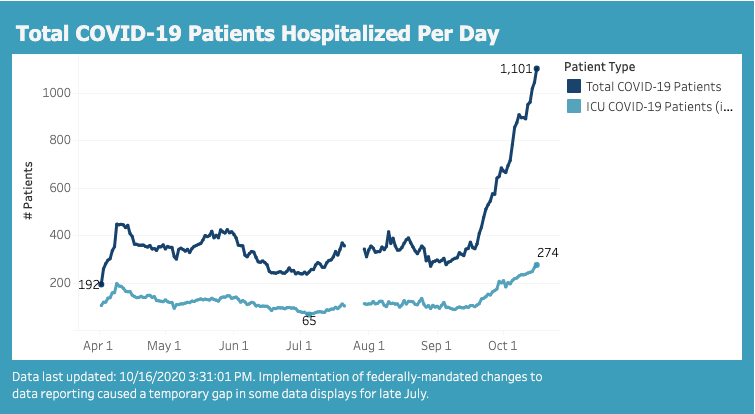 It has truly been a devastating week for the pandemic in Wisconsin. 
Wisconsin set a new record of total covid-19 hospitalizations five days in a row, climbing from 889 on Sunday to 1,101 on Friday, with 274 of those patients now in intensive care, according to the Wisconsin Hospitals Association. 
Nearly 22,000 people tested positive for covid-19 within the last seven days, and 132 people have died from the virus.
There are currently more than 34,000 active covid cases in Wisconsin, which, if it were a city, would be the state's 25th largest. There are more people who have coronavirus in Wisconsin than live in the cities of West Bend, Mount Pleasant, Neenah, or Stevens Point.
Wisconsin has now passed its neighbor in Michigan for the total number of covid cases in each state since the pandemic began (as of Friday: 175,652 in Wisconsin and 159,144 in Michigan). That would have been unthinkable in the early months of the crisis, as Michigan (Detroit in particular) endured a particularly frightening outbreak. Even as recently as Aug. 15, Michigan had 92,155 cases and Wisconsin had 65,056. Michigan's population is about 10 million; Wisconsin's is under 6 million. It's astonishing how much has changed between the two states.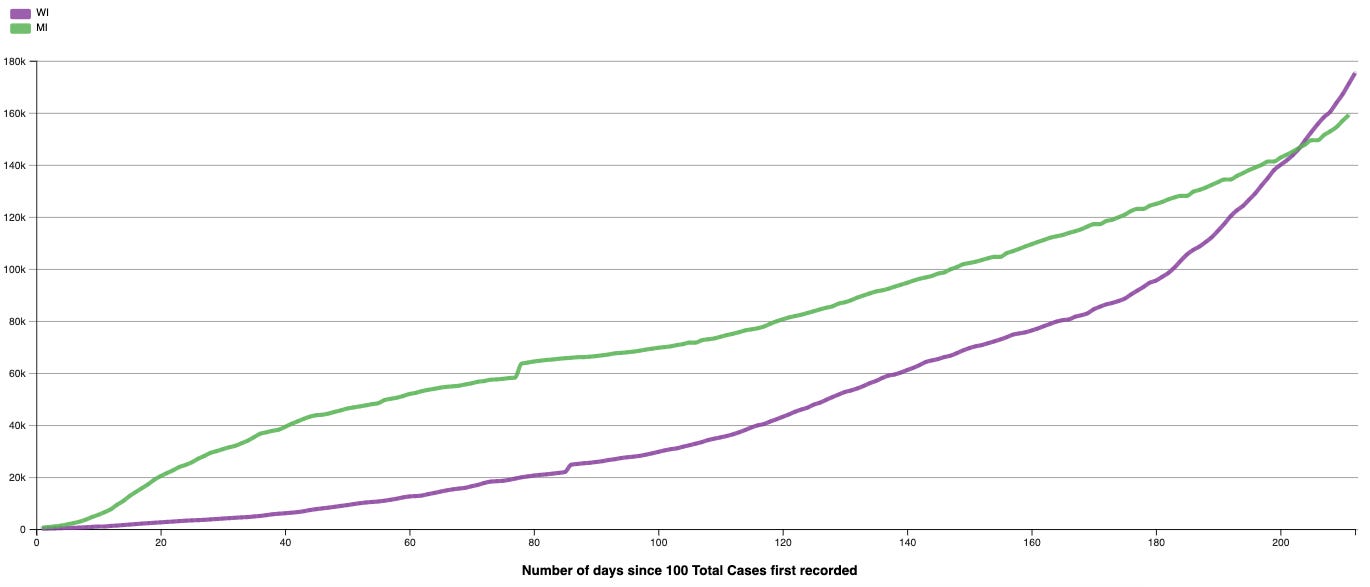 Both in total cases and on a per capita basis, our Wisconsin explosion of cases has rocketed it into the top 15 of all U.S. states. 
As cases have climbed at an exponential rate in Wisconsin, deaths have inevitably followed. October will almost certainly be the deadliest month of the pandemic in Wisconsin. More people have died from the coronavirus in Wisconsin within the first two weeks of October (209) than died of the flu in all of 2019 (183). 
There is no sign this is slowing down anytime soon. The 7-day average of the state's positivity rate is now north of 20%, a staggering number when you consider the national average is just over 5%.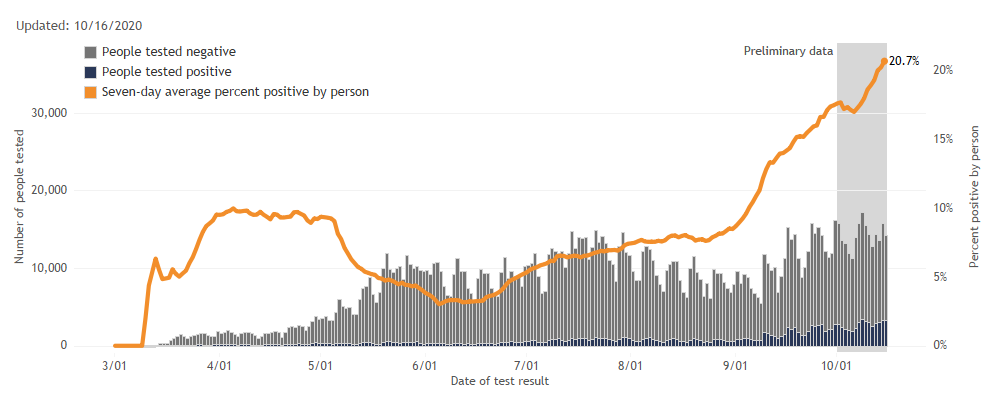 "It will get worse before it gets better," said Andrea Palm, Secretary-designee of the Department of Health Services. 
Wisconsin reached single-day highs for new cases this week on Tuesday, Thursday and on Friday, with 3,861 people testing positive on Oct. 16. That's thousands of families across the state grappling with the reality of this disease, alerting friends and loved ones, staying away from work or school, each and every day — and that's even before considering any of the worst case scenarios that covid presents. There will be tens of thousands more facing that same difficult reality next week. It didn't have to be like this, but here we are. 
While the governor tries as he might to enact policies to fight the spread of the virus — and to be clear, as much as he is doing, he should be doing more — Republicans have made it abundantly clear that they are going to do absolutely nothing with the powers they seized to control the statewide coronavirus response. Party officials are now openly admitting that they have no plan. 
So, the Republicans running the Legislature refuse to do anything, and any time the governor tries to take action, someone (usually a GOP-aligned group) sues to stop it. Local officials are either hamstrung or refuse to enforce anything. Meanwhile, Wisconsin keeps seeing record highs in new cases, hospitalizations, and deaths day after day after day. 
How exactly does this turn around?
The White House Coronavirus Task Force expressed "extreme concern" over Wisconsin's covid-19 outbreak, but that's not stopping President Donald Trump from holding a rally in Janesville on Saturday where guests will be forced to crowd into busses to be shuttled to the rally at the Southern Wisconsin Regional Airport. If it's anything like recent Trump and Republican Party campaign events in Wisconsin, it will be largely mask-free and not adhere to any of its own distancing guidelines and transmission mitigation recommendations. Huge numbers of people will follow the lead of Trump and his party, especially now, at the height of the campaign. Nothing about this event will reverse the dangerous direction our state is headed. The pandemic will continue to rage on. 
It's hard not to feel like we're stuck. There's a real sense of dread looming in Wisconsin's crisp fall air. Our leaders are either unable or unwilling to take action to avoid preventable deaths, sickness, and suffering. At this point, so much of this tragedy is of our own making. 
Wisconsin's leaders should be enacting policies to fight the spread of the virus and keep people safe by requiring masks and limiting indoor gatherings, but it can't stop there. As I've said since March, they should be bailing out businesses like restaurants that are forced to scale back or close because of the pandemic. They should be supporting frontline healthcare workers in any way they can, and that includes things like paid sick leave and hazard pay. They need to ramp up testing and tracing in communities large and small and make that available to people at no cost. They need to make sure people aren't getting evicted when we know the best way to stop the spread is to stay home. They need to prioritize creating an environment safe enough for schools to be able to hold in-person classes. All of these things should be happening in concert. 
We know a lot of what works by now. We also know the heightening threat of this virus isn't going away on its own. It is going to take work. Even for our leaders who have clung to their misguided convictions that have proved to be wrong over and over and over again for months, it's never too late to dig in and do what's needed — and what's right — to help us change course.
But make no mistake, there are tough days ahead, Wisconsin. Take care of each other. That might be all we get. 
---
Dan Shafer is a journalist from Milwaukee who writes and publishes The Recombobulation Area. He previously worked at Seattle Magazine, Seattle Business Magazine, the Milwaukee Business Journal, Milwaukee Magazine, and BizTimes Milwaukee. He's also written for The Daily Beast, WisPolitics, and Milwaukee Record. He's on Twitter at @DanRShafer.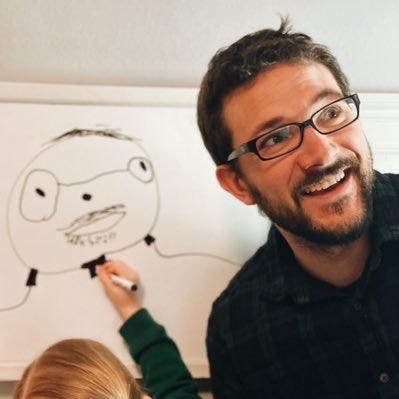 ---
Thank you for reading The Recombobulation Area and supporting independent journalism in Wisconsin.
Subscribe to The Recombobulation Area newsletter here and follow us on Facebook at @therecombobulationarea.