Discover more from The Recombobulation Area
The Recombobulation Area is an award-winning weekly opinion column and online publication by longtime Milwaukee journalist Dan Shafer, covering news and politics in Milwaukee and Wisconsin. We live in discombobulating times. Let's recombobulate.
Over 5,000 subscribers
Endorsement: Joe Biden for President
The former vice president helped lead America out of the darkness once before. He can do it again.
The Recombobulation Area is a weekly opinion column by veteran Milwaukee journalist Dan Shafer. Learn more about it here.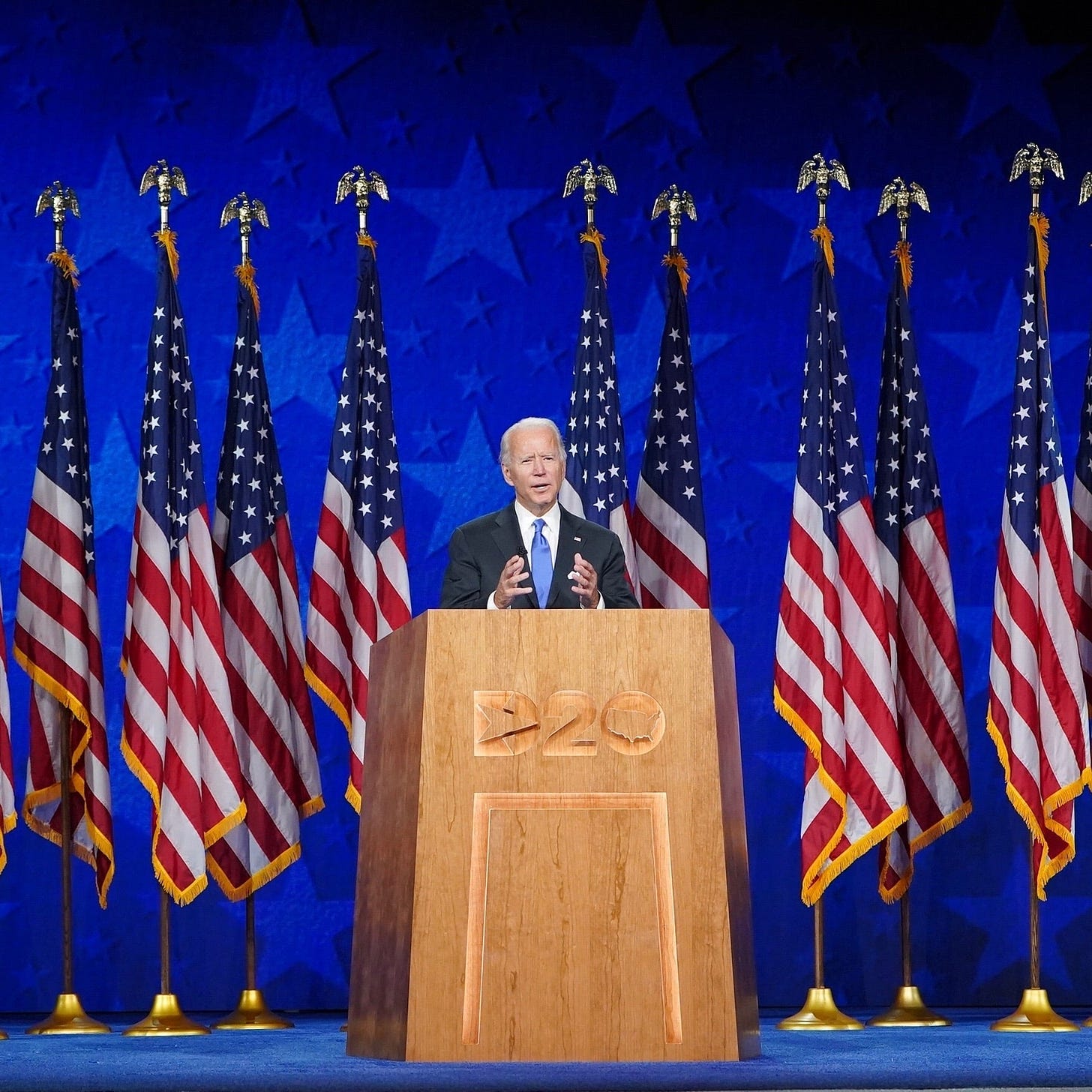 Former Vice President Joe Biden accepts the nomination for president in a powerful speech at the Democratic National Convention. Photo via Joe Biden on Facebook.
---
One of the most memorable stories of the race for president in 2016 came not from the frontlines of the tumultuous, interminable campaign, but from the Port of New Orleans. 
It was there that several leaders gathered on a February morning to commemorate progress made on a reconstruction and modernization effort at the Mississippi River Intermodal Terminal, a $16.7 million project that upgraded cargo capacity by 1,000 percent while reducing reliance on greenhouse gas emissions. The project was funded by the American Recovery and Reinvestment Act — the stimulus.  
The featured speaker that day was Vice President Joe Biden. The Port of New Orleans was his first stop on a three-state tour to commemorate the seven-year anniversary of the signing of the landmark bill. On the tour, he proudly championed the Obama administration's successful efforts — efforts Biden himself led — to pull the country back from the economic abyss in which the term began in 2009.
"We've gone from crisis to recovery, we're now on the verge of resurgence," he said. "I've never been more optimistic about the country than I am today—and that's not hyperbole!."
It was in that moment that Biden delivered what had been missing from the campaign trail four years ago — a genuine, full-throated defense of the eight years prior. 
Neither candidate for the Democratic nomination was asking the nation the essential question of any election — are you better off than you were four years ago? It was a challenge for Clinton, as one-time political rival of Obama's, to truly convey that message, and it wasn't a question Sanders, who was not always in lock-step with the president on many key policies, seemed interested in asking. The voice of a torch-bearer, a voice Biden could have provided, was missing.
The answer to that essential question, though, was an unequivocal "yes." The nation was absolutely, unquestionably in a better place in 2016 than it was in 2009. Obama and Biden left office on an extraordinarily high note as the most accomplished presidency in a generation. It was by no means perfect, of course, but their administration had a higher batting average than any administration in decades. 
Now, in 2020, the answer to that essential question of all elections has never been more clear. We are so much worse off than we were four years ago.
The decision in this election is not a difficult one. 
The United States of America has fallen so far, so fast, under the leadership of Donald Trump. From the cruelty to the corruption to the chaos to the conspiracies to the complete failure to conquer the coronavirus, the president has plunged the nation from its perch as a city upon a hill to unfathomable depths during his time in office. He flung open the floodgates for some of the most hateful, racist, misogynistic impulses this nation has to come charging through, and instead of silencing those voices, he offers them validation. He does something every day — every hour, even — that would end the career of any other politician. At no point has he been remotely fit for the office he holds. A just nation would deliver an overwhelming repudiation to him and everything he stands for. There is a slippery slope toward fascism that's waiting on the other side of Election Day if Trump wins. He needs to go now. 
Quietly, perhaps, Joe Biden can deliver that very repudiation America needs in this moment. Biden is a man of experience and accomplishment, of empathy and understanding, and perhaps above all, of resilience.
"Four days after Beau's funeral, I watched Joe shave and put on his suit," Dr. Jill Biden said in her convention speech Tuesday night. "I saw him steel himself in the mirror, take a breath, put his shoulders back, and walk out into a world empty of our son."
Biden has experienced tragedy after tragedy, and time after time, he had to learn how to move forward. Perhaps it's only right, then, that he should be the nominee in this moment of true national tragedy, where the depth of loss is so great, with more than 170,000 dead from the virus, more than 5 million infected, and no end in sight to the ravages of the pandemic. Biden can be the comforter-in-chief America needs right now, put his shoulders back, and walk out into a country desperate for leadership and ready to move forward. 
Because we are not going to make it out of this pandemic without true leadership, and without a plan. Biden knows that it takes work to overcome hardship, and he has a real plan to combat covid-19. More than that, he's set his sights on tackling "four historic crises" happening "all at the same time," he said at the convention, those being "The worst pandemic in over one hundred years, the worst economic crisis since the Great Depression, the most compelling call for racial justice since the 60's and the undeniable realities and just accelerating threats of climate change."
The way he framed and characterized those four crises is important, and in this case, spot on. They are all happening at once, in unprecedented fashion, and they are undeniably interconnected. The gravity of this moment requires that they are met in concert with no stone unturned.
From a policy standpoint, Biden was not the Democratic candidate in the primary offering promise of sweeping reform. He certainly wasn't campaigning on the big structural change of Elizabeth Warren or the political revolution of Bernie Sanders during the primary. But throughout his career, Biden has found a way to position himself in the exact center of the Democratic Party.
The Sanders, Warrens and the true progressives of the party will need to do their part to pull Biden to the left on key policy areas like health care, child care, climate, and law enforcement reform. And the moderate Republicans the Biden campaign is looking to bring into the big tent Democratic Party could help shape a new form of consensus governing not seen in recent years. The increasingly diverse coalition of Democrats is going to need to make their voices heard, and Biden is going to need to heed his promise and hear those voices. We are all going to need to be present in holding Biden accountable every step of the way. 
With his selection of Senator Kamala Harris as his vice presidential running mate, he's taken an important step in choosing a woman and a person of color to that office, and if he's elected, it's going to be extremely important for him to take bigger and bigger steps to address the racism and sexism that's still all too prevalent in this country. There are two serious candidates on the ballot for president, and Joe Biden is the only one to say he's willing to do "the hard work of rooting out our systemic racism." He's going to need to put in the work to earn the votes Black and brown Americans all the way up until Election Day.
A key part of being a Democrat is the fact that there are varied voices and diverse backgrounds that are part of the Party. It's more difficult to gather a coalition on the left than it is on the right at this moment in America.
So if you're among the people not overly enthused about a Joe Biden candidacy, I have good news: The presidential campaign is not the only race on the ballot. There are plenty of congressional, state and local races worth investing your time and energy in. The Democratic Party needs to build a good, strong, deep bench. Here in Wisconsin, there are plenty of elected officials who deserve to be shown the door, and there's a new crop of candidates who are more than deserving of your support. As with all elections, this one requires your enthusiasm and advocacy in order for it to properly function and those are both things races outside of the presidency are always in dire need of. Invest those resources of yours wisely. 
But at the same time, don't make the mistake of not electing Joe Biden as our next president. There is real opportunity for meaningful change in a Biden-Harris presidency. There's hope for a bold future. There are, what Biden emphasized optimistically in his convention speech, "possibilities."
"American history tells us that it's been in our darkest moments that we've made our greatest progress; that we've found the light," he said. "In this dark moment, I believe we're poised to make great progress again; that we can find the light once more..
Last time we voted to put him in office, Biden proved to us that he could help lead a nation through a dark time. He helped lead the recovery. He was part of the administration that began to turn the tide on issues like inequality, and health care, and climate, and so much more. He was a crucial part of that successful presidency, someone who was called "one of the most consequential vice presidents in American history" when receiving the Presidential Medal of Freedom.
So much has happened in these last four years that the morning at the Port of New Orleans seems like a lifetime ago. Perhaps so much has changed that Joe Biden can no longer be that torch-bearer, but I don't believe that to be true. We don't know what challenges we might face in the next four years, but we do know that the last time Joe Biden played a role in running this nation, he looked back proudly, championing his accomplishments — accomplishments that were real and lasting and made a profound impact on this nation. 
Joe Biden can once again help lead our country out of the darkness. Without a doubt, this country will be better in four years than it is now if we vote for him and for Kamala Harris. 
I am proud to endorse Joe Biden for President of the United States. 
"For love is more powerful than hate. Hope is more powerful than fear. And light is more powerful than dark. This is our moment. This is our mission. May history be able to say that the end of this chapter of American darkness began here, tonight, as love and hope and light join in the battle for the soul of the nation." - Joe Biden, August 20, 2020
---
Dan Shafer is a journalist from Milwaukee who writes and publishes The Recombobulation Area. He previously worked at Seattle Magazine, Seattle Business Magazine, the Milwaukee Business Journal, Milwaukee Magazine, and BizTimes Milwaukee. He's also written for The Daily Beast, WisPolitics, and Milwaukee Record.
---
Thank you for reading The Recombobulation Area and supporting independent journalism.
Subscribe to The Recombobulation Area newsletter here and follow us on Facebook at @therecombobulationarea.
Follow Dan on Twitter at @DanRShafer.