Discover more from The Recombobulation Area
The Recombobulation Area is an award-winning weekly opinion column and online publication by longtime Milwaukee journalist Dan Shafer, covering news and politics in Milwaukee and Wisconsin. We live in discombobulating times. Let's recombobulate.
Over 5,000 subscribers
Endorsement: David Crowley for Milwaukee County Executive
The state representative from Milwaukee presents the best case to enact meaningful change at a crucial time for the County.
The Recombobulation Area is a weekly column by veteran Milwaukee journalist Dan Shafer. Learn more about it here.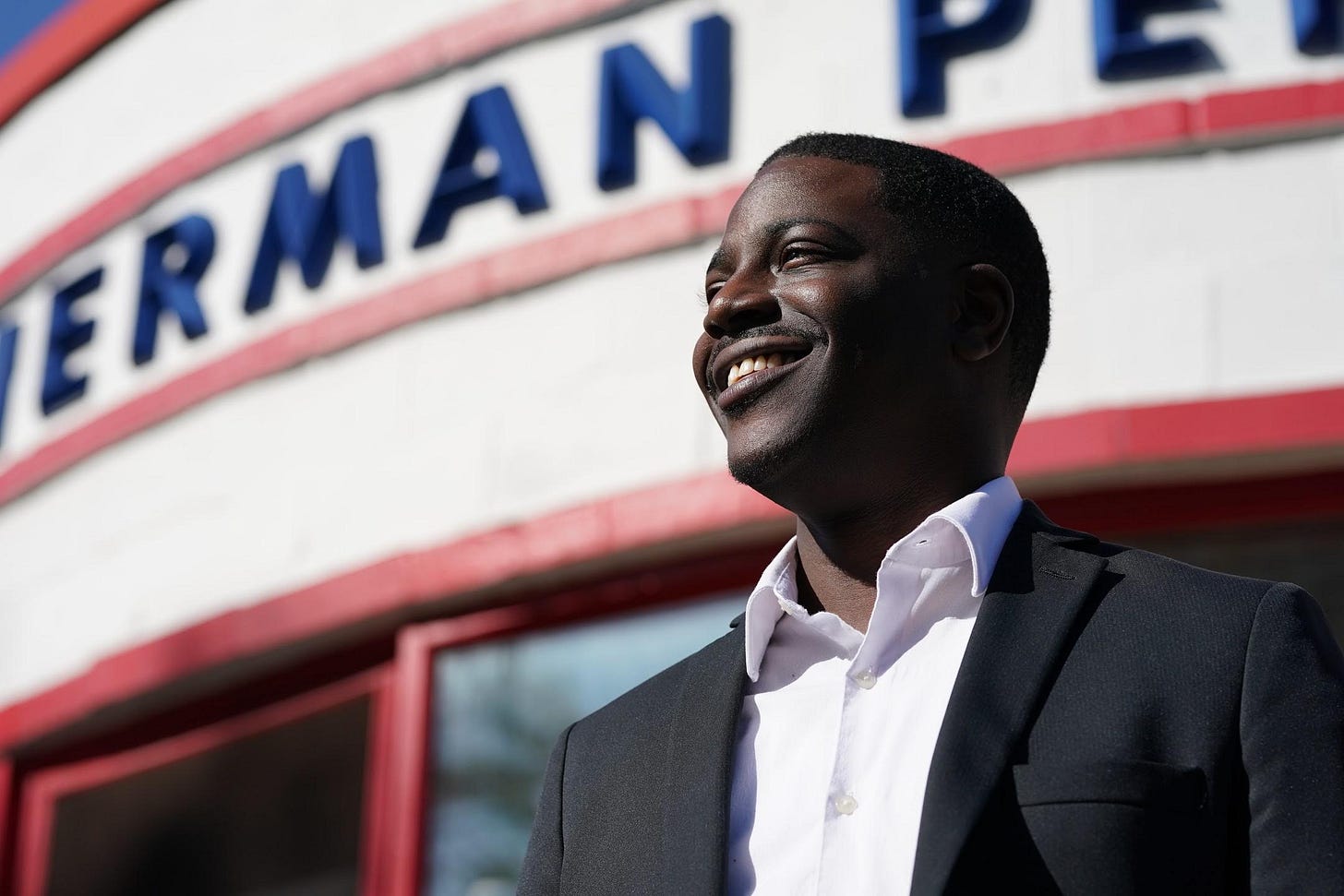 David Crowley is a state representative from Milwaukee, representing Assembly District 17, which includes several neighborhoods in the city of Milwaukee's west and northwest side, such as Uptown, Enderis Park and Capitol Heights.
---
Less than four months ago, with twice re-elected Chris Abele running unopposed for a third full term, it seemed almost impossible that Wisconsin's most populous county would be seeing a change in leadership. But now, the nearly 950,000 residents that call Milwaukee County home will soon have someone new running things for the first time in nine years. 
The County finds itself at a crucial time, with a slow burn fiscal crisis hiding beneath the surface, a transit system stuck in reverse, and a real infrastructure problem that will require concrete solutions in the coming years -- problems all existing within one of the most racially unequal and most segregated metro areas in the country.  
There will be real, unavoidable challenges lying in wait for the next person Milwaukee elects to be its County Executive, but there is opportunity for a new leader to usher in a bold new era.
That next leader should be David Crowley. The Recombobulation Area is proud to endorse Rep. Crowley to be Milwaukee's next County Executive. 
The second-term state representative from Milwaukee is a bridge-builder. Few qualities have more value in this diverse-but-disconnected corner of the country than the ability to connect people and overcome divisions, and Crowley is making it the center of his campaign for County Executive. 
Milwaukee needs a bridge-builder in a position of leadership, and needs someone who recognizes that the work of connecting people should be done with the guiding light of lifting up those in marginalized communities and addressing the needs of vulnerable people facing challenging circumstances. In this election, that's David Crowley.
The importance of Milwaukee electing a black leader cannot be overstated. As Crowley noted in our interview, it's not just in public office where black leaders aren't as present in Milwaukee, it's a problem in the region's private sector, too. A leader like Crowley would better reflect the increasingly diverse county that this is becoming, and in a region that's long lacked people of color in its highest political ranks, electing a black County Executive would be a big deal. 
Additionally, among the top three candidates interviewed by The Recombobulation Area, Crowley was the only one to identify racial equity as one of his top priorities if he were to be elected. He discussed the still-new Office of African American Affairs as a part of County government that would be worthy of greater investment. He expressed a real desire to get Milwaukee off the top of the list of most segregated and unequal places in the country, and that's a goal we need our leaders to be setting and talking about in real terms. 
Between Abele's departure and the coming changes at the Board — five of the 18 supervisors will not be seeking re-election — there could be a leadership void in electing someone who's yet to have executive experience. But Crowley has shown in his time in the state legislature that he's ready and willing to step into leadership roles. He currently serves as Chair of the Wisconsin Legislative Black Caucus, co-Chair of the Black and Latino Caucus, and Chair of the Milwaukee Democratic Legislative Caucus. He also placed a real point of emphasis on building relationships with those on the Board, and utilizing the "institutional knowledge" that will still be there, he said. And he isn't exactly a stranger to how the Board operates after being a legislative assistant to Nikiya Harris Dodd when she was a County Supervisor. 
Having experience with the inner-workings of both the Board and the State Legislature is a definite asset for someone coming into the role of County Executive at this time. Working with legislative leadership in Madison on issues like the "Fair Deal" and state shared revenue, or a potential sales tax increase, or transportation funding, or any number of the many state-mandated services the County carries out is going to be an especially important part of this job in the coming years. One thing all three of the top candidates seemed to agree on was the need to change the larger funding equation for the County. But more so than the other candidates, Crowley shows a willingness to seek creative and pragmatic solutions to complex problems. He highlights his the work he did bringing Republicans and Democrats together to find a deal to schedule Lincoln Hills to close as a situation where he prioritized a results-oriented approach. 
Crowley has a terrific reputation among his peers. He's extremely well-liked and well-respected. He prides himself on building relationships and connecting with people, and it shows when you talk to those who've worked with him.
Crowley also demonstrates a unique grasp of the scope of the job. He understands just how many vulnerable people rely on County services because his family relied on County services when he was growing up. In our interview, Crowley talked about in-the-news issues like homelessness and parks just as the other candidates did, but he also talked about the County's mental health services, services for people with disabilities, and services for seniors, saying "I understand that these are the most vulnerable folks." These issues might not get the same attention, but this is some of the most important work the County does.
Among the top three candidates, however, there is quite a bit that they all agree on. Each could prove to be an excellent County Executive. Lipscomb knows county government inside and out, and Larson is aiming to chart a progressive path forward. This isn't an election where one of the top three is clearly unfit for the job. 
But neither Larson (who is probably the front-runner on name recognition alone) nor Lipscomb are without weaknesses, even if those weaknesses aren't necessarily disqualifying. 
Lipscomb's actions during this campaign — flagging election officials over improper signatures collected by outsider, something it turns out he himself did — resulted in the narrowing of the field, and while that may improve his chances, running a race highlighted by exploiting technicalities is not exactly an inspiring campaign message. And so much of what he discussed relies on the "Fair Deal" and changing the calculus for the County, an issue he currently has little control over.
Larson, if elected, would be the most progressive County Executive in a generation, following the more centrist Abele and ultra-conservative Scott Walker for the eight years before him. But in our interview, Larson emphasized symbolic victories over tangible results when asked to reflect on his proudest accomplishments, which could signal trouble in a job where uncomfortable compromise is essentially an inevitably. On transit in particular, he seemed resigned to the likelihood of cuts, even saying, "The transit system is on the chopping block," a real misfire at a time where Milwaukee should be aggressively trying to expand public transportation and make improvements to existing transit infrastructure in any way it can. 
Crowley has the potential to deliver in this role in ways Lipscomb and Larson might not. He'd clearly offer the best chance of the three to build on the successes of the Abele administration, all while recognizing areas in need of a fresh start.
Crowley is a natural leader, a coalition-builder, and someone with real vision for a fresh direction for the County. And that vision is one grounded in an optimistic, pragmatic approach that prioritizes making a real positive impact on the lives of the most vulnerable people living in our county. He's demonstrated that he's no less a progressive than Larson. As a 33-year-old, Crowley could help bridge some of the region's looming generational divides. As a person of color, he could play an incredibly important role in breaking down barriers as the first black County Executive elected to serve a full term in this county. 
Milwaukee needs a bridge-builder. The County needs someone with a progressive vision to pair with the type of leadership needed to affect real change. The best chance for Milwaukee to move forward in the way that it needs to is with David Crowley as our next County Executive. 
---
Thank you for reading The Recombobulation Area and supporting independent journalism.
Subscribe to The Recombobulation Area newsletter here and follow us on Facebook at @therecombobulationarea.
Follow Dan on Twitter at @DanRShafer.