Discover more from The Recombobulation Area
The Recombobulation Area is an award-winning weekly opinion column and online publication by longtime Milwaukee journalist Dan Shafer, covering news and politics in Milwaukee and Wisconsin. We live in discombobulating times. Let's recombobulate.
Over 5,000 subscribers
Discombobulated Edition: Wisconsin's Statewide Racism and Inequality Problems, Vos' Vile Response to Grieving Protesters, Bad News at Briggs, More
Plus: Remembering Ty'Rese West, police-free schools, more inaction at the State Legislature, and a 10% budget cut.
The Recombobulation Area is a weekly opinion column by veteran Milwaukee journalist Dan Shafer. Learn more about it here.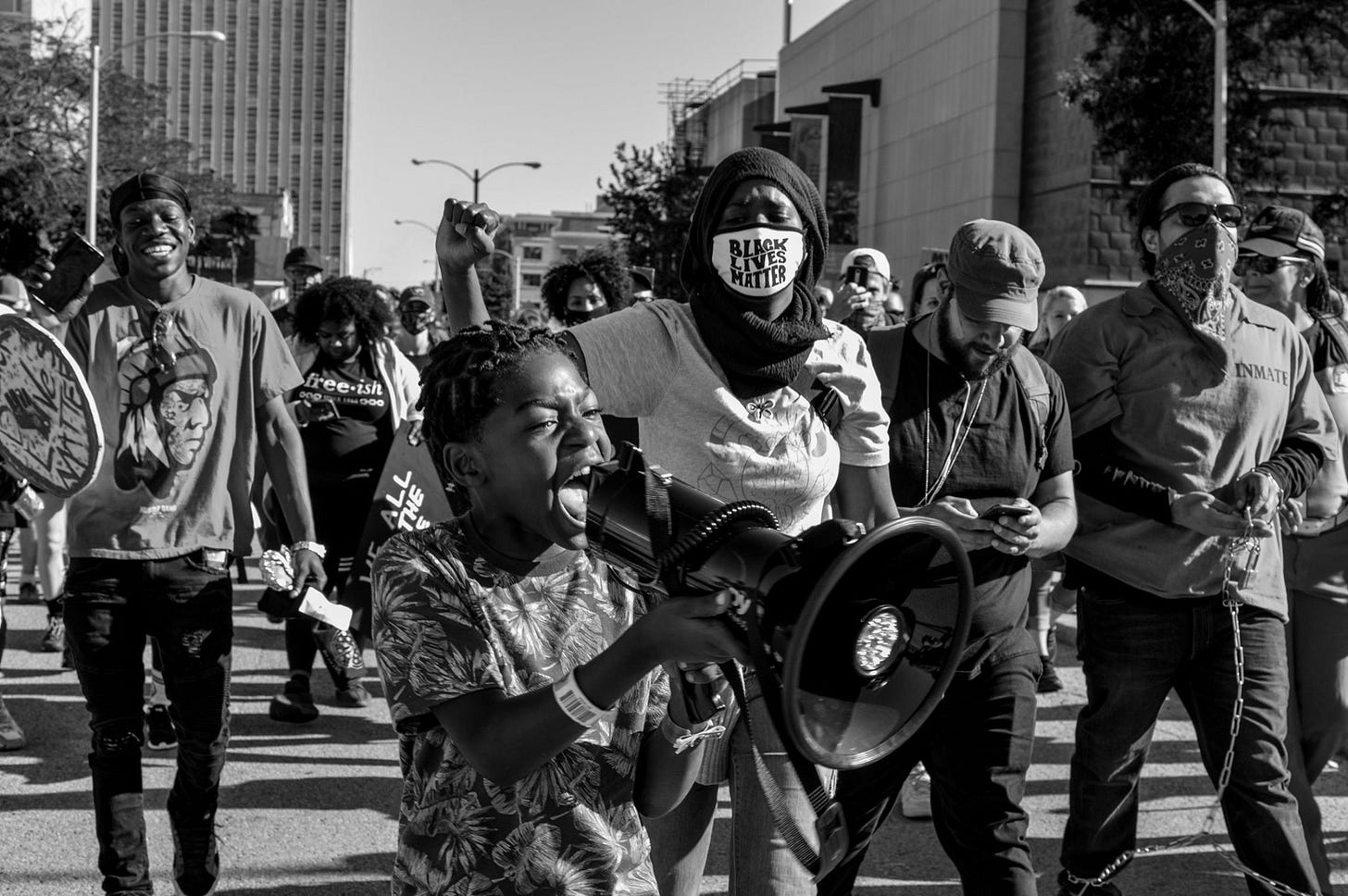 Black Lives Matter protesters continue to march in Milwaukee. Photo by LaLux Photography.
---
This week's column will be covering a few different topics, so we're calling it another "Discombobulated Edition" of The Recombobulation Area. 
First, I want to honor Juneteenth. Milwaukee is home to one of the longest-running Juneteenth celebrations in the nation, first happening here in 1971, and continuing again (in many pandemic-friendly forms) today. As people again celebrate the day and the momentous moment of emancipation that it honors, it's important to acknowledge that this year's embrace of this holiday is long overdue, as so many things when it comes to racial equality are in this country. 
As Nikole Hannah-Jones wrote in her Pulitzer Prize-winning essay launching the "1619" project, "The truth is that as much democracy as this nation has today, it has been borne on the backs of black resistance. Our founding fathers may not have actually believed in the ideals they espoused, but black people did."
In the spirit of those ideals, the historic Black Lives Matter protest movement is continuing to lead this country in a more just, equitable, and downright better direction. Hopefully soon, in our chapter of the American story, we'll be seeing more change that goes well beyond the recognition of the long overdue. But today, in 2020, as protest marches in the city reach their fourth straight week, the Juneteenth flag will fly over Milwaukee and Wisconsin for the first time ever, and that's a good thing.
On to the column…
Wisconsin keeps showing why racism needs to be declared a statewide problem
There have been a whole lot of recent news stories in Wisconsin making it crystal clear that activists and social justice organizations are absolutely right to say that racism is a statewide crisis and the governor should declare it as such. Here are just a few of the things that have happened since mass Black Lives Matter protests began in the wake of the May 25 police murder of George Floyd in Minneapolis:
This is surely not a comprehensive list. And that's part of the point. Racism is a statewide problem in Wisconsin, and the governor and legislature and state leaders from Kenosha to Superior need to recognize it as such.
Wisconsin (again) ranks as the state with the worst racial equality 
Yes, it's WalletHub, but any study ranking Wisconsin as the worst in the country for racial equality should be setting off alarms in every corner of the state and require immediate action from leadership.
Within the report, Wisconsin's median annual income gap and labor force participation rate gap ranked the most unequal in the nation. Wisconsin's poverty rate gap and unemployment rate gap also ranked among the five worst states. Of all fifty states.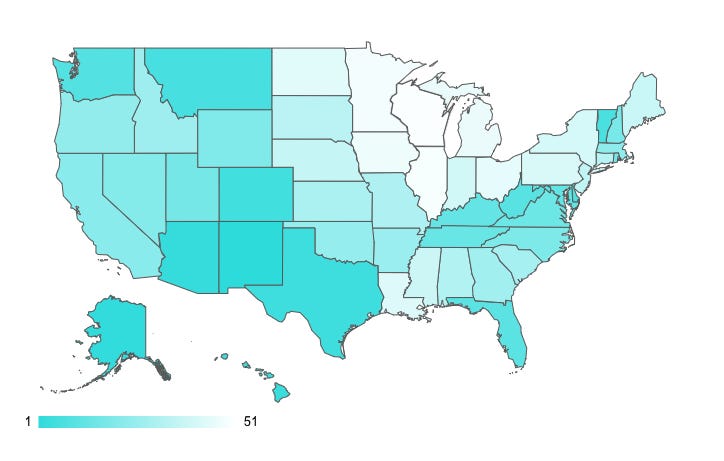 From WalletHub.
Six members of the Milwaukee Common Council noted this report, and are asking the Mayor to fully fund the Office of African-American Affairs in the 2021 budget. Maybe this is something our painfully inactive State Legislature and governor should also also address, seeing as this is a statewide study?
Also of note within this report: The Midwest is home to the states with the greatest inequality. Indiana, Ohio, Michigan, Iowa, Michigan, Minnesota, Illinois and Wisconsin are all in the bottom 10 states, the ones with the most inequality between its white and Black citizens. Systemic change is needed across the whole region in a big way.
The latest vile act from Assembly Speaker Robin Vos
The leader of the State Assembly continues to prove himself to be among the most contemptible public figures Wisconsin has known in some time. Vos was found to have made racist comments about immigrants on a (dubiously recorded) call with Gov. Evers, saying immigrant "culture" is to blame for COVID-19 outbreaks. These comments were panned by Hispanic advocacy, immigrant rights and faith groups, but Vos refused to apologize. 
Voces de la Frontera, the state's largest immigrant rights group, which has advocated for essential workers who have contracted COVID-19 while on the job and has brought attention to cases where individuals have died from the virus, held a protest at Vos' Burlington residence Thursday afternoon. There, protesters laid a wreath at the Assembly Speaker's mailbox. 
The group included the family of Juan Manuel Reyes Valdez, who worked at Echo Lakes Foods in Vos' home town and died from coronavirus on June 3, and the family of  Mike Jackson, who died last month after he collapsed at work at Briggs & Stratton in Wauwatosa, saying the company did not allow for paid sick days. 
The group protesting said Vos has not done enough in his role as Assembly Speaker to protect the lives of essential workers on the job during the pandemic -- which, considering they've passed but one bill in three months and had no plan whatsoever for reopening, is a tough one to argue. Christine Neumann-Ortiz, Voces' executive director, called on him to resign.
Not only has Vos not apologized or resigned, he did not respond to the protesters directly at all, and instead asked officers from the Racine County Sheriff's Office (!) to remove the wreath and photos left for him to see, minutes after they were placed there. 
He later told the Milwaukee Journal Sentinel the protest was "not about worker benefits, it was about politics," not acknowledging that family members were there to honor their deceased loved ones. 
Robin Vos should be ashamed. His callous disregard for peaceful protesters mourning a tragic loss is unbelievably disrespectful, and the latest in a long, long list of unfathomably vile actions and words from one of the most powerful people in Wisconsin's state government. I continue to believe he should resign, and I cannot fathom why the Republican Party in Wisconsin puts up with him as their leader. He is a disgrace. 
Briggs & Stratton: Millions for executives, no paid sick leave for essential workers
Briggs & Stratton employee Mike Jackson, a 45-year-old father of eight, died of coronavirus days after collapsing on the job. His family said he was pressured to work, that the company didn't have adequate guidelines for working during the pandemic, and did not allow for paid sick days. According to Up North News, Jackson's 25-year-old son Kavonte said, "All he wanted to do was take care of his kids. But instead of letting him stay home and be safe, they forced him to work."
While workers are not getting paid sick leave and are put in hazardous conditions, Todd Teske, the chairman, president and CEO of the company, is pocketing $1.2 million through a cash retention award approved by Briggs & Stratton Corp.'s board of directors. Along with Teske, several other key employees are also receiving awards, totalling a combined $5 million. Several top executives agreed to salary reductions as a result of the pandemic, but the company also chose to restore those salaries effective July 1. 
Briggs & Stratton sure doesn't seem like a great company. Taking what essentially amounts to a bonus during these economic times is bad enough, but doing so as an employee dies over unsafe working conditions is a real problem that warrants sharper criticism of the Wauwatosa-based manufacturer. In a just world, that $1.2 million would be going to the family of Mike Jackson instead of to Teske, whose salary alone will return to $963,000 this year. 
Police-free Milwaukee Public Schools and a sure sign of progress
The MPS School Board voted unanimously to back a proposal calling for the school district to end its contracts with the Milwaukee Police Department. This proposal was backed in a big way by the organization Leaders Igniting Transformation (LIT), which organized a rally at the MPS administration building the day prior, where hundreds attended, and a Black Lives Matter protest march followed. 
This decision is a real win for LIT, which has been advocating for a move like this for more than two years, as part of its "Freedom To Thrive" program, which launched with a comprehensive report in 2018 on "dismantling Milwaukee's school-to-prison pipeline." This is a hard-fought victory for this increasingly influential group of young people of color. 
Most importantly, it's a win for students of color who have been subjected to needlessly harsh treatment in the state's largest school district. 
Keep marching.
Remembering Ty'Rese West
Ty'Rese West was shot and killed by a Mount Pleasant police officer one year ago this week, on June 15, 2019. He was 18. 
His mother, Monique West, talked about the loss of her son with the Racine Journal Times.
West was killed after fleeing from police after being stopped for riding a bicycle without a light on after 1 a.m. According to the Journal Times, "There's no body-camera footage of the incident. But the Mount Pleasant Police Department said that Ty'Rese had a gun. While running, West tripped and fell after appearing to toss the gun away, according to the officer, who then caught up and held the 18-year-old to the ground with his foot. The officer reported that Ty'Rese was struggling and reaching for the dropped firearm; his family still believes the gun was planted, a claim local law enforcement has denied. No fingerprint evidence was ever presented definitively showing Ty'Rese' had touched the gun."
Racine County District Attorney Tricia Hanson found the officer to be acting in self-defense.
Last week, Racine native, NBA legend and criminal justice reform advocate Caron Butler spoke out about West's death. West was part of the Butler Elite Basketball Program in Racine. 
Here's what Butler said on ESPN's "The Lowe Post" podcast:
Today, I'm flying to Wisconsin like I always do to celebrate Juneteenth Day — I've been doing that for 21 years straight — but also to celebrate the life of Ty'Rese West, who is one of the names in Minneapolis on the ground. He was gunned down in Racine. It was an overkill situation. This kid was part of the Butler Elite program. And I want to make sure that his legacy, his memory goes on. He was killed after 11 o'clock at night while jumping off a bicycle. He was shot down. He was shot two times in the head. And his case is still being investigated. But I bring you to this point: There is no reason why he should not be here. Even if he jumped off a bike and you couldn't catch him that day or whatever, it wasn't no reason for lethal force to be used in this situation. I think that the policing and the tactics have to change.
Honestly, still nothing from the Republican-led State Legislature?
They haven't passed a bill in more than two months -- these two months. They're resisting calls from Gov. Evers and legislative Democrats to go into session to discuss law enforcement reform bills that have been denied a hearing for three years. They still haven't done anything to address the pandemic. They haven't done anything to address the subsequent economic crisis. They aren't doing anything. 
The Legislative Black Caucus has called on Gov. Evers to call a special session, perhaps recognizing that legislative Republicans would refuse to act -- as State Sen. LaTonya Johnson alluded to in an interview with The Recombobulation Area last week, saying she expected nothing more than "gavel in and gavel out" from the GOP even if Evers were to call a Special Session. 
It is the height of ridiculousness that the Wisconsin State Legislature isn't doing a single thing to address the simultaneous pandemic, recession, and historic protest movement.
A 10% cut for MPD?
Unlike the Wisconsin State Legislature, the Milwaukee Common Council is getting to work. Among the action items from the new Council is to set the stage for the fall budget battle by directing the city's budget office to draw up plans to reallocate 10 percent, or about $30 million, from the Milwaukee Police Department's budget.  
This 10 percent cut doesn't go as far as proposals from the African-American Roundtable-led Liberate MKE coalition, which calls for a $75 million divestment, or from LIT, which calls for a 25 percent cut (see more details on these proposals in last week's edition of The Recombobulation Area, an in depth feature on the policy fight for the Black Lives Matter movement in Milwaukee). But it puts the wheels in motion and sets the groundwork for what is sure to be a spotlight debate for the city on the 2021 budget this fall. 
Mayor Tom Barrett will submit his budget in September. If the Council's vote this week to delay the mayor's cabinet appointments is any indication, they are ready to dig in for a real fight. 
It is time for one. 
---
---
Dan Shafer is a journalist from Milwaukee who writes and publishes The Recombobulation Area. He previously worked at Seattle Magazine, Seattle Business Magazine, the Milwaukee Business Journal, Milwaukee Magazine, and BizTimes Milwaukee. He's also written for The Daily Beast, WisPolitics, and Milwaukee Record. He's on Twitter at @DanRShafer.
---
Thank you for reading The Recombobulation Area and supporting independent journalism.
Subscribe to The Recombobulation Area newsletter here and follow us on Facebook at @therecombobulationarea.
Follow Dan on Twitter at @DanRShafer.