Discover more from The Recombobulation Area
The Recombobulation Area is an award-winning weekly opinion column and online publication by longtime Milwaukee journalist Dan Shafer, covering news and politics in Milwaukee and Wisconsin. We live in discombobulating times. Let's recombobulate.
Over 5,000 subscribers
Breakdown: The Top Five 2020 Democratic Candidates in Wisconsin (Part 1)
The latest Marquette University Law School Poll was released this week. Here's an in-depth analysis of the important poll in what might be the most crucial state in the presidential election.
The Recombobulation Area is a new weekly column by veteran Milwaukee journalist Dan Shafer. Learn more about it here.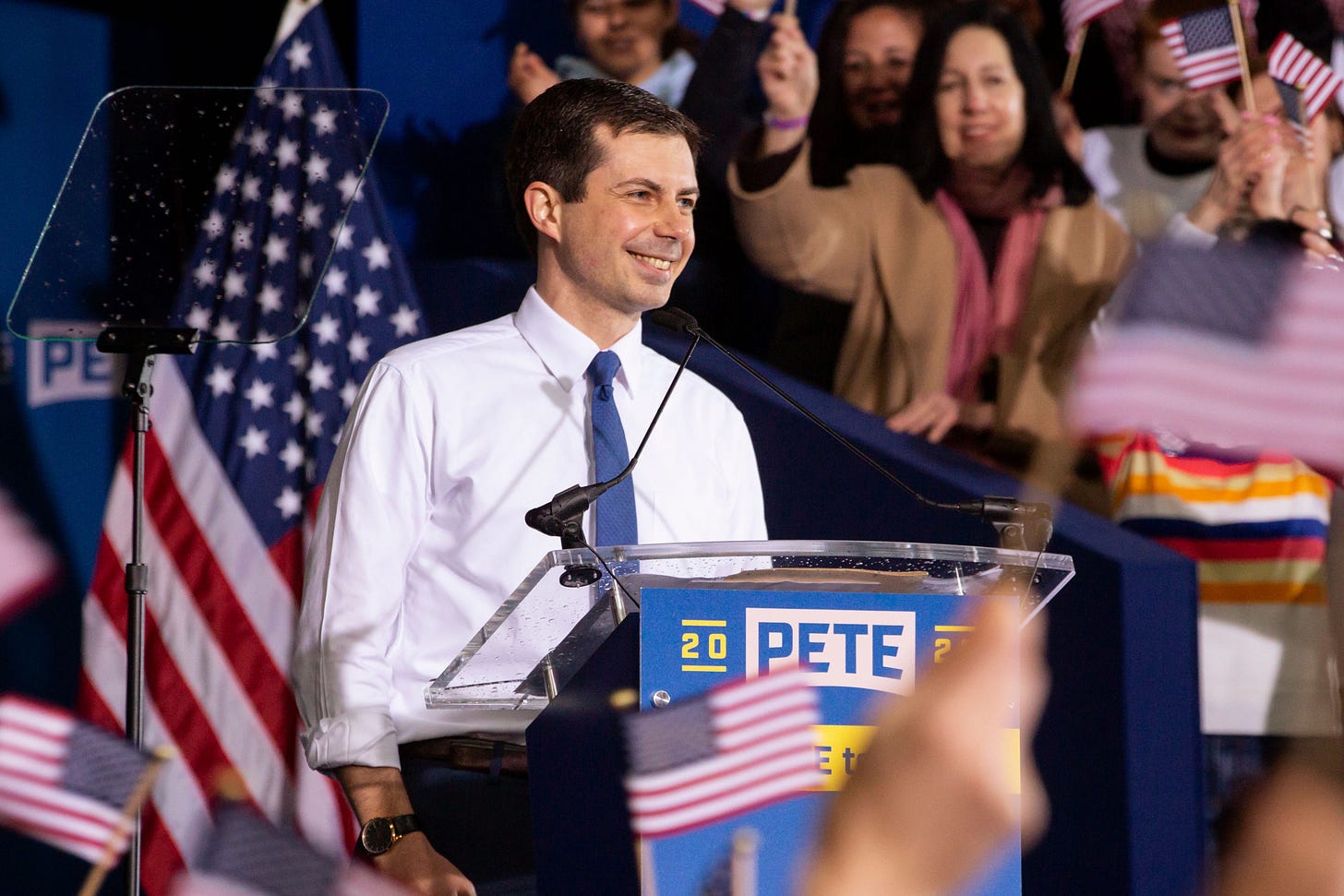 Mayor Pete Buttigieg of South Bend, Indiana, could be a sleeper candidate in Wisconsin. By Gary Riggs - Own work, CC BY-SA 4.0.
---
Wisconsin might be the most important state in the 2020 presidential election, and the Marquette University Law School Poll is the state's gold standard of measuring where voters stand, so here at The Recombobulation Area, each new poll is going to be monitored closely. 
While there were a number of notable results throughout the poll, this week's focus will be on the race for president. 
The headline from the new poll is that Joe Biden leads the field of 2020 Democratic candidates in Wisconsin, with the former Vice President polling nine points ahead of Donald Trump in a potential matchup (51% to 42%). Biden also leads among Democrats' first choice in the primary at 28 percent, followed in order by Sen. Bernie Sanders (20%) and Sen. Elizabeth Warren (17%), with the three candidates constituting the clear frontrunners at this point in the race.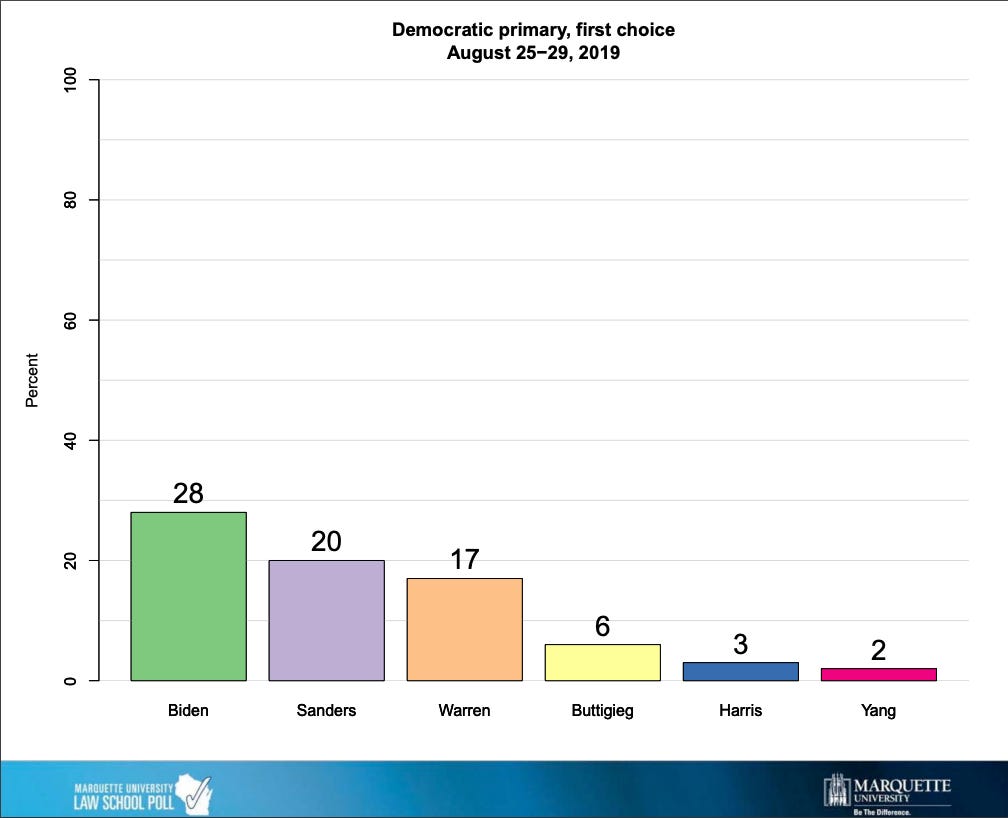 Remarkably, the folks at Marquette asked about each and every one of the candidates still in the race. Yes, that includes 21 candidates, eight of whom polled at 0 percent for voters' first or second choice in the Democratic primary. Sen. Kirsten Gillebrand, who polled at 1 percent, has since left the race. So, 12 candidates have garnered some level of response from these important swing state voters in America's heartland. The big tent field is a good thing, but at some point, it's going to start to narrow. And that, to a certain extent, is what's now happening.
Both nationally and in Wisconsin there is a defined top five. According to the RealClearPolitics polling average (on Sept. 6), the national rankings are as follows:
Joe Biden: 30.1%

Elizabeth Warren: 17.6%

Bernie Sanders: 16.9%

Sen. Kamala Harris: 6.7%

Mayor Pete Buttigieg: 4.4%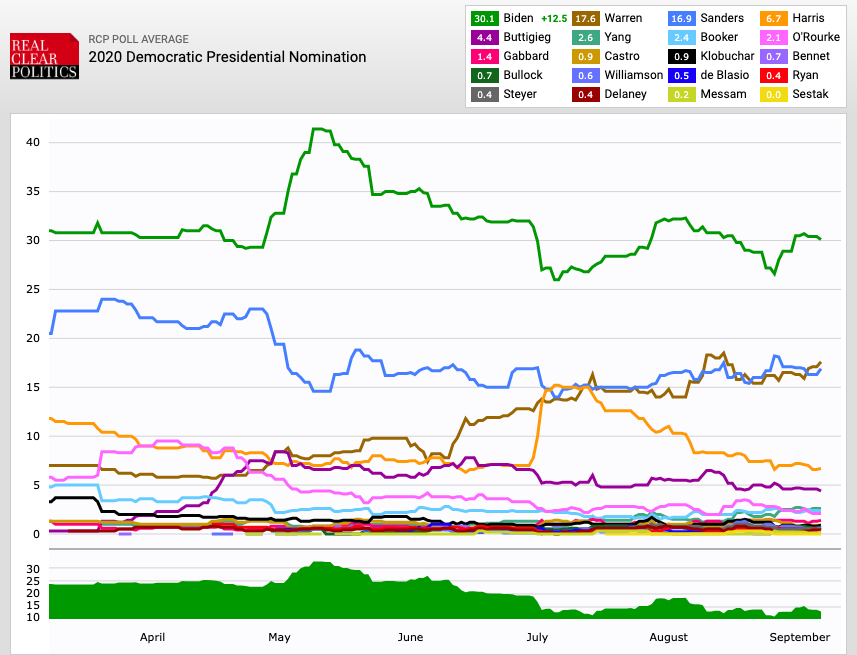 Andrew Yang, Sen. Cory Booker, former Rep. Beto O'Rourke and Rep. Tulsi Gabbard are the only other candidates above 1 percent nationally. 
Yang is the only of those candidates above 1 percent in Wisconsin. Yang does reasonably well among voters in the 18-29 age group -- 8 percent, tied with Buttigieg and a percentage point ahead of Harris -- but his support vanishes among older demographics. 
So with that top five emerging in Wisconsin, I took a deep dive into the poll's crosstabs to examine the support of those candidates in five key areas -- sex, age, race and ethnicity, party ID, and region. 
Results examined include "Favorable/Unfavorable" numbers for those candidates, which includes the full sample of voters from both parties, head-to-head numbers in a potential election with Donald Trump, and the Democratic primary poll. 
A few things to note before breaking down the candidates.
First, this is really important: 13 percent of voters are undecided.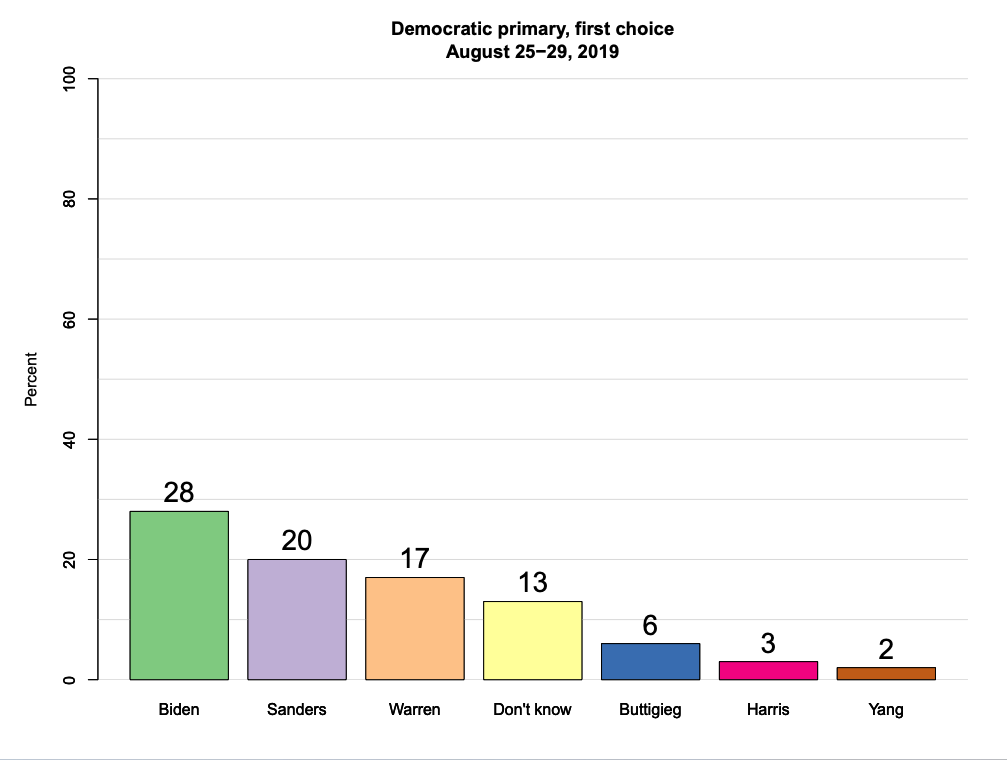 In the live presentation of the poll results, Charles Franklin, director of the Marquette Law School Poll since it began in 2012, noted this, saying, "It's easy to fall into the trap of thinking that the primary and the debates and all that campaign has been going on for a long time and things are about to settle down, but…there's still a lot of uncertainty out there. It would be a really a mistake to look at the top tier of candidates -- or for that matter, maybe, look at a big chunk of the bottom tier -- and assume nothing can change. And that 13 percent is a pretty good testament to that."
Being able to harness the support from those 13 percentage points would make a massive difference for any of these candidates, even those with literally no current support. 
Next, of the four candidates polled in a head-to-head matchup with Trump (Buttigieg wasn't polled in head-to-head), here's how many Democratic candidates trail the president: Zero. Trump does not lead any of these races, his approval rating isn't great (45% approve, 53% disapprove), and the poll results also reveal just how vulnerable he is on the economy, with only about a quarter of Wisconsinites expecting the economy to improve over the next 12 months. This is not an incumbent president with an insurmountable lead. 
And lastly, Wisconsin is a bellwether. Part of the reason it's worth spending this much time examining what voters think about these candidates in Wisconsin is because it could be a determinative state in the general election, and attitudes here could say a lot about similar swingy Midwestern states like Michigan, Minnesota, Iowa and Ohio. 
The thinking here is: As goes Wisconsin, so goes the country. 
So let's take a closer look at the top five candidates in the race, not just on the top number next to their name, but at where their support is (or isn't) coming from, what their strengths and weaknesses are, and what it could mean going forward.
On to the top five...
Kamala Harris: 3 percent
The California senator has been trending downward nationally since peaking at 15.2 percent following her strong performance in the first Democratic debate, and in the Marquette poll, she has a tough showing, coming in several points behind Buttigieg. 
A big chunk of the electorate in America's heartland is just not yet familiar with her -- 35 percent of voters said they "haven't heard enough" to make a determination about her, and 10 percent "don't know" her. 
Harris' favorability numbers are not good. She only has a net positive margin with black voters* -- 20 percent favorable to 15 percent unfavorable, with 44 percent who "haven't heard enough" and 21 percent who "don't know" -- but that favorability rating is the lowest of the five candidates.
She's a net negative with women voters (24% fav - 28% unfav), with voters in both the cities of Milwaukee (20%-25%) and Madison (25%-32%), and has by far the worst numbers with independents (17%-37%) of any of the top five candidates. 
She's also deep underwater with Hispanic voters* (4%-26%), but she isn't alone among Democratic candidates there (more on that in a bit*).
Head-to-head with Trump, however, she is tied at 44 percent. But there aren't any particular categories in which she's markedly better than any other candidate.
She also has some tough rankings among the field, coming in seventh among Madison area voters' first choices at just 2 percent, behind Yang (5%) and Booker (3%). Her support also thins out considerably among older primary voters, where she polls at 2 percent among those ages 45-59 (behind Montana Governor Steve Bullock!) and at 1 percent among those 60 and older. 
Really, the only areas where she posts promising numbers are as Democratic primary voters' second choice, where she was slightly ahead of Buttigieg in fourth, but she simply isn't breaking through as a top choice.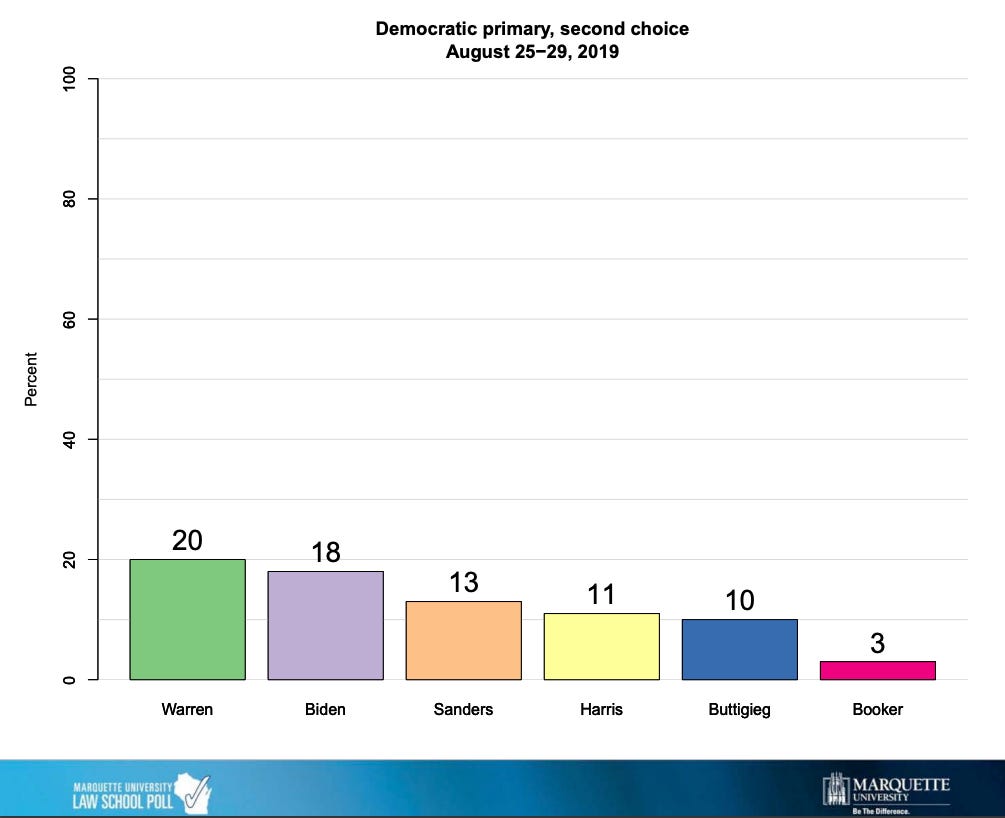 In Wisconsin, Kamala Harris is trending closer to candidates like Cory Booker and Andrew Yang than Elizabeth Warren and Joe Biden, and that's a problem for her. 
Harris has shown real talent in the debates, however, and she'll be on stage for the next one in Houston on Sept. 12. A strong performance there could turn things around for her campaign, particularly among people still getting to know her. But she has a long way to go.
Pete Buttigieg: 6 percent
If there is one, the Mayor of South Bend, Indiana, might be the sleeper candidate in Wisconsin. 
He polls well and polls consistently among a variety of categories. He has very positive favorability ratings with women voters (26%-13%) and black voters* (22%-4%). He has positive margins with voters over the age of 60 (27%-26%) and "rest of state" voters (25%-19%), and is at just a slight negative with independents (20%-21%). Among the top five, only Biden has better favorability among independents. 
People are obviously still getting to know Buttigieg, a newcomer to the national scene, so there are a lot of "haven't heard enough"-s and "don't know"-s, especially in the city of Milwaukee, where those two categories combine to be a whopping 72 percent. But those who have heard of him seem to like him. 
Well, except for Republicans. Only 2 percent of Republicans view Buttigieg favorably (43% unfavorably), but Wisconsin Republicans are overwhelmingly supportive of Trump, who has an 89 percent job approval rating among members of his own party. 
Like Harris, Buttigieg also does very poorly with Hispanic voters* (7%-31%), and he also hasn't broken through as a true contender. He has consistent support in a lot of places, but rarely punctures the top three, and that consistent support often means he's fourth or fifth, polling in the 5 to 11 percent range. 
Unlike Harris, however, his numbers rarely crater among the rest of the field. In the four age ranges, he's between 5 and 8 percent as a first choice. He's at 6 percent for both men and women voters. He's at 7 percent among independents. He's at 5 percent among black voters* -- ahead of Warren. He's a popular second choice in most regions -- 6 percent in the city of Milwaukee, 5 percent in the rest of Milwaukee, 7 percent in Madison, 2 percent in Green Bay/Appleton and 9 percent in the rest of the state. He does fairly well with 60+ voters -- 5 percent first choice, 14 percent second choice. 
Pete Buttigieg has surprisingly emerged as the strongest candidate in the field to hail from the Midwest. The top three of Biden, Sanders and Warren have a pretty firm grasp on the majority of Wisconsinites' support, but if you're looking for a long shot candidate with a chance — and make no mistake, he's most certainly a long shot — it's Mayor Pete.
*Data on black and Hispanic voters is from a small sample size of less than 40 people, giving it a large margin of error, as the folks at @MULawPoll have pointed out. I apologize for the error.
---
Thank you for reading The Recombobulation Area.
Subscribe to The Recombobulation Area newsletter here and follow us on Facebook and Instagram at @therecombobulationarea.
Follow Dan on Twitter at @DanRShafer.