Discover more from The Recombobulation Area
The Recombobulation Area is an award-winning weekly opinion column and online publication by longtime Milwaukee journalist Dan Shafer, covering news and politics in Milwaukee and Wisconsin. We live in discombobulating times. Let's recombobulate.
Over 5,000 subscribers
Black Lives Matter: The Urgency of This Moment Requires Immediate Policy Action. In Wisconsin and Milwaukee, What Could That Be?
"People are beyond fed up. And words are no longer enough."
The Recombobulation Area is a weekly opinion column by veteran Milwaukee journalist Dan Shafer. Learn more about it here.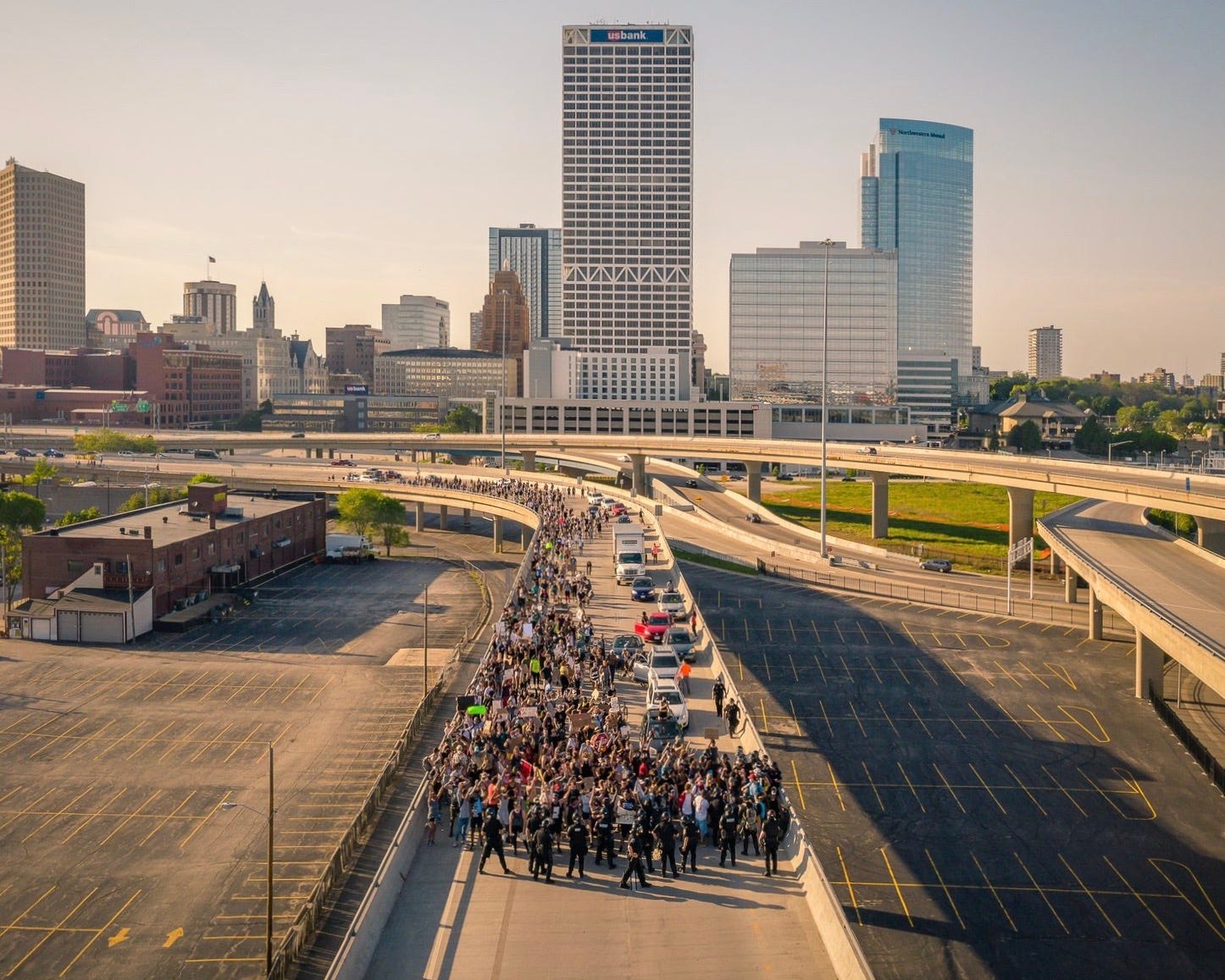 Protesters met with law enforcement resistance on the Hoan Bridge in Downtown Milwaukee. Photo by Nate Vomhof.
---
Black lives matter.
After police murdered George Floyd in south Minneapolis, something in America changed. Rising from this horrific tragedy are powerful and necessary cries for justice and cries for reform.
"Literally — literally — we are dying because we're black," said Darrol Gibson, managing director of Leaders Igniting Transformation (LIT). 
As people from small towns to big cities all over the country and the world take to the streets in protest — frequently met with the very police brutality they're protesting — the urgency is palpable. 
"This truly feels like a different moment, and a moment we can't ignore," said Angela Lang, founder and executive director of BLOC - Black Leaders Organizing for Communities. 
Waiting for justice and systemic change to happen is no longer an option. Change isn't coming. It's here. 
"We continually see the same thing happen over and over and over again," said Markasa Tucker, director of the African-American Roundtable, in a June 4 press conference in front of Milwaukee Police Department headquarters, after talking about Dontre Hamilton's 2014 death. "The people are beyond fed up. And words are no longer enough, and that's why you see the energy and the anger and the rage in the streets. Don't blame them. Blame the systematic, oppressive, racist, structurally violent system that has continued to keep people bound and oppressed. People are tired of it. Absolutely tired of it."
As the fight for justice continues in the streets — day after day, mile after mile, as the number of people joining marches and showing support for the movement grows and grows — the policy fight continues, too.
"We're talking about action," Tucker said in the press conference, organized by ComForce Milwaukee, which focused on policy proposals from several groups. "We're not just talking about marching in the streets. We got things to do."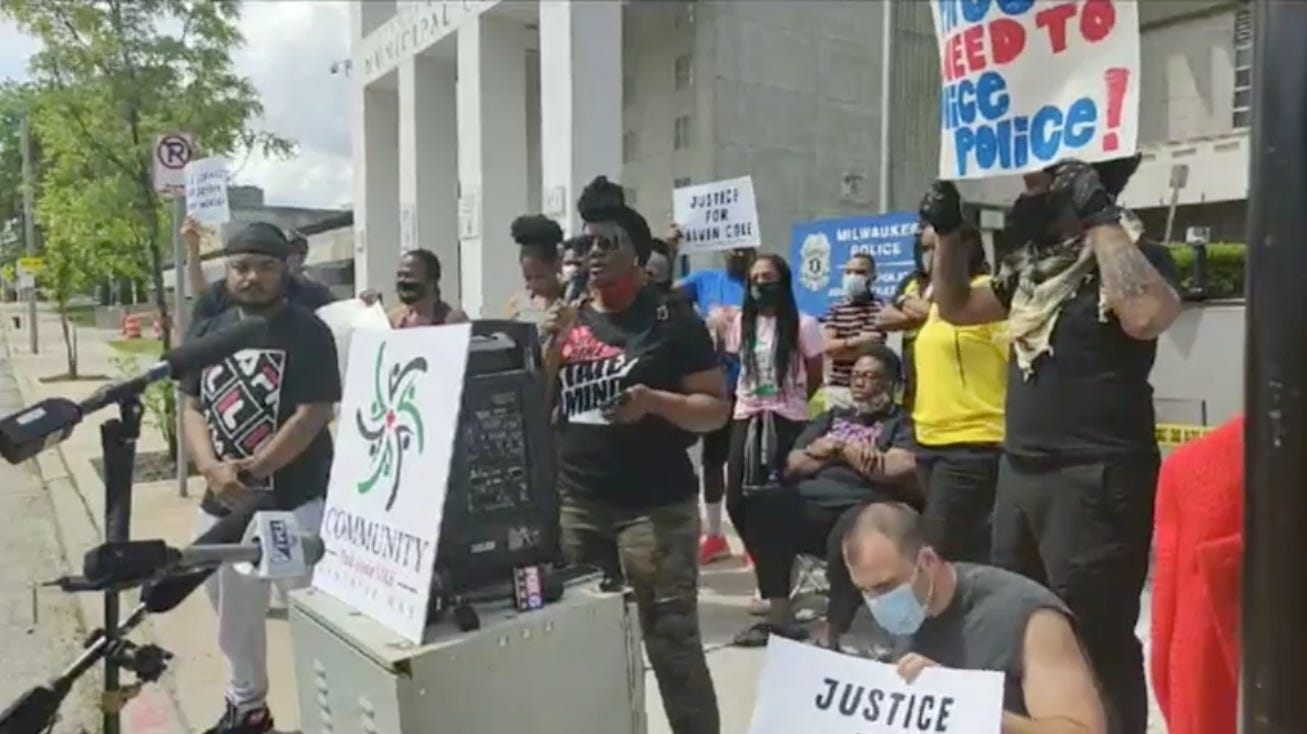 Markasa Tucker speaks in front of the Milwaukee Police Department headquarters in downtown Milwaukee. Watch the full press conference here.
That we do. In this historic moment, meaningful, lasting change feels possible. And the leaders who have been working at the grassroots level to make that change long before the events of the last few weeks are ready for this moment. 
"We're looking for immediate action," said Gibson. "These are things that should've happened. These are not long-term projects. These are things that need to be acted on right away."
He continued, "I want to stop dying. I want to stop dying in the streets. I want to stop fearing for my life. I want to make sure that I'm actually equal in this country. I want to make sure that I don't have to worry about my skin color being a hindrance for me moving up in this world." 
So what is that change that so desperately needs to happen right now? What are the policies, the pieces of legislation, the acts of justice that this moment necessitates? What is the policy fight for Milwaukee and Wisconsin?
BLOC, LIT, the African-American Roundtable and ComForce MKE are a few of the groups on the vanguard of the policy fight at the grassroots level in Milwaukee. 
These are groups we should all really be listening to right now (and it's a good thing that several members of the Milwaukee Council are planning to do just that). 
There are still a number of different proposals and demands that these organizations are bringing forth, but all seem to have one thing in common: Defunding the police department. 
"Now is the time to really reframe what safety is," said Lang. "Safety clearly is not more police and more law enforcement, it's being able to invest directly into our communities."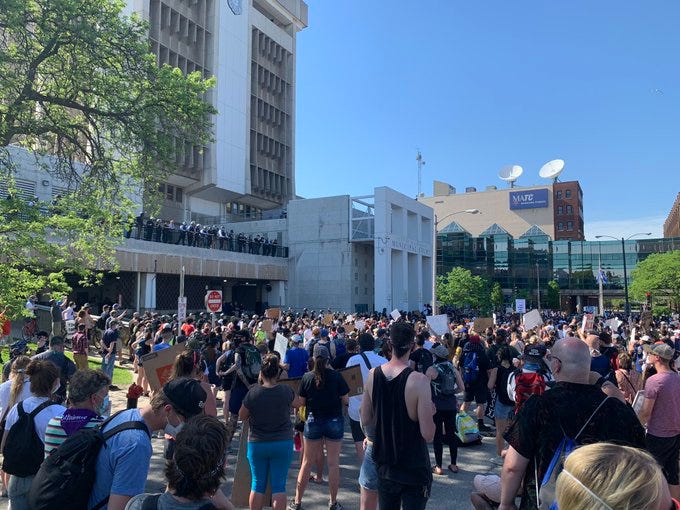 Protesters gather in front of the Milwaukee Police Department headquarters. Photo by Max Love.
Last year, the Liberate MKE campaign, a collaborative effort involving 25 partners, including BLOC and the African-American Roundtable, took the fight to City Hall during the budget process in an effort to divest $25 million from the Milwaukee Police Department's $298 million proposed budget. 
Although the final budget did not include the level of divestment they hoped for (the Mayor's proposed budget was reduced by $900,000, and the final budget was nearly $15 million less than what MPD requested, with funding instead going to violence prevention, summer youth employment, and affordable housing), Lang was encouraged by the reception to the proposal from the community. People stood up to support the budget proposal in ways she hadn't anticipated.
"What we learned was it didn't take a lot for people to really want to stand up and say that we should be divesting from the police department," she said. "There really is a desire to make sure that we are not funding the police department at nearly 50 percent (of the city budget)."
If that sounds like a lot, it is. Lang said when she talks to people in other cities and tells them that percentage, "people are floored."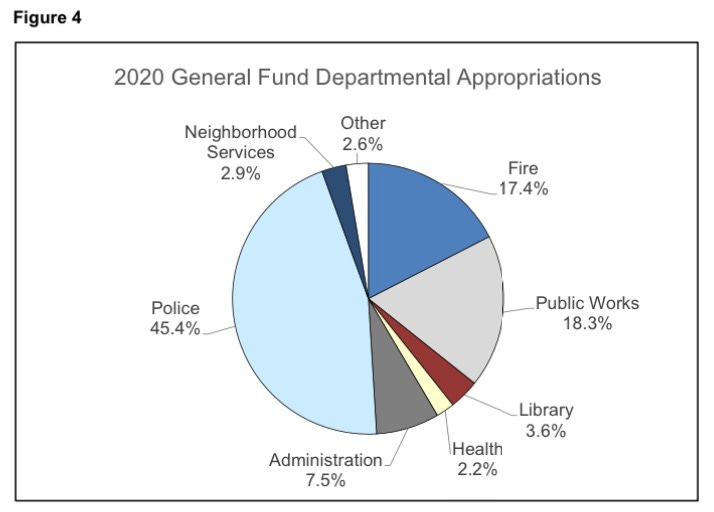 From the summary of Milwaukee's 2020 general fund budget. Read it all here.
A new proposal spearheaded by the African-American Roundtable, and supported by more than 65 organizations and leaders, calls for a $75 million divestment from the MPD budget, with $50 million reinvested in public health, and $25 million into housing cooperatives. 
Lang noted that while nearly 50 percent* of the city's budget goes to the police department, just 2 percent goes to the health department, where the Office of Violence Prevention is housed. That office, which works to "prevent crime in a safe and healthy way that doesn't include law enforcement" is not funded well enough, she said.
A key point, she notes, is that greater police funding does not necessarily translate to crime reduction. A recent study by the Center for Popular Democracy found that "police and jails do not make communities safe, and in many cases actually undermine safety."
Said Lang, "Our own taxpayer dollars are funding our own oppression, and we're throwing money to the police department and it's actually not reducing crime at all."
LIT's latest proposal released May 30 goes further than the other, and asks for "25 percent of the budgets of the Milwaukee Police Department, Milwaukee County Sheriff's Office, and State Patrol" to be shifted to "public health equity efforts focused on black and brown residents."
LIT's proposal also includes an item cutting all police resources from Milwaukee Public schools, allocating "emergency and permanent resources​ to invest in black and brown lives like counseling, strengthening our schools, replacing our lead pipes and rebuilding our black and brown businesses," and an "audit all government institutions​ to identify racist practices and deliver a comprehensive plan to address the problem."
"Everything that we laid out needs to be acted on immediately, can be acted on, should be acted on immediately," said Gibson.
Gibson said they aren't differentiating between short- and long-term goals. Not with this. Not right now. 
"Throughout the history of this country and this world, there are moments where things move fast," he said. "Calls to war, calls to action, but when it comes to the African American community, when it comes to killings, when it comes to moving forward, there always seems to be a difference between short-term and long-term goals? Why is that? Why aren't any of these things acted on immediately?"
Another immediate ask from several groups is directed at the state of Wisconsin, and that's for further recognition of racism as a statewide problem, as an emergency or as a public health crisis. Last year, Milwaukee County declared racism to be a public health crisis, becoming the first local government in the nation to do so. Statewide, so far, that hasn't happened.
And at the state level, Gov. Tony Evers has been met with criticism from several of these groups for calling the National Guard and militarizing the response to the protest. 
Evers has, however, advocated for a law enforcement reform bill being proposed by State Senator LaTonya Johnson (D-Milwaukee) and state Rep. Chris Taylor (D-Madison), and has called on the Legislature to "immediately pass Assembly Bill 1012 that would reform our use of force policies by prioritizing preserving life and minimizing the use of force."
Not surprisingly, that call was not heeded by legislative Republicans, who have not passed a single bill in nearly two months. State Sen. Van Wanggaard (R-Racine), the Chair of the Committee on Judiciary and Public Safety (and a former police officer), voiced strong opposition to the bill, saying it's "micromanaging the force continuum."
The bill, part of a larger use-of-force package, was first introduced in 2017. This particular bill would set standards around use of force for every law enforcement body in the state, saying:
the primary duty of all law enforcement is to preserve the life of all individuals;

deadly force is to be used only as the last resort;

officers should use skills and tactics that minimize the likelihood that force will become necessary; 

if officers must use physical force, it should be the least amount of force necessary to safely address the threat;

law enforcement officers must take reasonable action to stop or prevent any unreasonable use of force by their colleagues 
"To be honest, this is really a lower-hanging piece of fruit, and something that everybody should be able to agree with," said Johnson, who, along with Taylor, sees this as a starting point for reform. "When the community is in an uproar, something needs to change."
Taylor said there's a lot that can be done to prevent tragedies like this from happening. 
"Not only that we can do, that we must do," she said. "And it starts with standards. If you don't have use-of-force standards that the public buys into, that establishes transparency, that establishes accountability, I don't think it's going to change what we're seeing. Because the standards being used by most police departments (don't) hold those officers accountable. And that's why it's so hard to convict. Because they don't have the legal standards that we can pass and enforce."
Under Republican leadership, the bill has never made it to the floor for a debate during the last two legislative sessions. There has been no public hearing.
"If our bill could even get a hearing, it would allow the public to come in, and maybe they don't like things about our bill, maybe things have to be changed or it's gotta be tweaked," said Taylor. "That's why we have a process, a legislative process where these important issues should be considered."
Taylor and Johnson expressed frustration over the lack of response on not only this bill, but the larger trend of inaction by the State Legislature, where but one bill has been passed in the past three months — these three months.
"These Republican state legislators are like missing in action," said Taylor. "I don't even know where they are. They didn't show up for COVID-19, they didn't show up for the economic crisis after it, and they're not showing up now."
"The fact that they aren't willing to move, the fact that they aren't willing to do anything, it speaks volumes," said Johnson. "The unfortunate and the sad part is that they never care. They never care."
Of the 82 Republican members of the Wisconsin State Legislature, there are zero black representatives and one person of color (Jessie Rodriguez of Oak Creek).
Taylor said they would welcome a Special Session called by the governor or an Extraordinary Session called by the Republican-controlled legislature. But Johnson said there's no expectation that Republicans would take any action on the bill.
"That's the problem with the State Legislature," said Johnson. "The Republicans, if it's not their idea, if they're not initiating it, then there's no action. Even if the governor calls a Special Session, they'll do just like they've done every single time he's called a Special Session — gavel in and gavel out. But nothing is actually being done."
In many ways, years of inaction — at the state level, at the local level, everywhere in America — have fueled this moment of protest. 
"After the Sherman Park riots, people waited," said Johnson. "They were expecting change because change was promised. They haven't seen it. After Sylville Smith, there were other people whose lives were taken by police officers, too. In Wauwatosa alone, we have a police officer (Joseph Mensah) who has shot and killed three people...The frustration has built to the point where they felt like we did it your way, we tried it your way, and we're not trying that anymore."
In the four years since Sherman Park, said Lang, "People haven't felt real changes." 
"If we would've seen enough movement, we wouldn't be here today," she said. "People wouldn't have to feel like they have to demand for their lives to matter...We're still seeing police brutality; we're still seeing murders, we're still seeing people being racially profiled. That trauma is still there. And I don't think community police relations are getting any better. We're seeing all of those tensions really bubble up to the surface."
To close the speakers' remarks in this week's press conference on action, Vaun Mayes, an activist and founder of ComForce MKE, said "If we want to change this and not end up back here, if you want to stop rioting from happening every four years, make the change. This is not an ask. This has to be done."
Policy matters. How our leaders respond to this moment matters. Doing nothing is not an option. Ignoring the people on the streets in protest is not an option. Not listening to those bringing forth proposals for change is not an option. Not recognizing that black lives matter is not an option. 
Along with proposals like defunding the police, so much of the response will come down to the cases of police brutality and murder themselves. Oversight bodies like Milwaukee's Fire and Police Commission — which will grapple with decisions like the one on whether or not to fire officers like Milwaukee Police officer Michael Mattoli, who killed 25-year-old Joel Acevedo — need to become crucially important. Justice must be served in every corner of the system, on each and every individual case. 
So as the protests shine a beacon of hope throughout our cities, we need our leaders to really, truly capture this moment and bring true reform from the streets to our highest offices.
It's not as the system has been working for Black people in Milwaukee and Wisconsin. This city and state is so often on the extreme end of racial inequality. Wisconsin recently ranked as the worst state for black people. Wisconsin is the state with the nation's worst racial inequality, worst black home ownership rate, and the worst racial achievement gap. Milwaukee ranks as the nation's worst city for Black Americans. The Milwaukee-West Allis-Waukesha metro area has the nation's worst black-white unemployment gap, is the most racially segregated, has the largest gap between black and white household earnings, and the worst economic outcomes for black women than any metro in the country. Milwaukee's 53206 Zip code is the most incarcerated in the country. When it comes to identified racial disparities, Milwaukee and Wisconsin are all too often among the nation's worst.
Black people in this city and state have every reason to be fed up.
Change is needed here in this city and this state more desperately and urgently than just about anywhere in the nation. The reforms being proposed now by groups like the African-American Roundtable and LIT are the types of bold actions needed to respond to the immediacy of this moment. The "low-hanging fruit" bill should be a no-brainer first step at the state level. A seismic shift in remaking how government works for the people, with justice and equity at the forefront, is what must follow.
There is no action too bold for this moment. Look around. The most revolutionary upheaval our nation has seen in generations is happening right now. Let's seize it, and get to work.
Read the full list of demands from the coalition led by the African American Roundtable here, and from LIT here. 
---
Dan Shafer is a journalist from Milwaukee who writes and publishes The Recombobulation Area. He previously worked at Seattle Magazine, the Milwaukee Business Journal, Milwaukee Magazine, and BizTimes Milwaukee. He's also written for The Daily Beast, WisPolitics, and Milwaukee Record. He's on Twitter at @DanRShafer.
---
*That number, too, is part of a larger issue with the city funding formula. Because of the "uncommon" way the city is funded, the nearly $300 million police budget is greater than the city's entire property tax levy. As Mayor Barrett noted last year, that's been the case for five straight years now. The rest of the budget comes from the state, and shared revenue returning to Milwaukee has remained flat for the better part of the last 20 years (and accounting for inflation, is at a $105.7 million deficit), even as Milwaukee sends more money to the state coffers. So, the state has a direct role in all of this, too, especially after squashing a sales tax increase proposal that could have brought another $160 million per year to the city and county). 
---
Thank you for reading The Recombobulation Area and supporting independent journalism.
Subscribe to The Recombobulation Area newsletter here and follow us on Facebook at @therecombobulationarea.
Follow Dan on Twitter at @DanRShafer.