Discover more from The Recombobulation Area
The Recombobulation Area is an award-winning weekly opinion column and online publication by longtime Milwaukee journalist Dan Shafer, covering news and politics in Milwaukee and Wisconsin. We live in discombobulating times. Let's recombobulate.
Over 5,000 subscribers
Biden vs. Trump and Black Lives Matter in Wisconsin: The September 2020 Marquette Poll Breakdown
The post-Kenosha polling shift many expected didn't happen. But a whole lot did. An in-depth look at voters' views on the race for president and the Black Lives Matter movement.
The Recombobulation Area is a weekly opinion column by veteran Milwaukee journalist Dan Shafer. Learn more about it here.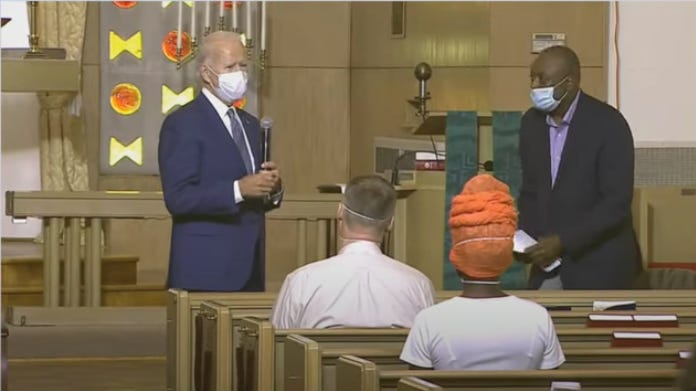 Joe Biden hosts a community meeting at Grace Lutheran Church in Kenosha. Photo via YouTube.
---
Wisconsin might be the most important state in the 2020 presidential election, and the Marquette University Law School Poll is the state's gold standard of measuring where voters stand, so here at The Recombobulation Area, each new poll is going to be monitored closely. See the breakdown of the May poll here, the June poll here, and the August poll here.
---
After what transpired in Kenosha in late August, many expected such a cataclysmic series of events to affect the polls for the upcoming election. They didn't.
The results from the September poll, conducted after the police shooting, vigilante shootings, and civil unrest in Kenosha, were largely unchanged from the results of the August poll, released before a police officer shot Jacob Blake. Little changed in the race for president. Attitudes toward the Black Lives Matter movement or the police or President Donald Trump's handling of the protests about the same. Those expecting a major swing in any direction in this poll were wrong. 
But with just 40 days until the beginning of early voting in Wisconsin, the lack of a major shakeup in the race does not diminish the importance of these results on the home stretch of the race.
Marquette shows a smaller lead for Biden than some other recent polls
Here's where the race for president stands in what many consider the most important state on the electoral map in 2020:
Biden: 47%
Trump: 43%
In the August poll it was Biden 49%-Trump 43%. The newest poll does for the first time include Libertarian candidate Jo Jorgensen, who received 4%. And 3% of voters remain undecided. The larger equation remains unchanged: This race will be competitive until Election Day. 
Biden's lead, however, is smaller in the new Marquette poll than in many other recently conducted polls, as well as the polling averages for Wisconsin.
Here's a quick look at some recent poll results of the state of Wisconsin (date released in parentheses):
And here are three of the sites compiling polling averages
RealClear Politics: Biden 49.6%, Trump 43.2%

FiveThirtyEight: Biden 50.2%, Trump 43.1%

The Economist: Biden 53.6%, Trump 46.4%
Any way you look at it, Biden is in the lead in Wisconsin. But he's not leading by so much that he's in a comfortable enough space to put the race out of range. Plus, with the Marquette poll being the gold standard Wisconsin poll that it is, it matters that its results are on the tighter end of the polling spectrum. 
There's a lot of ballgame left, and Wisconsin is still a toss-up.
Where the shift is happening in Wisconsin
On Steve Scaffidi's show last Friday on 620 WTMJ (listen here!), I identified three key metrics that have been shifting in recent versions of the Marquette poll — the gender gap, the Green Bay/Fox Valley region, and the older millennial/younger Gen X age group.
Here's how they broke down in the new poll:
Gender Gap:
Men: Biden 41%, Trump 49% (Jorgensen 3%, Undecided 4%)
Women: Biden 52%, Trump 37% (Jorgensen 4%, Undecided 3%)
Support for Biden among women has been stable in the 52-55 percent range for months, and after some shifts earlier in the year, men favor Trump by an 8-10 point margin.

Green Bay/Fox Valley:
I called it the state's most important swing region in my breakdown of the last poll, and once again, results were on the move.
Green Bay/Fox Valley: Biden 43%, Trump 46% (Jorgensen 3%, Undecided 3%)
Biden's slim lead from the June and August polls turned toward a slight lead for Trump in the new poll.  
The urban/rural divide in Wisconsin really showed up in this month's results, despite little overall change at the top. Biden's support in the city of Milwaukee soared to 74% (just 14% for Trump), and his margin in the Madison area grew to 63-28. Along with the Green Bay/Fox Valley voters, the "Rest of MKE" suburban voters (38-48) and the "Rest of state" rural voters (39-54) tipped more toward Trump. 

Columns left to right: Joe Biden, Donald Trump, Jo Jorgensen, "none of these/someone else", Don't Know, sample size
Quick note on Milwaukee: Despite endless cries that Biden and the Democrats had abandoned the city by not holding the DNC in-person there, his post-convention support increased to a 60-point margin, his highest yet in Milwaukee at any point of the campaign. Go figure.
The older millennial/younger Gen X age group:
30-44 year olds: Biden 46%, Trump 38% (Jorgensen 6%, Undecided 8%)
That undecided number is surely something to be keeping an eye on. But this makes for the third straight poll where Biden has a clear lead with 30-44 year-old voters. Trump's support was at 49 percent with this age group in May, but he hasn't come close to that since, and is back under 40 percent. 
The Black Lives Matter movement is more popular than Donald Trump in Wisconsin
Marquette's top pollster Charles Franklin created quite a stir with a tweet thread on public opinion of Black Lives Matter protests that showed declining favorability for the movement among Wisconsin voters.
But like much of the poll results, views of BLM did not shift significantly in the new poll.
The "favorable or unfavorable" question is asked about many different politicians, topics and issues in the Marquette poll. So if you look at "Black Lives Matter" within the context of the rest of the Fav/Unfav questions, its support looks a bit greater. 
In fact, the Black Lives Matter movement is viewed more favorably in the state of Wisconsin than Donald Trump.
Black Lives Matter: Fav: 47%, Unfav: 38%
Donald Trump: Fav: 44%, Unfav: 53%
That's also true with moderates:
Black Lives Matter: Fav: 62%, Unfav: 22%
Donald Trump: Fav: 25%, Unfav: 72%
And independents:
Black Lives Matter: Fav: 52%, Unfav: 34%
Donald Trump: Fav: 40%, Unfav: 58%
The BLM public opinion shift really only happened with white people in Wisconsin
Changing attitudes toward the Black Lives Matter movement in Wisconsin is going to continue to be something to monitor until Election Day, as well as long after. While things haven't changed since August, they have since June (and surely did significantly before then, but June was the first time the words "Black Lives Matter" were in the poll). 
However, those shifts have really only happened with white people. 
Disclaimer before a few more numbers: Because it's a statewide poll (and Wisconsin is more than 80% white), the sample size of Black and Hispanic voters in each set of results is rather small. Because of that, I broke down individual polls, and also grouped together multiple polls in an effort to show a more complete picture. 
Starting here, we have the full group of voters polled — as mentioned, high favorability in June, much more split (but still net-favorable) in August and September.

So, where did those changes happen? Here's how those polls break down by race and ethnicity.
Fav/Unfav Black Lives Matter:
June: (Fav / Unfav)
White: 57 / 29
Black: 81 / 10
Hispanic: 73 / 6
August:
White: 47 / 40
Black: 77 / 6
Hispanic: 66 / 10
September:
White: 45 / 40
Black: 81 / 6
Hispanic: 75 / 18
August and September combined:
White: 46 / 40
Black: 79 / 6
Hispanic: 73 / 16
June, August and September combined:
White: 50 / 36
Black: 80 / 8
Hispanic: 73 / 13
With Black and Hispanic voters, favorability for the movement remained high throughout the summer. The drop in support and rise in "unfavorable" responses came from white people. 
Here, another metric: Trump's handling of the protests.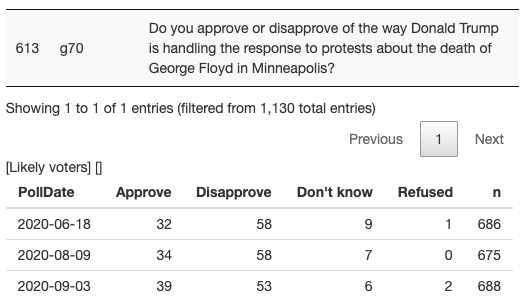 Overall, a modest increase in approval for the president since June, despite being deep underwater on the issue.
Here's how it breaks down by race and ethnicity, by month:
June: (Approve / Disapprove)
White: 32 / 55
Black: 1 / 83
Hispanic: 10 / 88
August:
White: 32 / 57
Black: 16 / 84
Hispanic: 27 / 69
September:
White: 38 / 51
Black: 7 / 89
Hispanic: 21 / 68
August and September combined:
White: 35 / 54
Black: 11 / 86
Hispanic: 23 / 68
June, August and September combined:
White: 34 / 54
Black: 8 / 85
Hispanic: 19 / 74
Among Black voters in Wisconsin, Donald Trump's approval rating on how he's handling the protests is in single digits for the summer. With Hispanic voters, it's below 20 percent. That is not a good place to be on a key issue. 
In 2016, Wisconsin was decided by less than one percent. Black voter turnout fell 19 percent. In Milwaukee County, where about 70 percent of the state's Black population lives, turnout dropped more precipitously than any of Wisconsin's 72 counties (down 7.5%). But in 2018, Black and Hispanic turnout helped defeat Scott Walker. And now, organizations like BLOC (Black Leaders Organizing for Communities), formed since 2016, are doing grassroots voter turnout work not seen in the last election, and the Bucks' Fiserv Forum and Brewers' Miller Park will be open as designated early voting sites. The formula will be different in 2020.
With Trump clearly not in a position to gain significant support with Black and Hispanic voters, it will be extremely important for Biden to focus on turnout in these communities. 
Averaging Biden's favorability for the last three polls, there are large numbers of Black (12%) and Hispanic (24%) voters who "haven't heard enough" about the candidate to have a clear opinion of him. The pandemic presents clear outreach challenges, but those are obstacles Biden is going to need to overcome to reach key voters in a state where the margin is always razor-thin, and where there is potential ground to be gained. 
Biden will need to battle for every vote as the coronavirus pandemic will continue to present challenges for voting. But as we've seen in Wisconsin, time and time again, when turnout goes up, Democrats win. And November will be here before we know it. 
---
Dan Shafer is a journalist from Milwaukee who writes and publishes The Recombobulation Area. He previously worked at Seattle Magazine, Seattle Business Magazine, the Milwaukee Business Journal, Milwaukee Magazine, and BizTimes Milwaukee. He's also written for The Daily Beast, WisPolitics, and Milwaukee Record.
---
Thank you for reading The Recombobulation Area and supporting independent journalism in Wisconsin.
Subscribe to The Recombobulation Area newsletter here and follow us on Facebook at @therecombobulationarea.
Follow Dan Shafer on Twitter at @DanRShafer.