Discover more from The Recombobulation Area
The Recombobulation Area is an award-winning weekly opinion column and online publication by longtime Milwaukee journalist Dan Shafer, covering news and politics in Milwaukee and Wisconsin. We live in discombobulating times. Let's recombobulate.
Over 5,000 subscribers
Biden Leads, Undecideds Loom: With Less Than One Month Until Election Day, Wisconsin Remains Up For Grabs
Plus: Biden vs. Clinton, our Big Three Swing Categories, and Wisconsin Republicans are fighting a losing battle on masks. 
The Recombobulation Area is a weekly opinion column by veteran Milwaukee journalist Dan Shafer. Learn more about it here.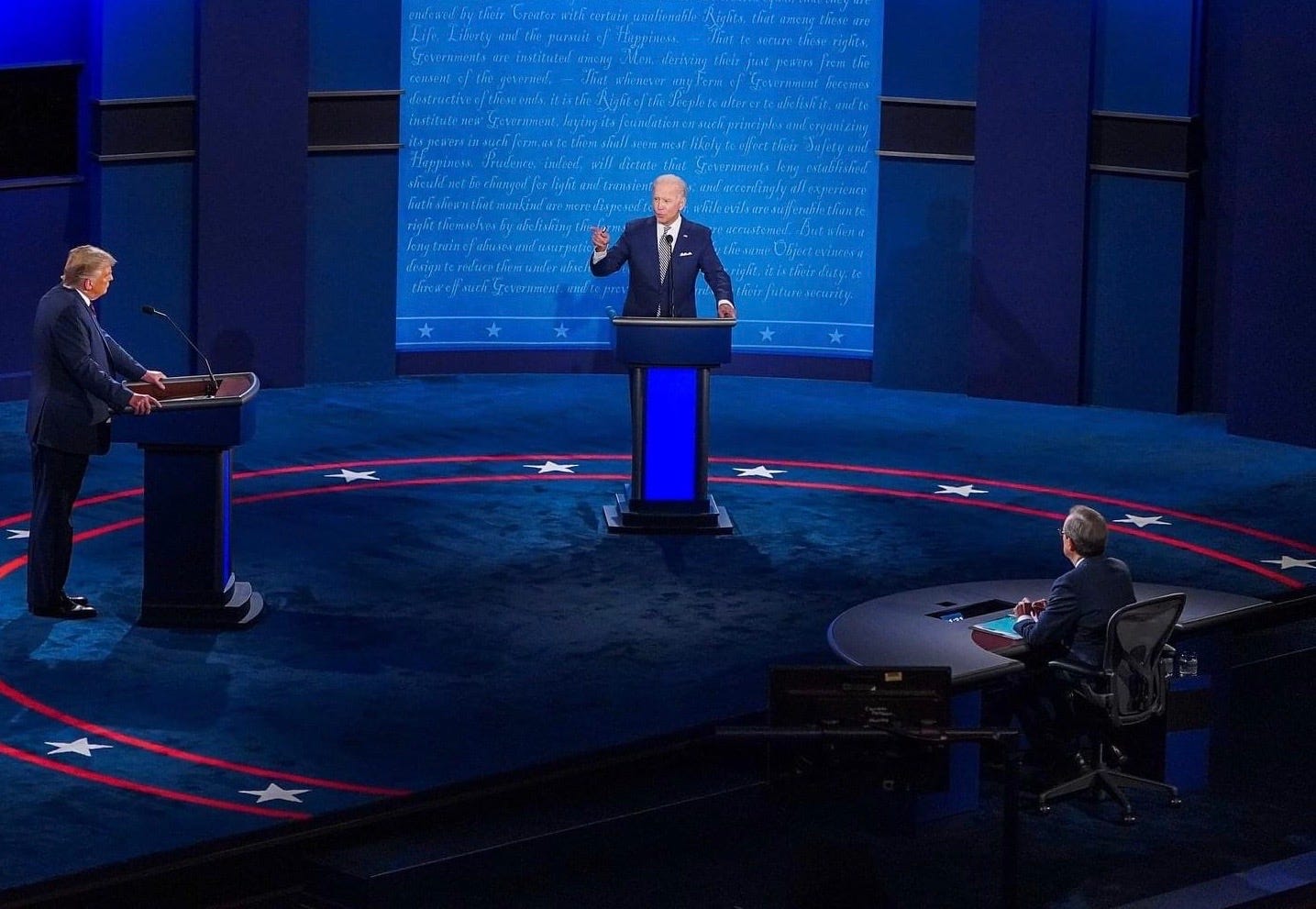 Photo via Joe Biden on Facebook. Joe Biden leads 46% to 41% for Trump with likely voters in the early October Marquette University Law School Poll.
---
First things first, I want to extend a warm welcome to all of our new subscribers! A great many of you read last week's column, "Wisconsin Is Now the Epicenter for Coronavirus in America," and chose to join us at The Recombobulation Area. We think you're going to like it here.
Thank you for subscribing, and enjoy your flight!
---
Wisconsin might be the most important state in the 2020 presidential election, and the Marquette University Law School Poll is the state's gold standard of measuring where voters stand, so here at The Recombobulation Area, each new poll is going to be monitored closely. See the breakdown of the May poll here, the June poll here, the August poll here, and the September poll here.
---
A huge majority of Wisconsinites support masks
Before we jump into the presidential campaign polling in this, perhaps the most important state on the electoral map with just 26 days until Election Day, let's first take a look at support of mask requirements. 
Since Wisconsin remains the epicenter for coronavirus in America — and a judge still is yet to rule on the legality of Wisconsin's mask rule following the GOP's challenge — it's kind of an important issue.
It's also absolutely a losing issue for the anti-mask Republicans in Wisconsin.
More than 70% of voters say masks should be required in all public places. It's not just Milwaukee and Madison, either. Mask requirements have overwhelming majority support in every region of the state. Support is highest in the city of Milwaukee, at 88%, but the "rest of state" region (which includes western and northern Wisconsin), supports mask-wearing 64% to 32%. 

Columns L to R: "Agree" with requiring masks masks, "Disagree," "Don't Know," and the sample size.
While Democratic voters support masks in incredibly overwhelming numbers (98% in favor!), Republican voters are split down the middle on the simple public health measure — 48% agree with requiring masks in public places, 48% disagree. Even "very conservative" voters are close to evenly split at this point — 49% approve, 51% disapprove. More than six months into the pandemic in Wisconsin as the outbreak peaks in the state, being anti-mask is now very much a fringe position.
Supporting a shrinking minority position hasn't stopped this group of Wisconsin Republicans before, though. The already very conservative party has taken a screeching right turn on policy after policy since Evers won the race for governor in 2018. But these poll numbers on masks are exactly why Assembly Speaker Robin Vos, Senate Majority Leader Scott Fitzgerald and the Republicans running the Wisconsin State Legislature refuse to vote on the requirement. The election is bearing down, and turning to the courts is their only way to satisfy the fringe while protecting vulnerable members facing tough re-election fights in the Senate and Assembly (see The Recombobulation Area's two-part preview of those races). 
As soon as any of those Republicans up for re-election cast a vote against masks, every Democratic attack ad will say "They did nothing for six months, and then they voted against masks." It's a lay-up for liberals, and the GOP is doing everything in their power to steer clear of casting any potentially controversial votes (or any votes at all, for that matter).  
In Vos' statement following Gov. Tony Evers' new order limiting capacity in bars, restaurants and businesses (it's about time!), the Burlington Republican suggested the courts could again get involved saying, "We are confident that if challenged, a Wisconsin judge would find this order invalid as an unpromulgated rule." Because what good is the legislative branch to legislative leaders anyway?
Just as they have every step of the way during this pandemic, Vos and members of his party are still — still! — offering no alternative solution to what the governor is proposing. Vos is now even drawing ire from some of the furthest-right members of the Legislature, like State Sen. Steve Nass of Whitewater, who has repeatedly called for Vos to immediately convene the Legislature to strike down Evers' emergency orders. The Assembly Speaker has really backed himself into a corner.
But there is a genuine crisis at hand. People clearly recognize this, and can see that simple public health measures like mask requirements can make a meaningful, positive difference in saving lives and protecting people. 
The pandemic is not going away on its own. We've tried that approach. It has backfired spectacularly. It's time to put the actual work in to get this under control and reclaim our future.  
On to the rest of the poll results...
Who are the undecided voters in Wisconsin?
The big picture of the latest gold-standard poll of Wisconsin voters remains unchanged in recent months. Joe Biden maintains a lead over Donald Trump that's been between four and six percentage points in every poll since May. The gap is not shrinking or widening significantly in favor of either candidate. In many other polls of Wisconsin, Biden has opened up a larger lead, but in this one, not much has changed from month to month. 
What stands out most at this stage of the race, though, is the number of voters who remain in the undecided category, saying they either would vote for "none of these" candidates (1%), they "don't know" (3%) or refused to answer (4%).  
In a state where the presidential election has been decided by less than 1% three times in the last 20 years, that's a whole lot of undecided voters with less than a month to go before Election Day.
Late-deciders played a huge role in Trump's win in Wisconsin in 2016. Those voters, who made up an even more sizable 14% of the electorate, went 59% to 30% for the Republican, powering him to the unlikely victory.
So the obvious question then becomes: After four years under Trump, who is left as an undecided voter in 2020?
Digging into the crosstabs, I took a closer look to find which subsets of voters had more than 5% in the "don't know" category. Here's what I found (with the rest of the race breakdown in parenthesis).
Age: 18-29: 6% undecided (Biden 59, Trump 26, Jorgensen 4)

Education: HS: 7% (Biden 51, Trump 35, Jorgensen 3)

Income: Under 40k: 6% (Biden 54, Trump 35, Jorgensen 2)

Party ID: Independent: 6% (Biden 43, Trump 35, Jorgensen 8)

Race and Ethnicity: Black*: 6% (Biden 70, Trump 13, Jorgensen 5); Hispanic* 11% (Biden 43, Trump 39, Jorgensen 3)

Religious service attendance: More than once a week*: 8% (Biden 26, Trump 56, Jorgensen 0)

Ideology: Moderate: 7% (Biden 54, Trump 26, Jorgensen 6)

Region of Wisconsin: City of Milwaukee*: 8% (Biden 67, Trump 17, Jorgensen 2), Rest of State: 5% (Biden 44, Trump 41, Jorgensen 4)
*Denotes a small sample size
Stepping back, what does stand out here is that these higher rates of undecided voters are in categories where Biden has a distinct lead. With the exception of especially frequent religious service attendees (a rather small group) who back Trump, the data suggests that many of these voters would lean toward Biden once they're face-to-face with their ballot. That's far from a sure thing, of course. There's still work to be done.
Many of these undecided voters are the type of voters that Democrats should be focusing on: young, lower income, diverse people. People whose lives and futures have been harmed by the current administration. People who are worse off than they were four years ago. 
What's clear, though, is that this race is far from over. Wisconsin was always going to be competitive all the way through to the end of this campaign. This many undecided voters brings a level of unpredictability that might not be there in other states.
And come on. This is Wisconsin politics. You thought this was going to be simple? No chance.
With the Trump campaign's history in voter "Deterrence," Biden needs to solidify support with Black and Hispanic voters
In back-to-back polls, Joe Biden holds a significant lead among voters of color in Wisconsin. That's not exactly a surprise. What is notable, however, is how many Black and Hispanic voters are undecided this late in the race.
Because of the representative sample size for Black and Hispanic voters (combined, less than 15% of the total state population), results are more difficult to read into in any one Wisconsin poll. But over the last three polls, there were similarly high numbers of undecided voters for each group — between 6 and 9 percent for Black voters; between 9 and 11 percent for Hispanic voters. 
Considering how the support breaks down between parties, particularly for Black voters, perhaps for many, it's a decision between voting for Biden and not voting at all, rather than choosing between the Democrat and the Republican. Maybe that's intentional. 
Trump won in Wisconsin in 2016 with fewer votes than Romney lost with in 2012. Fewer voters going to the polls increases the president's chances of re-election. Voter suppression can help him win, and in fact, it's been a key part of his strategy. 
Last week, a major international news story from the Channel 4 Investigations Team in England, the same crew that broke the Cambridge Analytica data-mining scandal, showed that the Trump campaign was using that data to target Black voters in an effort not to win them over, but to "Deter" them from voting, in a new form of Facebook-fueled voter suppression. 
The focus of this "Deterrence Project" report? Black voters in Milwaukee. 
"In Wisconsin, Black people constitute just 5.4% of the population but made up 17% of 'Deterrence'," the report said. In one instance, reporters traveled to Ward 116 in Milwaukee, which is 80% Black, for the story. That's in the Borchert Field/Arlington Heights neighborhood on the city's north side, where 44 % (!) of voters were marked for "Deterrence." It's a remarkable report, and an absolute must-watch for anyone analyzing the political environment of Milwaukee and Wisconsin. 
What happened with the "Deterrence Project" should be a major scandal for the Trump campaign in Wisconsin, for one. Targeting historically disenfranchised Black voters in a deliberate effort to exclude them from the democratic process is completely unacceptable.
It also presents a battlefield upon which Biden and the Democrats should be competing more voraciously. Gaining the support of Black voters can't be a given, especially when those voters may still be targeted for "Deterrence" by the opposition. The same goes for Hispanic voters. Reuters reported last week that many Hispanic voters in Milwaukee aren't enthusiastically supporting Biden, and many have switched to support Trump. The Biden team's plans for a campaign office on the city's south side fell through, while Trump's remains open. 
Biden is doing well with moderates, and his campaign has clearly targeted suburban voters, particularly women. He's having success there, and that's important. But in these final weeks before election day, it is incredibly important for his campaign to reach out to people of color, invest campaign resources there, and build support in those communities. If he doesn't, that could be the difference between victory and defeat in Wisconsin. 
The Big Difference Between Biden and Clinton? Favorability
Entering the home stretch in Wisconsin, everyone is inevitably making the comparison to the 2016 where Clinton led the whole way but ended up losing to Trump. The predictability of the comparison doesn't make it an incorrect one, but there is one big difference between the former Vice President and the former Secretary of State: Favorability.
Throughout the 2016 race, Hillary Clinton did not have terrific favorability numbers. She never had a single net-favorable result in the Marquette poll at any point of the campaign. The closest she got was in the Aug. 7 poll where voters had a 48% favorable, 49% unfavorable view of her. 
While you can't gloss over the one big glaring difference between Biden and Clinton and the obvious role of sexism in American politics that comes with it, it's true that voters have a much more favorable view of Biden at this point in the race.
In early October, Clinton's favorability was minus-12 — 42% favorable, 54% unfavorable. 
Biden, on the other hand, had a positive favorability back when he was vice president, but that, of course, changed when the presidential race began and the inevitable campaign polarization set in. Until he won the Democratic nomination, his net favorability hovered between minus-4 and minus-11. That only inched up to minus-3 in each of the polls in May, June and August of this year.
That has started to change over the last two polls following the convention. Biden now has a net-positive favorability rating — 48% favorable, 45% unfavorable (5% "haven't heard enough," somehow) — his first such rating of the campaign.
One thing the Biden campaign has done especially effectively over the past few months is to push those favorability numbers into positive territory. That plus-3 result might not look like much, but it's more rare than you might think for a campaigning politician. Donald Trump, Mike Pence and Kamala Harris all have net-negative favorability ratings in this same poll. People like Joe Biden the candidate right now. That matters.
And Trump's favorability remains deep under water. As it stands, he's at 43% favorable, 53% unfavorable. He's been about at that net minus-10 number since June now. And yet, that's still quite a bit higher than where he was at this time in 2016. In the Oct. 9, 2016, poll, he was at just 33% favorable, 61% unfavorable. He's never been particularly well-liked in Wisconsin.
Bottom line, though: Biden has made important gains when it comes to favorability during this campaign — gains that Clinton did not. If you are going to compare and contrast the two campaigns, that factor has to be part of the conversation. 
The Big Three Swing Categories
In the last few breakdown's I've done, I've taken a look at three key areas that I believe are going to swing the election -- the gender gap, and 30-44 year-olds, and the Crucial Green Bay/Fox Valley Region. Let's take a look at how each area is evolving.
First, the gender gap:
October: 
Men: Biden 40% (-1), Trump 49% (-) (Jorgensen 4%, Undecided 4%)
Women: Biden 52% (-), Trump 34% (-3) (Jorgensen 4%, Undecided 5%)
Past results:
September:
Men: Biden 41%, Trump 49% (Jorgensen 3%, Undecided 4%)
Women: Biden 52%, Trump 37% (Jorgensen 4%, Undecided 3%
August: 
Men: Biden 40%, Trump 50% 
Women: Biden 54%, Trump 36%
June:
Men: Biden 46%, Trump 46% 
Women: Biden 52%, Trump 37%
May:
Men: Biden 37%, Trump 55% 
Women: Biden 55%, Trump 33%
Only about a third of women voters support Trump. And the president isn't driving up margins with men the way he once was, either. The gender gap will remain a top issue on this campaign.
Next, the 30-44 year old age group: 
October: Biden 41% (-5), Trump 46% (+8) (Jorgensen 5%, Undecided 6%)
Past results:
September: Biden 46%, Trump 38% (Jorgensen 6%, Undecided 8%)
August: Biden 52%, Trump 42%
June: Biden 55%, Trump 36%
May: Biden 37%, Trump 49%
This flipped this month. With this group of older millennials and younger Gen X-ers, there's been a significant shift toward Trump since June. 
But on the topic of age groups: the 45-59 year-olds have been the most solidly pro-Trump voters throughout the race, and that changed in this poll, too — Biden 43%, Trump 42%. Biden's margins with 60+ year old voters, who he's led with dating back to the primary, also fell to just a three-point margin. 

Columns L to R: Biden, Trump, Jorgensen, "none of these/someone else," don't know, sample size.
With all this movement in so many different directions, it might be worth waiting a month to see if these shifts within age groups hold. 
Finally, the Fox Valley and Green Bay region: 
GB/A: Biden 49% (+6), Trump 41% (-5) (Jorgensen 6%, Undecided 2%)
Past results:
September: Biden 43%, Trump 46% (Jorgensen 3%, Undecided 3%)
August: Biden 46%, Trump 42%
June: Biden 45%, Trump 44%
May: Biden 37%, Trump 52%
This part of Wisconsin is currently experiencing one of the worst coronavirus outbreaks in the world. Hospitals are being pushed to their limits, and at the request of officials in Green Bay, Appleton, Neenah and Wausau who say their ICUs are at capacity, Gov. Evers is opening a field hospital at State Fair Park. 
I've written about this being the key swing region in the state, and amid this dire, dangerous outbreak, Biden just posted his best numbers of the campaign in this part of Wisconsin. 
Perhaps it's not a coincidence. And perhaps that is the shifting outcome to come from this crucial swing state, after all. 
---
Dan Shafer is a journalist from Milwaukee who writes and publishes The Recombobulation Area. He previously worked at Seattle Magazine, Seattle Business Magazine, the Milwaukee Business Journal, Milwaukee Magazine, and BizTimes Milwaukee. He's also written for The Daily Beast, WisPolitics, and Milwaukee Record. He's on Twitter at @DanRShafer.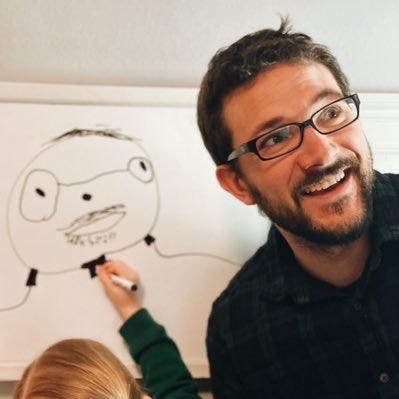 ---
Thank you for reading The Recombobulation Area and supporting independent journalism in Wisconsin.
Subscribe to The Recombobulation Area newsletter here and follow us on Facebook at @therecombobulationarea.